Beaches, Cliffs, and Temples- When discussing South Goa, these three words will always cross your mind! One of the most popular places to visit in South Goa is Colva Beach. This beach is perfect for travelers who want to unwind, soak up the sun, and take a dip in the clear blue waters. The Majorda Beach is another picturesque South Goa location well-known for its white sand, swaying palms, and water sports activities.
South Goa has a lot to offer for those interested in history and architecture. The UNESCO-listed Basilica of Bom Jesus is a prime example of the Baroque style of architecture that flourished in Goa during the Portuguese era. Another must-visit church is the Church of Our Lady of the Immaculate Conception in Margao, which is famous for its striking architecture.
If you're seeking adventure and adrenaline, then you must visit the Cotigao Wildlife Sanctuary. The park is home to a variety of animals and birds, including tigers, leopards, and hornbills. You can also take a trek to the Dudhsagar Waterfalls, which is one of the highest waterfalls in India.
South Goa is also home to some of the best seafood restaurants in the country. With its mix of nature, history, and culture, South Goa is a must-visit destination for anyone looking to experience the best of India's western coast.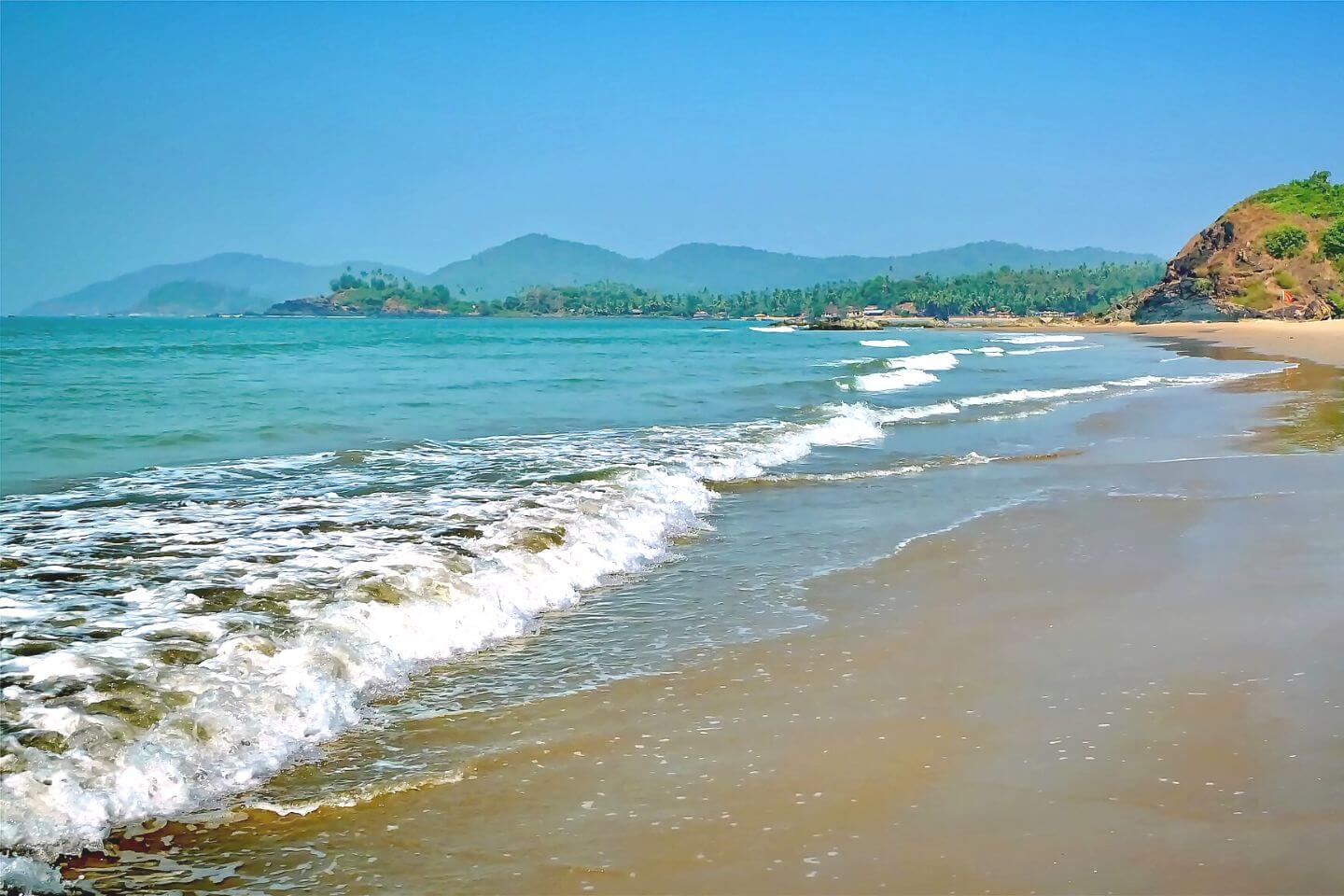 Palolem Beach is one of the most popular and charming beaches of Southern Goa. The beach is located just 38 km away from Madgaon in Canacona. Adorned with dense coconut trees, Palolem is a must-visit beach if you're looking to absorb the Goan beauty.
From family vacations to solo trips, Palolem Beach is ideal for both. If you're visiting with family and kids, visit the northern side of the beach. Because the northern side of Palolem has calmer tides, it's a safer option. And if you're considering going on a backpacking trip with younger crowds, there is no shortage of activities.
Here you can spot dolphins or go on kayaking adventures. Fishing and swimming are also two of the most popular activities tourists enjoy. Apart from the adventures, you can also go for retail therapy right behind the beach. Palolem has several shops selling clothes, jewelry, and souvenirs.
In short, Palolem Beach has everything to make your Goa trip memorable. From natural wonders to modern parties, you can experience anything according to your mood.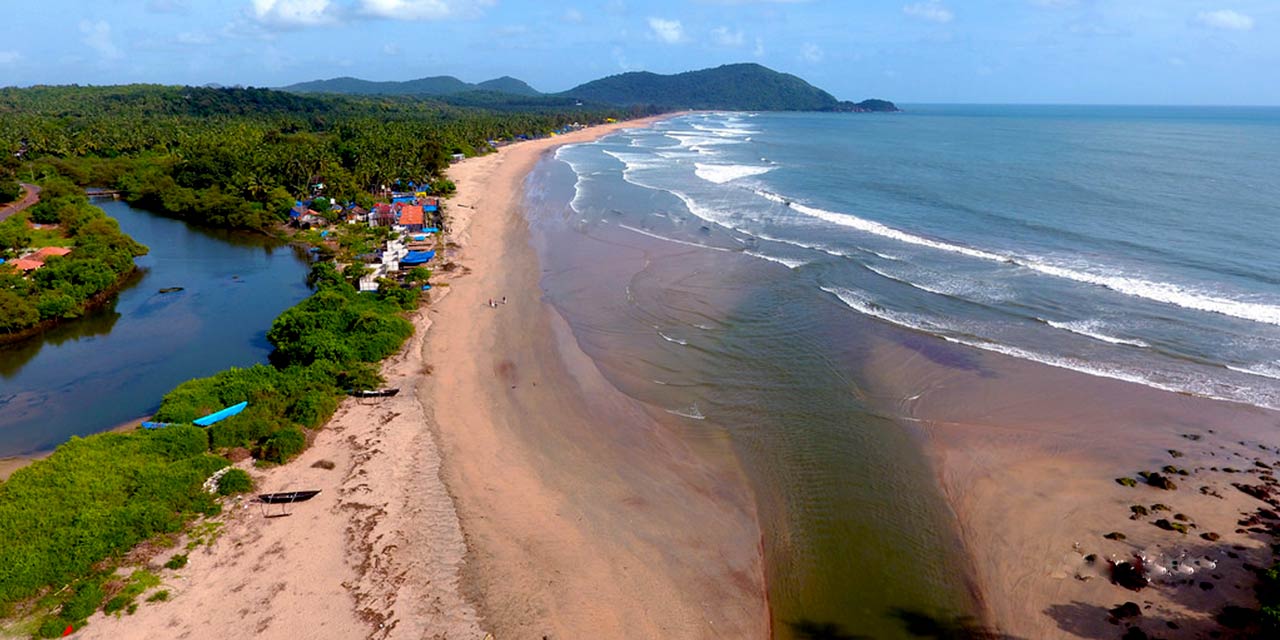 Next on our list of best places to visit in South Goa, Agonda Beach definitely deserves mention. This secluded paradise in southern Goa is known for its clear blue water, lush coconut trees, and beautiful white sand shorelines. Unlike other popular Goa beaches, Agonda Beach has lesser crowds. So, if you want to absorb the Goan beauty in a peaceful private place, there's no better beach than Agonda.
Agonda Beach is a famous nesting place for olive ridley sea turtles. So, if you're lucky, you might spot a few of these cute turtles. The shoreline of this beach is adorned with casuarinas trees, palm trees, beautiful cottages, and shacks.
You can easily reach Agonda Beach by renting a two-wheeler or four-wheeler. You can also rent cabs easily throughout Goa. And Agonda Beach is just 20 min ride from Canacona and nearly 9.2 km away from Palolem Beach. So, when you're in Goa, Agonda Beach is worth your visit.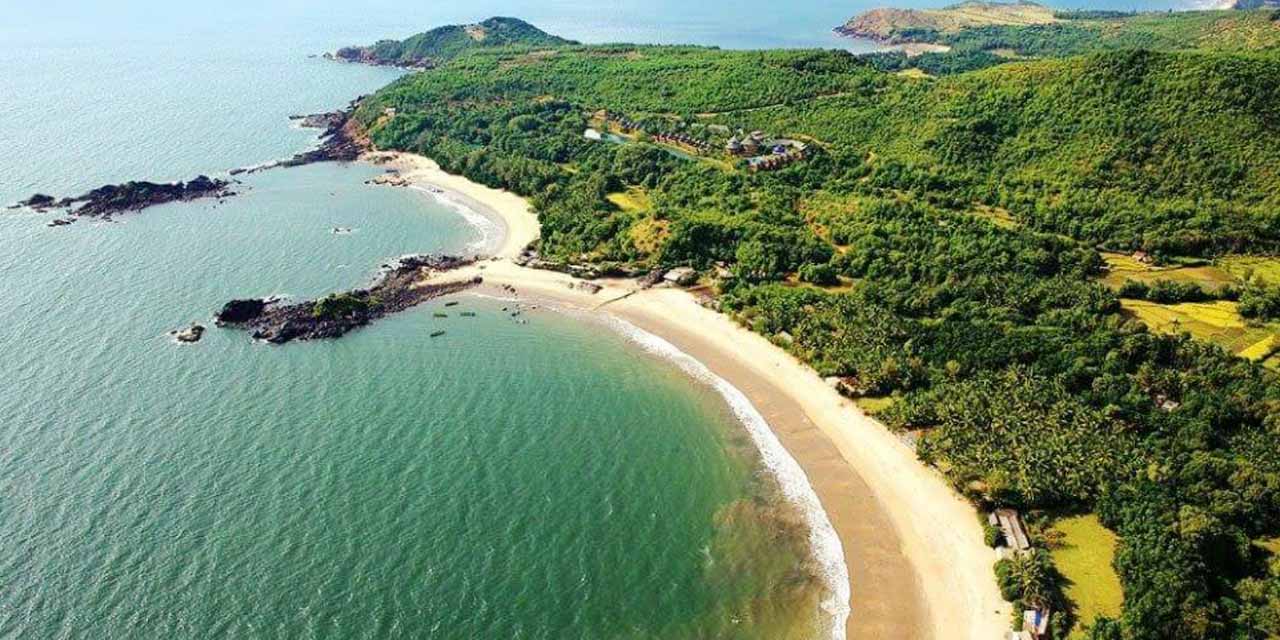 Located in the southern part of Canacona in Goa, Butterfly Beach got its name from millions of butterflies found here. This beach is a habitat of butterflies. So, here you can witness hundreds of butterflies fluttering over your head and the hilltop. This semi-circular beach is also popular as the Honeymoon Beach because a lot of couples visit here for its romantic atmosphere.
Visiting Butterfly Beach is nothing less than an adventure. Because to reach the beach, you have to hike through a forest. This beach is not only a great spot for butterfly sightings but also for dolphin sightings. During low tides, you may also witness various sea creatures like sea urchins, crabs, and fishes.
If you want to escape the mainstream Goa parties and crowds, Butterfly Beach is the ideal place for you. Simply take a boat ride from the nearby beaches like Agonda or Palolem to reach here. And trust us! Your time on Butterfly Beach will be a day to remember!
Pack your sunscreen, grab your sunglasses, and visit Benaulim Beach, located just 2 km away from the bustling Colva Beach. If you're looking to avoid the crowded tourist beaches of South Goa, Benaulim is the ultimate place to be. The inviting beach chairs by the shores, lesser crowds, and the beautiful stretch of alluring sand will definitely make your vacation memorable.
Though Benaulim is a quieter spot, the nightlife scene paints a completely different picture of the beach. With several restaurants, clubs, and shacks offering alcohol, delicious sea foods, live performances, and party music, you can expect a vibrant life at the beach.
Benaulim Beach is also a great place for adventure lovers. Here you can take part in various water sports and activities, such as jet skiing, banana boating, and paragliding. You can also spend your time taking a dolphin-spotting tour along the beach.
However, if you just want to experience water activities, we recommend you visit the beach between October and April. The climatic condition of Benaulim Beach stays extremely pleasant this time. So, you can spend some great time relaxing or indulging in adventurous activities.
5

. Our Lady of Remedios Church

If parties and surfing are not your cups of tea, Our Lady of Remedios Church is the perfect travel destination in South Goa for you. Founded in the 17h century by the Jesuits, the church gives a vibe of peace and tranquility.

Our Lady of Remedios Church boasts of grand architecture, well-maintained lawns, and a serene surroundings that will evoke spirituality. Also, the masses at the church will be a special treat for the eyes. The white exterior and the green lawns of the church create a splendid sight.

So, whether you want to spend some alone time in peace or simply seek to enjoy a bright day with your family, Our Lady of Remedios church is definitely a must-visit destination in south Goa.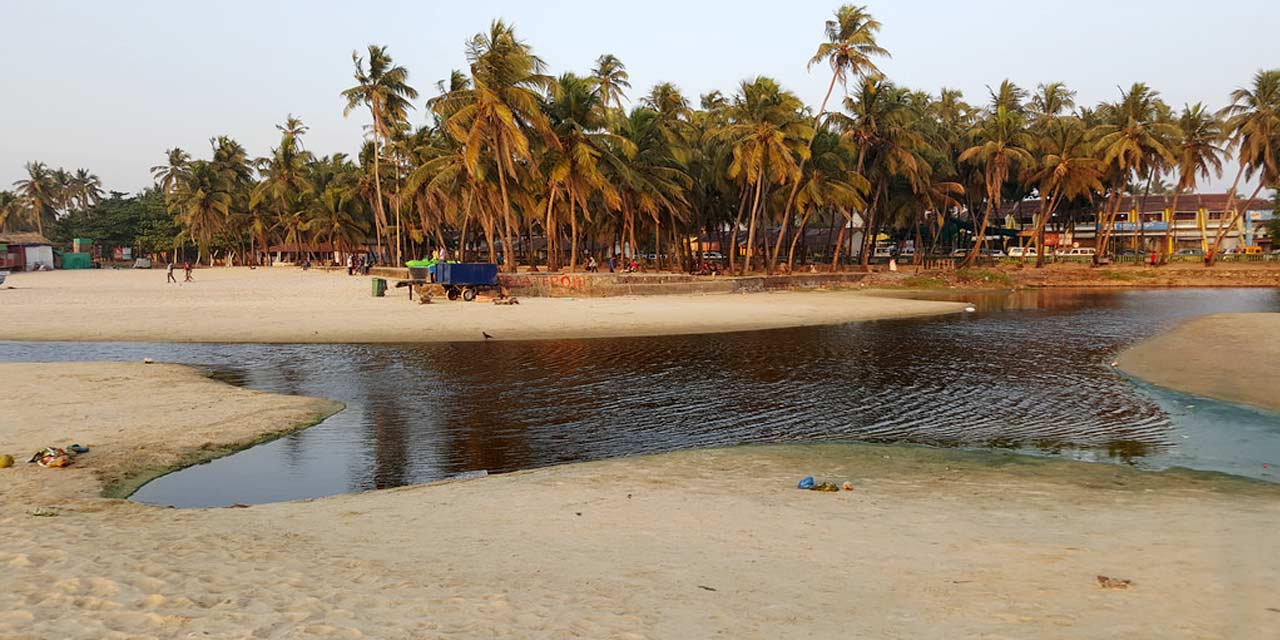 South Goa's magnificent, vibrant, and popular tourist beach is the Colva Beach. The 2.5 km long beach is known for its gorgeous white sands, greenish-blue waves, lush coconut, and palm trees. Apart from its natural beauty, Colva Beach is popular among tourists for housing hundreds of beach shacks, shops, hotels, and pubs.
The beach comes alive at night! If you're into parties, dancing numbers, eating, and drinking, Colva Beach won't disappoint you. Colva Beach is also a great place for water activities. Jet skiing, boat rides, and snorkeling are some of the popular rides you can enjoy here.
If you're a religious pilgrim or searching for a peaceful atmosphere make sure to visit the Colva Church, located near the beach. Also known as Igreja de Nossa Senhora das Mercês, Colva Church is dedicated to our lady Mercy. Established in 1630, one of the highlighting features of Colva Church is the miraculous statue of infant Jesus.
To reach the beach, the best option is to rent a scooter or motorcycle. Or else you can opt for local transportation such as taxis and auto-rickshaws. And once you reach the beach, what's a better way to admire the beauty than exploring on foot?
If you're visiting Goa to experience its rich culture and history, we recommend you visit the Shri Shantadurga Temple. One of the largest temple complexes in South Goa, the Shantadurga Temple was built in the 18th century in Indo-Portuguese architecture style. The temple is dedicated to Goddess Durga. Inside the Shri Shantadurga Temple, there are three smaller temples. All these temples are made of Kashmir stone.
One of the most noticeable things in this temple is the golden palki on which the deity of goddess Durga is carried around during the festivals of Maha Panchami. The temple also has a five-story lamp tower, and Roman arched windows. The surrounding views from the temple complex are also mesmerizing as it's situated on a hill.
The temple's peaceful ambiance and serene atmosphere make it an ideal place for spiritual reflection and introspection. So if you appreciate architectural beauty and historical significance, this temple is a must-visit in South Goa.
8

. Tambi Surla

Tambdi Surla Mahadev Temple is a must-visit destination if you're interested in exploring the ancient beauty of south Goa. Tambi Surla temple was built in the 12th century during the Kadamba period. According to the locals, it is the oldest temple in the state. Established in the Jain-inspired architectural style, Tambi Surla is entirely constructed with black basalt.

The inner sanctum of the Tambi Surla temple had a sublime Shiva Linga and a headless statue of Lord Shiva's Vahana (vehicle) Nandi. There's also a local legend associated with this temple. Locals believe that a huge cobra resides in the temple's dark corner to this day.

Inside the temple, you'll witness elaborate carvings of Lord Shiva, Vishnu, and Brahma and their consorts. Along with this, the Kadamba Empire scenes depicted on the panels and columns of the temple will be a treat to your eyes.

The best part about Tambi Surla temple is its nearby River Surla. The river enhances the beauty of the temple and its surroundings a million times more. Tambi Sura is most popular among tourists during the Mahashivratri festival. The locals and even the pilgrims celebrate this occasion here with great enthusiasm.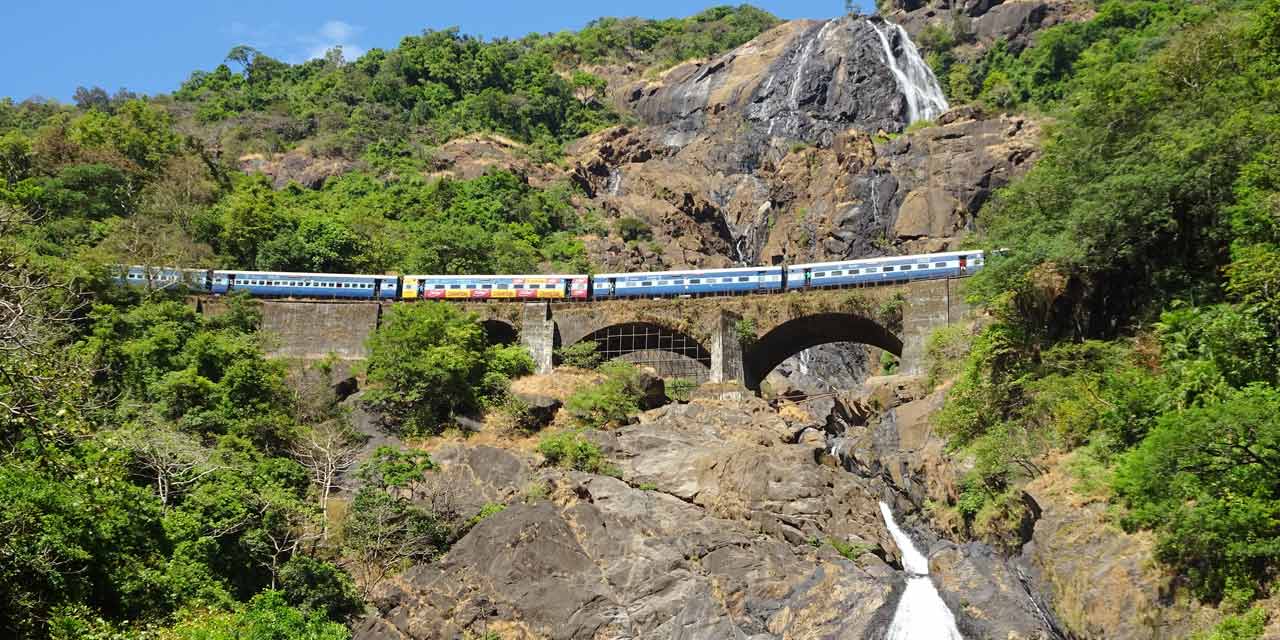 Dudhsagar Falls- one of the tallest waterfalls in India, is a mesmerizing sight to behold in South Goa. The Dudhsagar Falls are divided into four tiers, and the water gushing down resembles a rush of milk flowing down the hill. You can reach the falls by hiring a jeep or private transport from Panaji. Or else, you can choose to visit here by trekking.
One of the most exciting trek trails starts from the village of Kuveshi and offers moderate difficulty with breathtaking vistas. Another trekking route begins at the Kulhem/Collem railway station and takes about 6 hours to complete. However, the most preferred trail starts at the Castle Rock station in Karnataka, spanning for about 14 km, and follows the railway tracks and tunnel passages as well.
The best time to visit here is during monsoon as the Dudhsagar Falls stay in full flow, and the surrounding forests are at their best color. However, trekking to the falls during the monsoon can be a bit difficult for you. Also, if the water levels get too high, for safety reasons, it may stay closed.
However, no matter when you decide to visit Dudhsagar Falls, the breathtaking beauty of the falls and its surroundings makes it a perfect place to be in Goa.
10

. Indian Naval Aviation Museum

The Naval Aviation Museum in Goa is a must-visit place for aviation enthusiasts and history buffs alike. Located in Mormugao, South Goa, the museum showcases the evolution and importance of naval aviation in India. Established in 1998, the museum has both indoor and outdoor exhibits, with decommissioned aircraft, weapons, arms, vintage documents, and photographs on display.

One of the most fascinating exhibits in the museum is the aircraft ejection system and life rafts. It is a great opportunity to learn about flying and the technology behind it. Additionally, the museum has a café called the Cockpit Café, where you can relax and enjoy a cup of tea.

The souvenir shop at the museum is a great place to buy unique and interesting items related to aviation. The mini theater is another attraction of the museum, where visitors can watch short movies and documentaries on naval aviation. The museum is a great place to spend an afternoon with family and kids and to learn about the rich history of naval aviation in India.
11

. Cabo de Rama Beach

Located in Margo, Cabo de Rama Beach is another beautiful paradise in South Goa. The secluded beach is surrounded by lush coconut and palm trees. If you're thinking about planning a picnic with family or just spending some alone time, head to Cabo de Rama Beach.>

Facing the Beach there is a vintage Fort that captures a wonderful view of Cabo de Rama. Counted amongst the oldest forts in Goa, it was originally built by the Portuguese. While taking a stroll on the beach, make sure to visit this fort to click some Instagramable pictures.

Cabo de Rama Beach Fort also has many historical stories and legends associated with it. One such story states that Lord Rama and his wife Sita stayed at this fort during their exile from Ayodhya. This is why the beach was named Cabo de Rama.

Even if you don't believe the legends make sure to visit Cabo de Rama Beach once for its natural beauty. The best way to get here is by renting a bike or cab. So, pack your backpack, grab your sunscreen, and visit Cabo de Rama.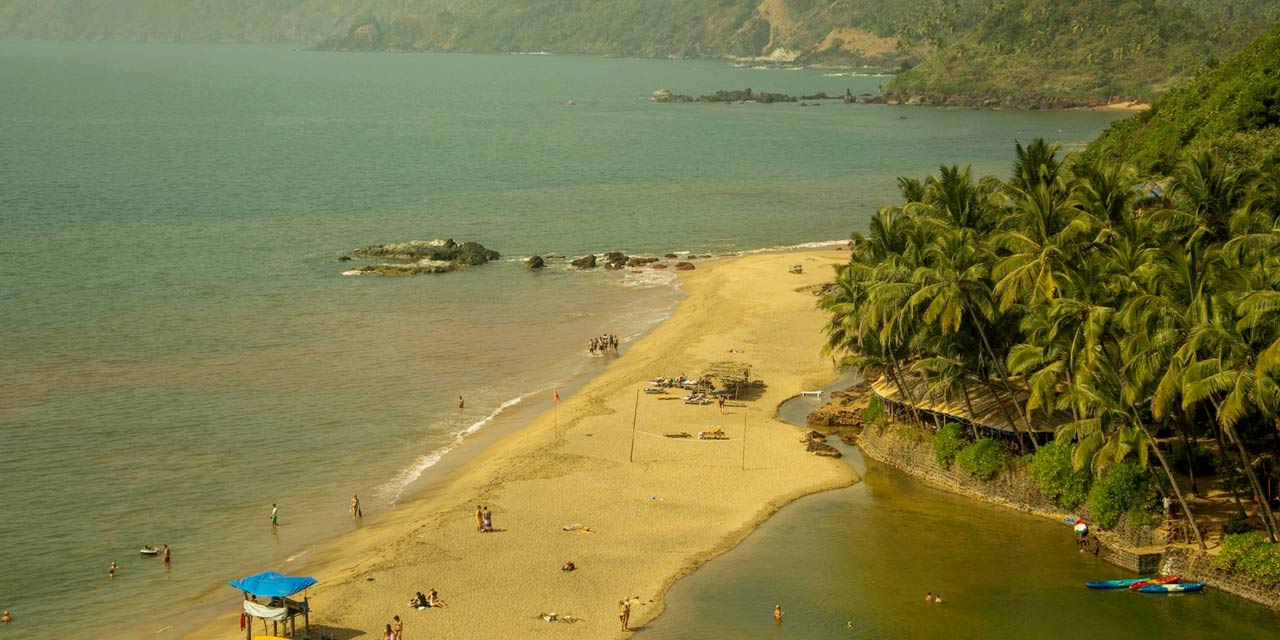 Cola Beach, also known as 'Khola' Beach, is another hidden gem of South Goa. Located in the Canacona area, the golden sand beach is peppered with volcanic boulders. The beach does not receive many visitors as it is off the beaten path, hidden by thickly overgrown hills, with a decent stretch of rather rocky terrain to be crossed before arriving at this natural paradise. This makes Cola Beach perfect for trekkers and adventure lovers.
Cola Beach is divided into North Cola and South Cola, with a small hill separating the two. It is joined by a river in the middle which is known as the Blue Lagoon or Emerald Lagoon because of its clear green color.
The calm water here is perfect for swimming. Cola Beach also offers magical sunsets as the landscape of the beach reflects the sun rays in a unique way. So, go visit Cola Beach to spend some alone time sunbathing or strolling by the shores during sunset. Trust us; the natural beauty of Cola Beach won't disappoint you!
Located around 7 km away from Cabo de Rama Beach, Kakolem Beach is a hidden gem in South Goa. The less crowded, majestic beach is also called Tiger Beach. The entire beach is hidden between beautiful cliffs and lush greenery.
To reach here, you will have to climb down a small cliff near the Vagon bus stop, which falls on the way to Betul Beach from Canacona. The unruly wilderness, the quiet, and the mystical surroundings are major lures if you are looking for a unique and serene beach vacation.
Belonging to this south part of Goa, Kakolem Beach is an awesome destination to spend some quiet and peaceful time with your family. There are not many houses or eateries nearby. The nearest market to the beach is approximately 5 km away from the beach. As it is secluded, few people visit the beach except for a few nature and adventure lovers.
The beauty of the natural scene is a perfect place for gazing at the magnificent daylight views or the starlit nights. The water is inviting but can be dangerous due to the possibility of strong currents and winds and the lack of supervision or rescue service. So, it is not advisable to go swimming.
So, if you are looking for some peach and avoid the hustle and bustle of typical Goa beaches, Kakolem Beach should be your ultimate travel destination.
If you want to witness some unique species with your kids in South Goa, head to Cotigao Wildlife Sanctuary. Away from the sunny beaches and happening shacks of South Goa, the Cotigao Wildlife Sanctuary entices you to a world of exotic flora and fauna. It boasts of varied wildlife species, including slender Loris, mouse deer, Indian pangolin, Malabar trogon, Malayan bittern, golden-back gliding snake, and many more.
One of the prime attractions of the sanctuary is a treetop watchtower overlooking a watering hole. If you climb up the watchtower during dawn or dusk, you can watch many animals visiting the watering hole to quench their thirst. And now, that's a sight you wouldn't want to miss in a lifetime.
The best time to visit the sanctuary would be at dawn when you witness the sunrise and sightings of rare species. Here you'll get to witness Gazelles, Sloth Bears, Porcupines, and Panthers in abundance.