Goa is the smallest state in India and is located in the southwestern region of the country. The mighty Arabian Sea forms the western coast of Goa. There are several places to visit in Goa for travelers with diverse interests, including nature lovers, adventure enthusiasts, heritage explorers, and spiritual seekers.
Being a tropical paradise, the state lures tourists with its splendid beaches and exotic resorts. Tourists can enjoy a variety of activities, such as swimming, sunbathing, fishing, windsurfing, waterskiing, and scuba diving. Goa is also rich in natural beauty with its lush green forests and rivers. The state is home to some of the best wildlife sanctuaries and national parks in India where tourists can spot a variety of rare and endangered animals.
Goa is also known for its vibrant nightlife and party culture. Several electronic music festivals are held in Goa every year, which attract thousands of tourists from all over the world. The state is also home to a number of casinos, which are a major attraction for tourists.
Among the best places to visit in Goa are its serene beaches, which are among the finest in India. Some of the most popular beaches in Goa include Anjuna Beach, Calangute Beach, Baga Beach, Candolim Beach, and Palolem Beach.
Other than its beaches, Goa is also known for its churches and temples. The Basilica of Bom Jesus, Se Cathedral, and Church of Our Lady of the Immaculate Conception are some of the most famous churches in Goa.
The state is also home to a number of Hindu temples, such as the Shri Mangueshi Temple, Sri Shantadurga Temple, and Mahalasa Narayani Temple. Given below is a list of the best places to visit in Goa for an enthralling vacation.
Popular Places to Visit in Goa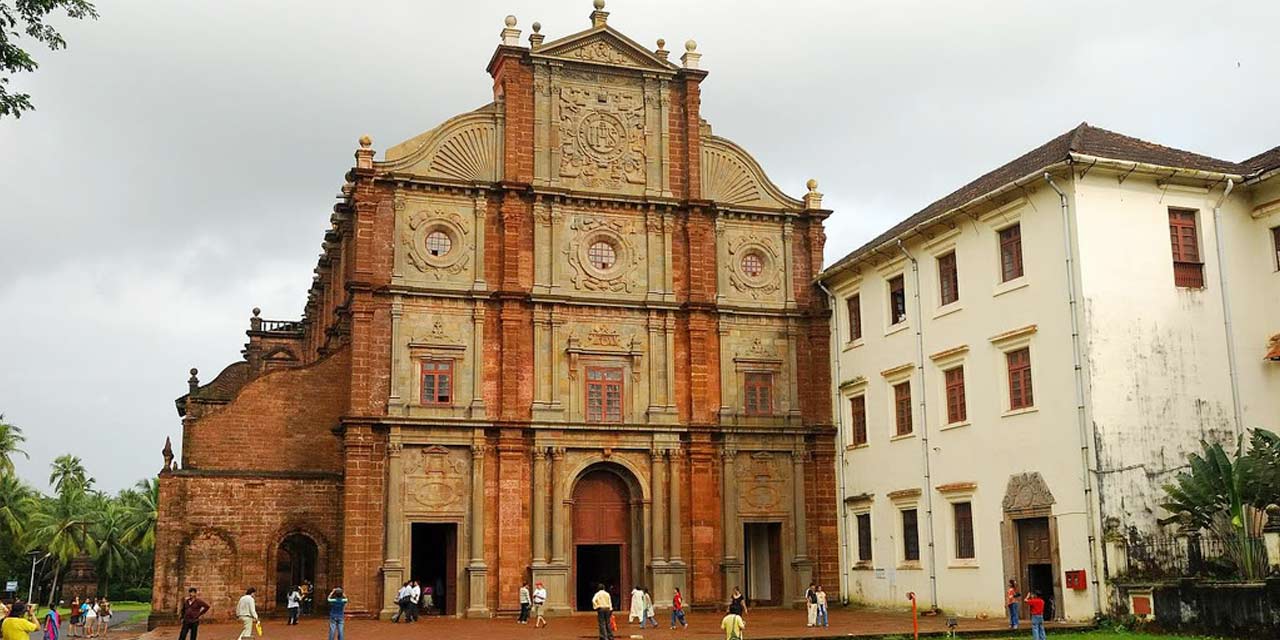 Bom Jesus Basilica is a revered Roman Catholic Church and is one of the prime pilgrimage places to visit in Goa. A UNESCO World Heritage Site, it attracts both pilgrims and tourists from all over the world. One of the oldest churches built during the Portuguese era, it has marvelous architecture.
You can witness the vast collection of artistic works inside including the finest of colonial Indian art, small Latin crosses bordering the central roof, and astounding paintings on the pillars, ceilings, and walls. Stucco works, silver and gold artifacts, wood-carved floral decorations, gilded columns, and an unplastered façade are all appealing elements of the Basilica. You can also visit the Basilica's modern art gallery.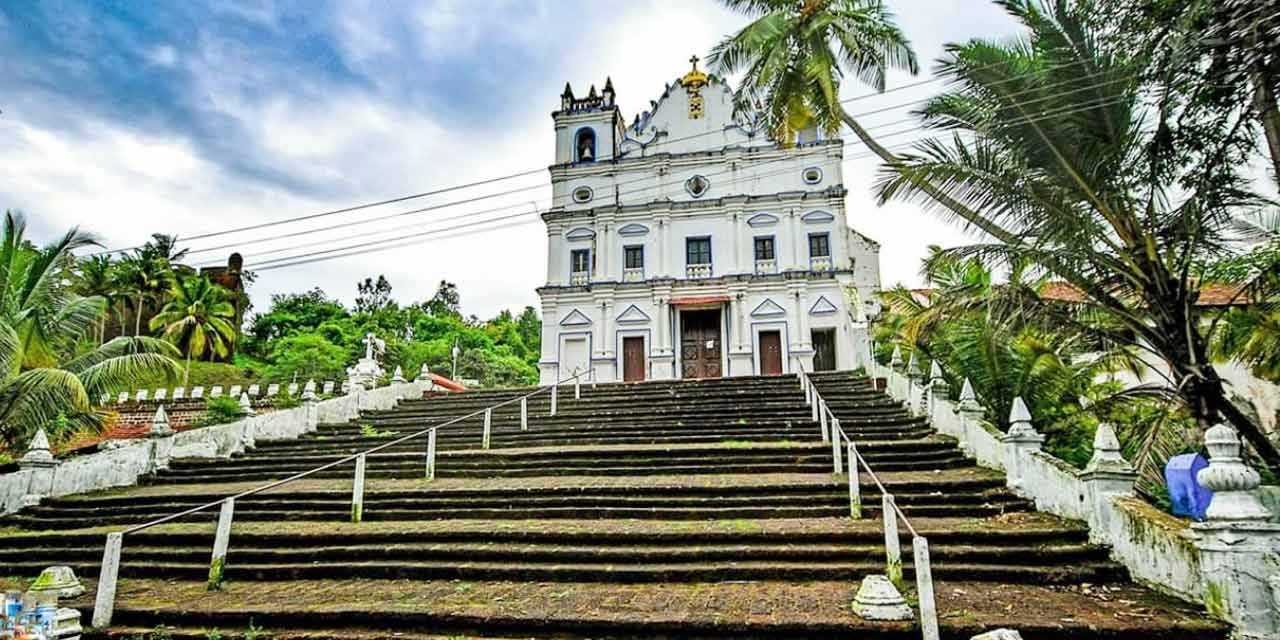 Reis Magos Fort is a renovated 16th-century Portuguese Fort in Panjim. One of the oldest forts in Goa, it has served as a defense fortress, a jail, and a hospital. Today, it promotes the state's rich cultural heritage. It organizes exhibitions, fairs, festivals, and educational events.
You can acquire majestic views of the Mandovi river, the Aguada Fort, the Arabian sea, and splendid landscapes. Take a short and steep 5-minute climb to reach the elegant fort. You can visit the small art gallery. Marvel at the fort's strategic construction. Since it is less crowded, you can cherish the peaceful views and ambiance.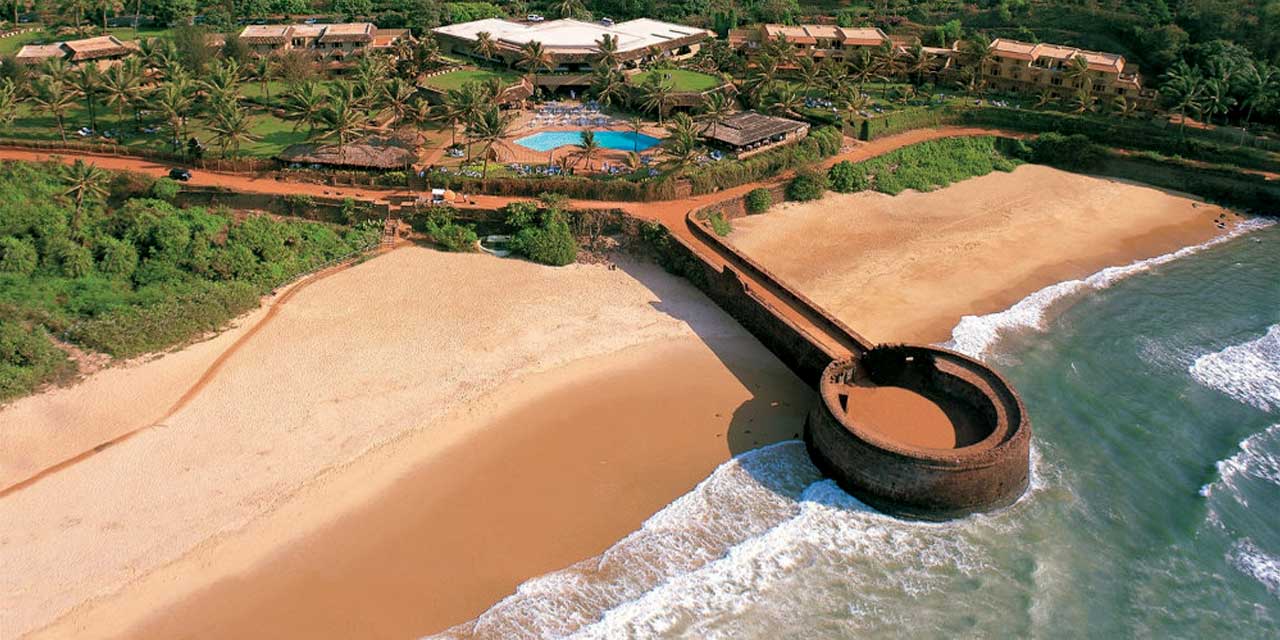 Overlooking the Arabian sea, Aguada Fort is a well-maintained 16th-century Portuguese fort that stands on Sinquerim Beach. It is an ASI-protected monument of national importance and among the best heritage places to visit in Goa. Together with a lighthouse, it depicts Portuguese heritage and architecture. You can also get panoramic views of the surroundings from atop.
Earlier, it has been a reference point for ships sailing in from Europe. It has also been a huge watering station apart from a fort. Later, it has also been a jail for freedom fighters. Today, it is a great viewpoint that allows you to watch the amazing sunrise and sunset with your loved ones. It also houses a luxurious resort and spa.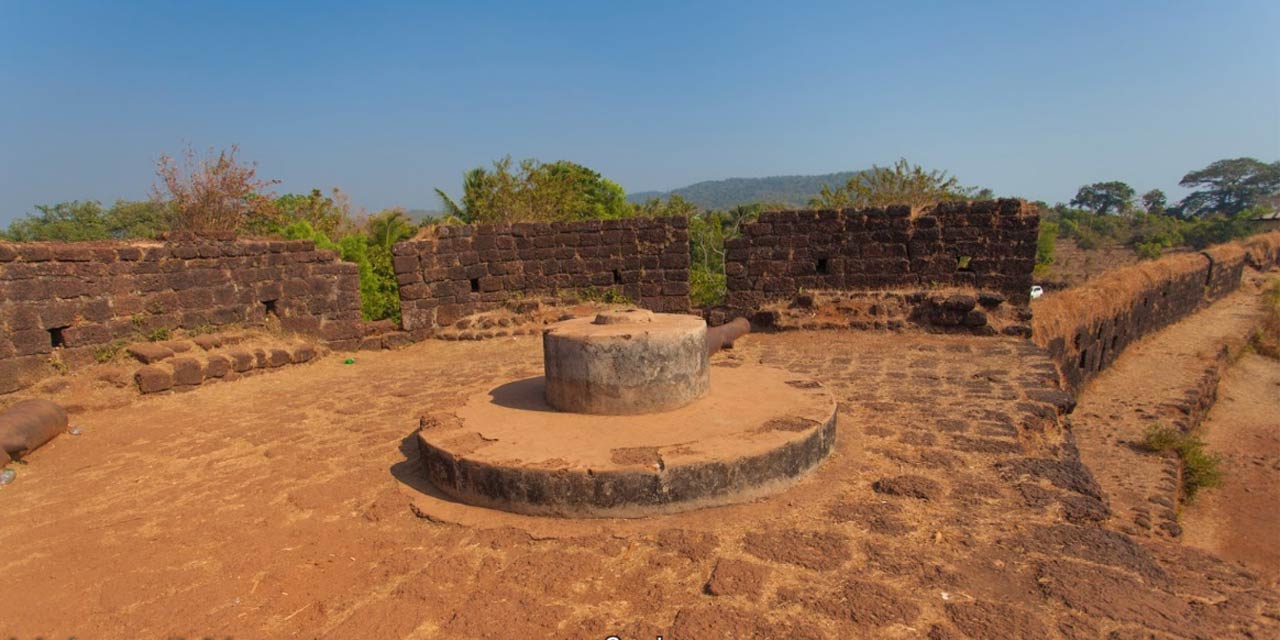 Mostly in ruins now, Cabo de Rama Fort is a medieval hillfort. It lies sandwiched between the gorgeous Agonda and Cavelossim beaches. Believed to be linked to Lord Rama, it was formerly called Cape Rama. You can witness the eclectic blend of Hindu and Portuguese architecture.
Apart from the fort, you can visit the on-premise white church, which is still used during the annual feast. Overlooking the ravishing Arabian Sea, it offers you stunning vistas of dawn and dusk. It is also a wonderful photo point. You can make a short visit, take a walk around the fort, and admire its peaceful charm.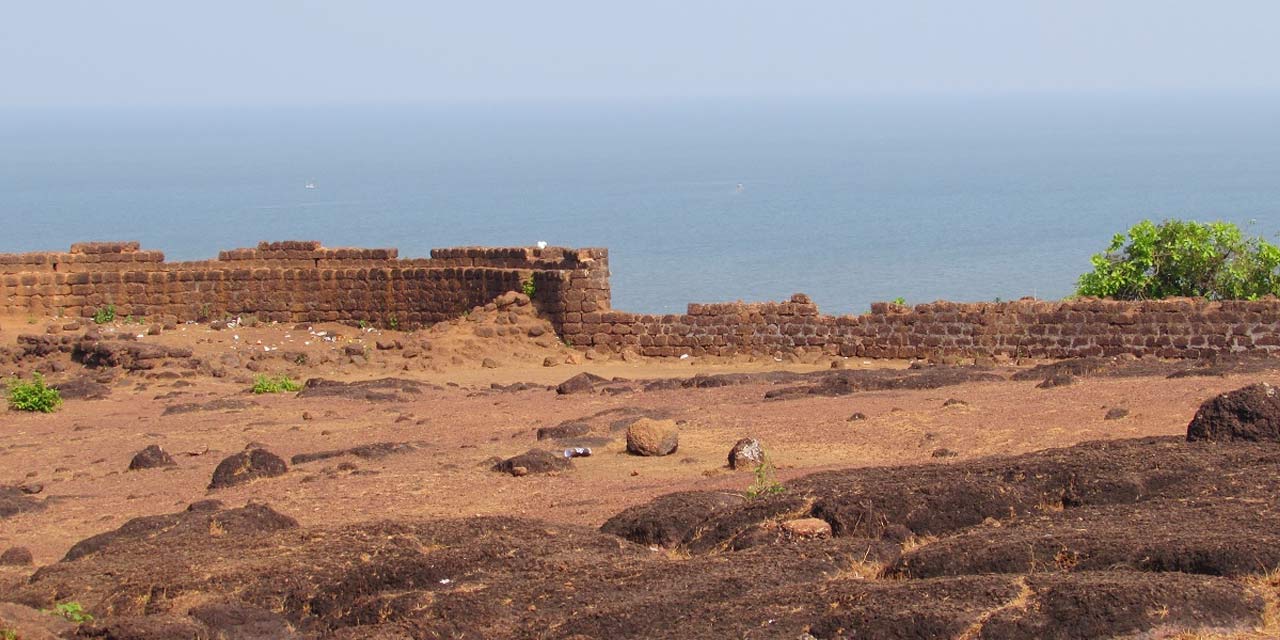 Offering spectacular vistas of the Arabian sea, the adjoining Vagator, Anjuna and Chapora Beaches, and the Chapora River, Chapora Fort is among the best places to visit in Goa. An ancient historical structure, it seeps in tranquility. It is a laterite fort that was once a military stronghold. You can visit it for its majestic charm and scenic location.
You can walk on the existing ramparts and explore the fort. You can see the Portuguese-built entry points of underground tunnels or emergency routes. You need to climb the steep slopes for 10 minutes to reach the top. Visit it during the early morning or evening for spectacular views.
6

. Corjuem Fort

Located on the Corjuem river island, Corjuem Fort is a small square-shaped fort with astounding views of the surroundings. Its impressive structure will attract you. You can feel the serenity as you stroll around. Once a powerful Portuguese military fort, it is now mostly in ruins.

Although it is a lesser-known tourist spot, you can thoroughly enjoy the beauty of this historical and architectural masterpiece. Constructed in 1551, out of pitted laterite stones, it was also used as a military school. The major attraction is the cable suspension bridge connecting the fort with Aldona. You can easily spend 15-20 minutes on this well-maintained site.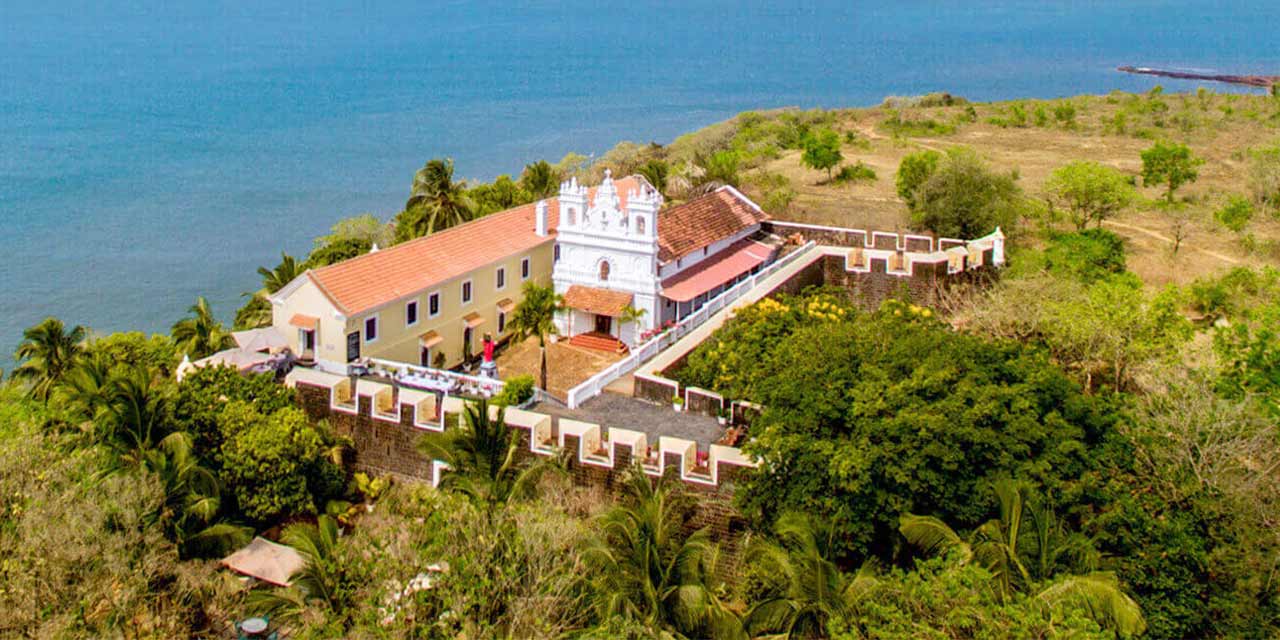 One of the most scenic places to visit in Goa, Terekhol Fort is also called the Tiracol Fort. It is a majestic structure in North Goa. Earlier, it had been a strong Portuguese maritime defense. It stands across the Terekhol river from the Querim Beach.
Constructed in the 18th century under Portuguese rule, a 100-year-old parish church lies in the middle of the fort. It remains open to the public on special occasions like the annual feast in May. From the cliff, you can enjoy panoramic views of the surroundings. It is now refurbished into a heritage hotel with modern amenities and amazing hospitality. You can enjoy activities like dolphin watching and heritage walks.
8

. Church of St. Cajetan

The Church of St. Cajetan is also regarded as the Church of Divine Providence. It is a rare and unique gem of Goa. It is a part of the World Heritage Site and listed among the convents and churches of Goa. You can marvel at the charming dome-shaped structure and witness its graceful architecture.

The 300-year-old building is still well-preserved. It is built of laterite stones and plastered with lime. You can witness the baroque elements in the gilded altars. Perceive the mosaic decorations in the interiors and an old well. You can see scenes of St. Cajetan carved on the canvas of the altars. Six angelic figurines can be observed on the twisted shafts.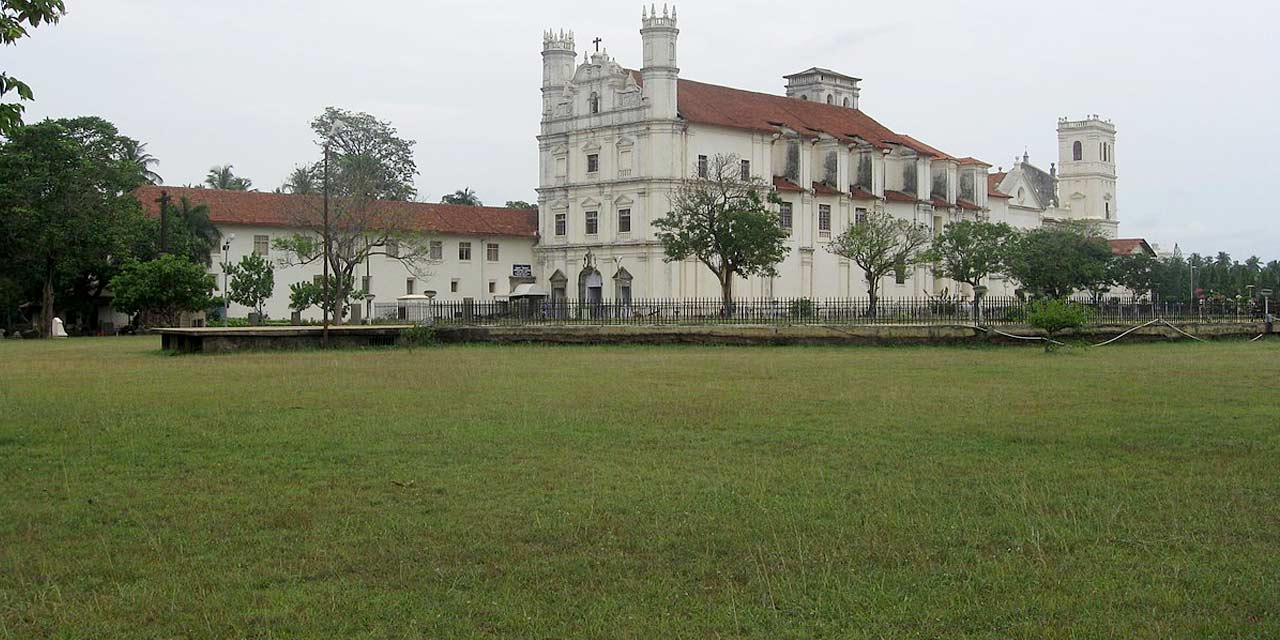 Built by the Portuguese in 1661, the Church of St Francis of Assisi is a Roman Catholic church. You can be mesmerized by the stunning carvings on the walls and pillars and the architectural wonders. Visit the archaeological museum by its side to witness the paintings, artifacts, sculptures, and pieces from the history and culture of Goa.
You can behold the Mauline styled main gate and the Tuscan-style exteriors. It also houses a few relics of Hindu temples. The baroque-infused main altar has Corinthian features like no aisles but a rib-vaulted nave. You can look at the rich ornamental decorations of the interiors. There are wooden paintings and carvings too depicting the life of the patron saint.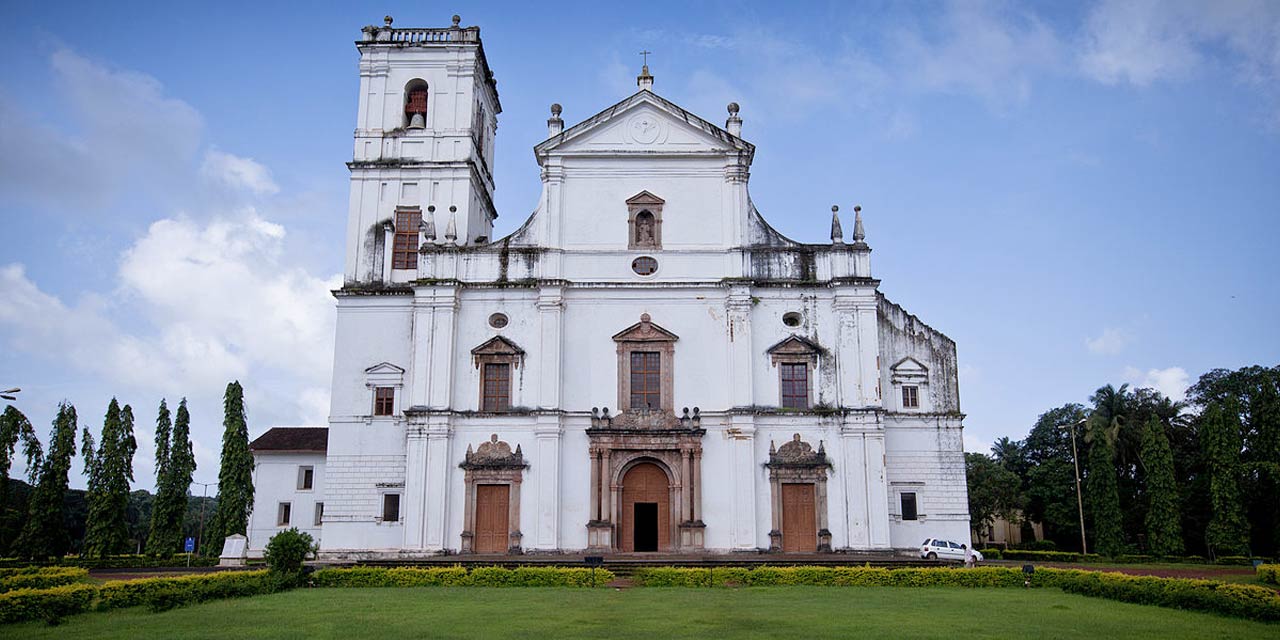 Located in Old Goa, Se Cathedral is a part of the UNESCO World Heritage Site. Constructed in the 16th century, it is one of the largest cathedrals in Asia. Listed among the most well-known places to visit in Goa, it is also one of the oldest and most celebrated religious buildings of Goa. It also holds the miraculous cross.
You can be impressed by the mosaic work, the Golden Bell, and the Portuguese-Mauline architectural styles. The highly ornate main altar carries rich carvings of major scenes of the life of St. Catherine. The adjoining convent is now transformed into an archaeological museum. You can also observe the serenity and beauty of this place.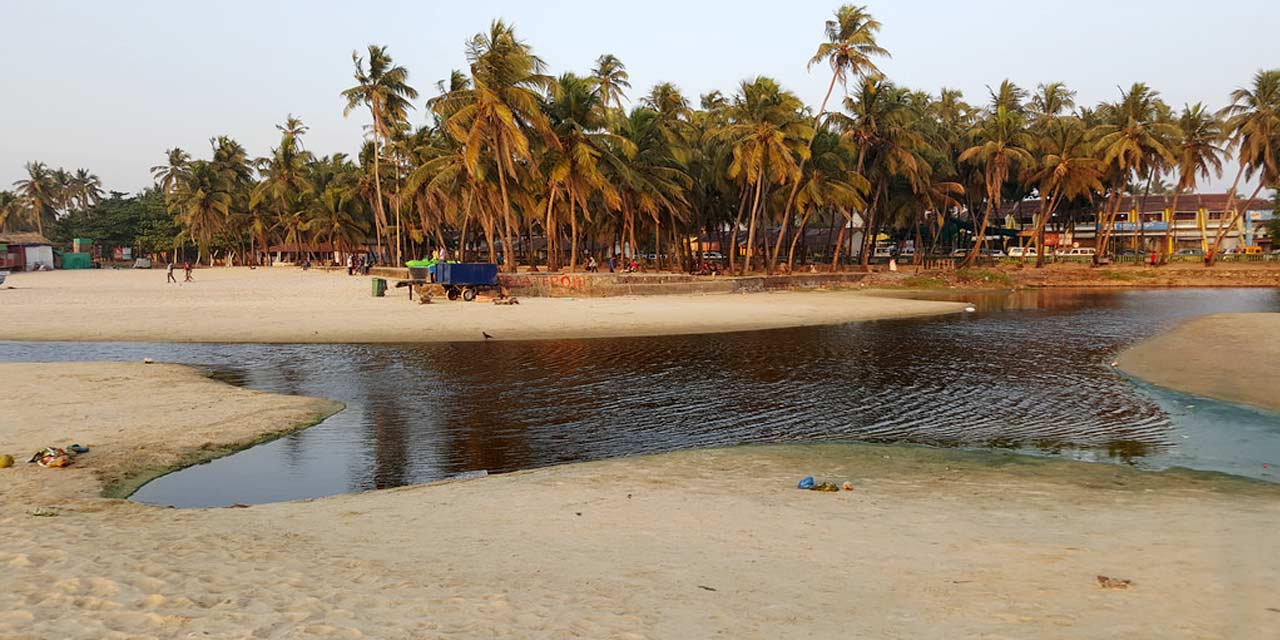 Famous for its expansive beachfront, powdery white sand, and swaying coconut trees, Colva Beach is a popular tourist spot in Goa. It has open-air eateries, bars, and nightclubs overlooking the sea. You can notice ancient ruins of Portuguese houses and villas, small shacks, and shops.
Indulge in some exciting water sports like paragliding, swimming, jet skiing, snorkeling, speed boat ride, water scootering, parasailing, and banana boat rides. It is the perfect place to visit in Goa to witness the stunning sunset over the serene blue waters. The splendid scenery provides the perfect backdrop for excellent photos. In contrast to the peaceful daytime, the nightlife is lively on the beach. You can also visit the religiously significant Colva Church.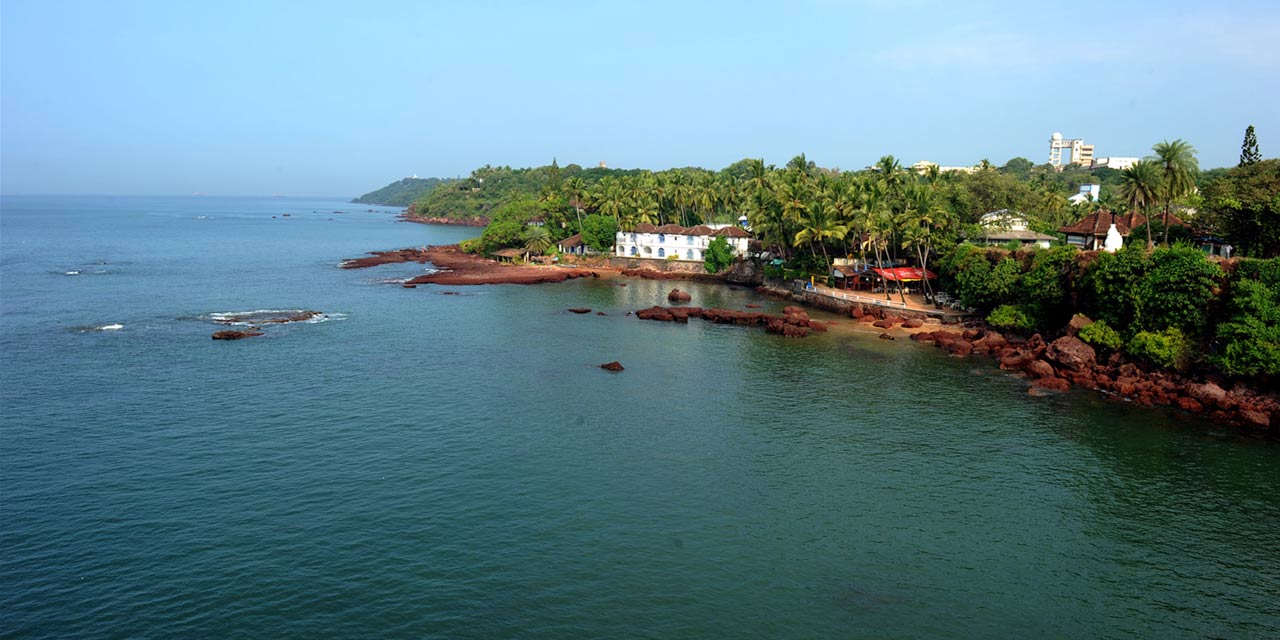 Dona Paula Beach has become one of the most happening beaches in Goa. It is among the stunning places to visit in Goa located at the confluence of the Mandovi and Zuari Rivers. Due to a popular legend, it is a well-admired lover's paradise. You can get spectacular views of the Mormugao harbor flanked by the casuarina and palm trees.
The evening sea breeze and sunset are mesmerizing. You can relax on the benches or take a leisurely stroll around. Witness the adjacent jetty and the whitewashed statue called the Image of India. You can participate in adventurous water sports like ski-bob, kayaking, sports fishing, yachting toboggan ski-biscuit, motorboat rides, and windsurfing.
13

. Benaulim Beach

Although a low-key beach, Benaulim Beach is a beautiful and evergreen place to visit in Goa. It is also noted for its cleanliness. You can spend a relaxing holiday here with your loved ones. Watch the fishermen go about their daily work. Take a leisurely walk on the long stretches of soft and luxurious silvery sands.

Fringed by the palm trees, it offers a pictographic setting. You can sit on the chairs dotting the beachfront, and spot dolphins or enjoy the scenic beauty of the surroundings. There are also sunbeds where you can relax. From the beach shacks, you can savor delicious seafood. You can also cherish the sunset over the west coast of India.
14

. Sinquerim Beach

Popularly known as the 1st tourist beach of North Goa, Sinquerim Beach is located beside the Aguada Fort. It is also one of the oldest well-preserved beaches of Goa. You can be stunned by the golden sands, palm-fringed boulevards, the sun, and the surf. Scenic walks during sunset are refreshing.

You can try thrilling water sports like scuba diving, snorkeling, windsurfing, parasailing, fishing, and water skiing. It is one of the most entertaining places to visit in Goa. You can swim and take a boat ride, crocodile Dundee and dolphin trips. Sunburn Music Festival, the largest in Asia, is organized here every year on a grand scale.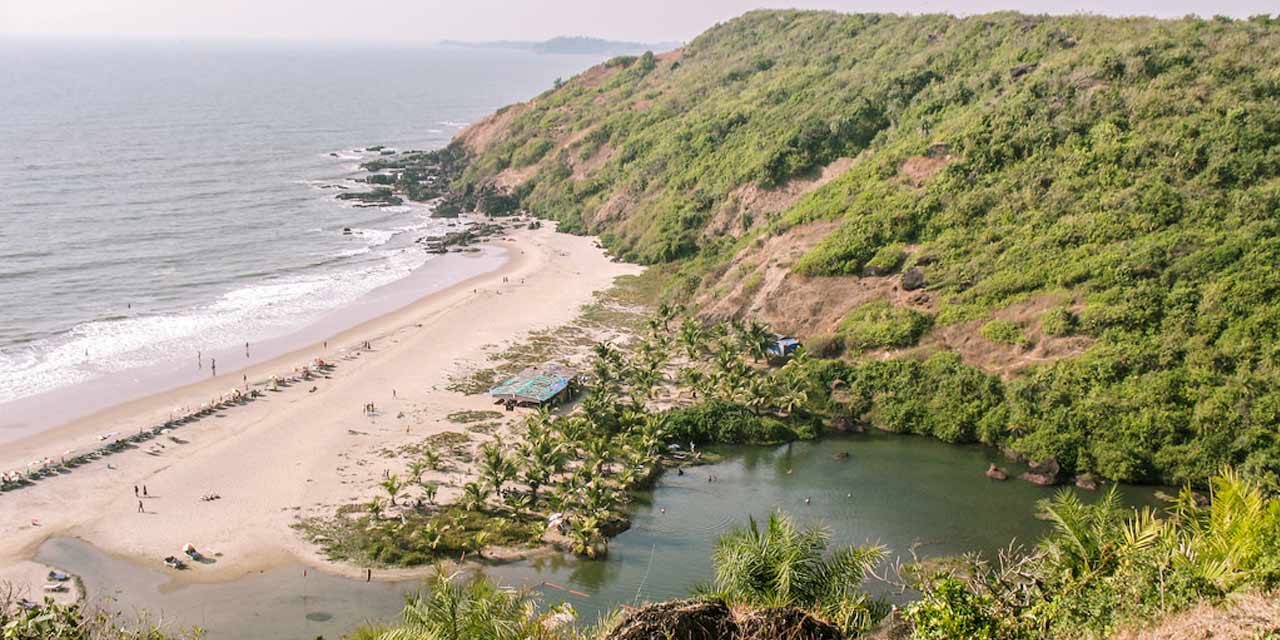 Arambol Beach is one of the nicest beaches in North Goa. It is one of the most lovely and tranquil places to visit in Goa. The rocky and sandy Arambol Beach is bordered by forests on one end and the ocean on the other. The unusual bohemian vibe of Arambol beach draws visitors from all over the world.
There is something for every soul in Arambol, whether it is health pursuits at a yoga class on the beach, a drum circle, and a weekend seaside market at dusk, a mysterious baba on top of a hilltop, diving over a cliff to paraglide, or simply meandering about the kitschy market alleyways.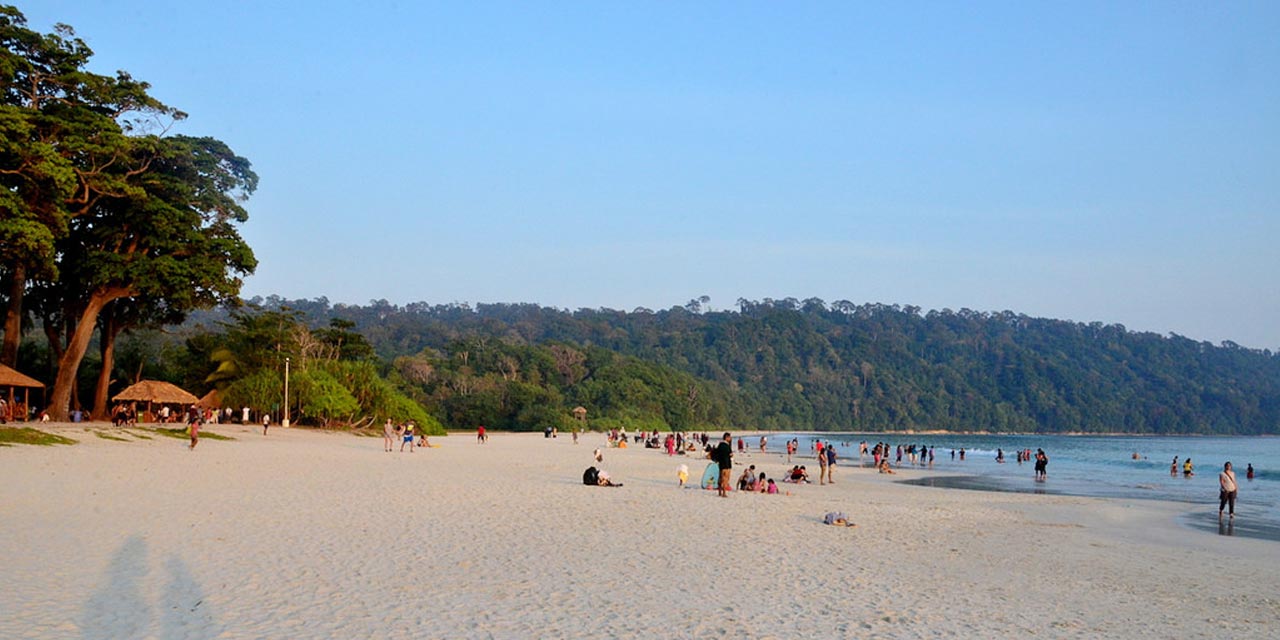 Baga Beach is located around 30 kilometers north of Panjim, close to Calangute Beach. It is one of the best places to visit in Goa to experience the vibrant nightlife. The 'Baga stream,' which empties into the Arabian Sea, gave Baga its name.
It allows you the opportunity to live out your ideal beach vacation because it is lined with a variety of tattoo parlors, tarot stores, palmistry shops, spas, sun decks, and some renowned shacks. If you choose not to party, you may also spend your days reading in silence on a beach chair after practicing some beach yoga and eating a healthy breakfast by the water.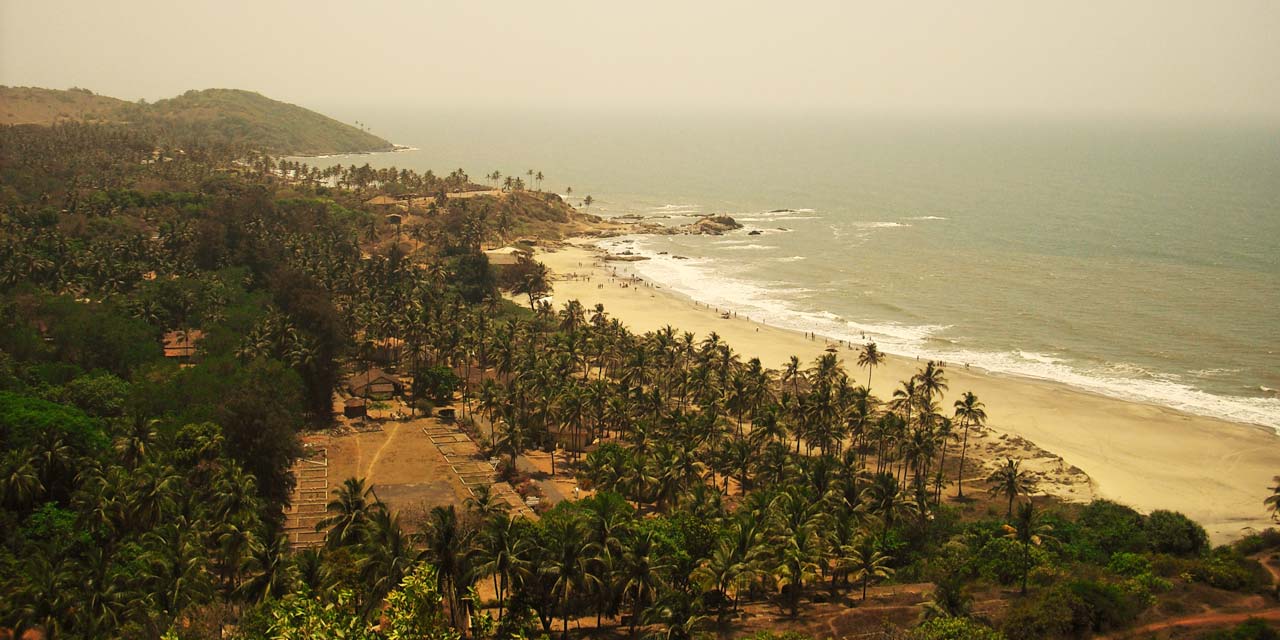 Anjuna Beach is one of the most well-known places to visit in Goa. Situated in North Goa it is 21 kilometers away from Panjim. Anjuna Beach is renowned for its golden coastline, chic nightclubs, quirky beach shacks, fun watersports, and vibrant flea markets. The beach is perfect for everything, from family trips to exhilarating experiences.
Anjuna, also known as the "Jewel of Ozran," rose to fame as a hippie hotspot in the swinging 1960s and continues to have the same feel even today. When you are here, you will undoubtedly encounter a diverse group of visitors from across the world.
18

. Aguada Beach

The majestic Fort Aguada is the main attraction of the lovely Aguada Beach. Walking along this beach in North Goa is the perfect way to take in the dawn and sunset. Aguada Beach also has a lot of eateries, cafés, and beach shacks where you can go for delicious food and beverages. Aguada Beach is among the amazing places to visit in Goa that offer a wide range of watersports and adventure activities.

On this well-known beach in Goa, there are a lot of stores and sellers selling a variety of goods, from Kashmiri carpets to massage services. A range of watersports activities like jet-skiing, parasailing, banana boat ride, and more can be greatly enjoyed.
19

. Mobor Beach

Mobor Beach is a tourist hotspot with lots of festivities and activities going on all the time. It is among the best places to visit in Goa for nature lovers. Beautiful natural features like ponds with blooming lilies, sand dunes, and coconut palms embellish the surroundings. These all contribute to the beach's beauty.

People who wish to experience Goa's daily life in its entirety or who just want to have a more memorable vacation should travel here. You may just lie down and enjoy the warm sun, go swimming in the cold water, or choose to spend some quiet time alone at the seashore in the serene surroundings.
20

. Querim Beach

In Goa, Querim Beach is located in the northern part of the coastal state. It is known as Keri Beach and is one of the most unexplored places to visit in Goa. Few tourists that come to Goa stop at this beach because of its remote location. If you are looking for a peaceful stay away from crowded tourist spots, Querim Beach is the ideal stop for you.

Besides the beach, you may also travel through the Querim Village on a boat and even observe the Terekhol River flowing directly into the ocean. Moreover, the Terekhol Fort, which is now a contemporary hotel, is located across the river.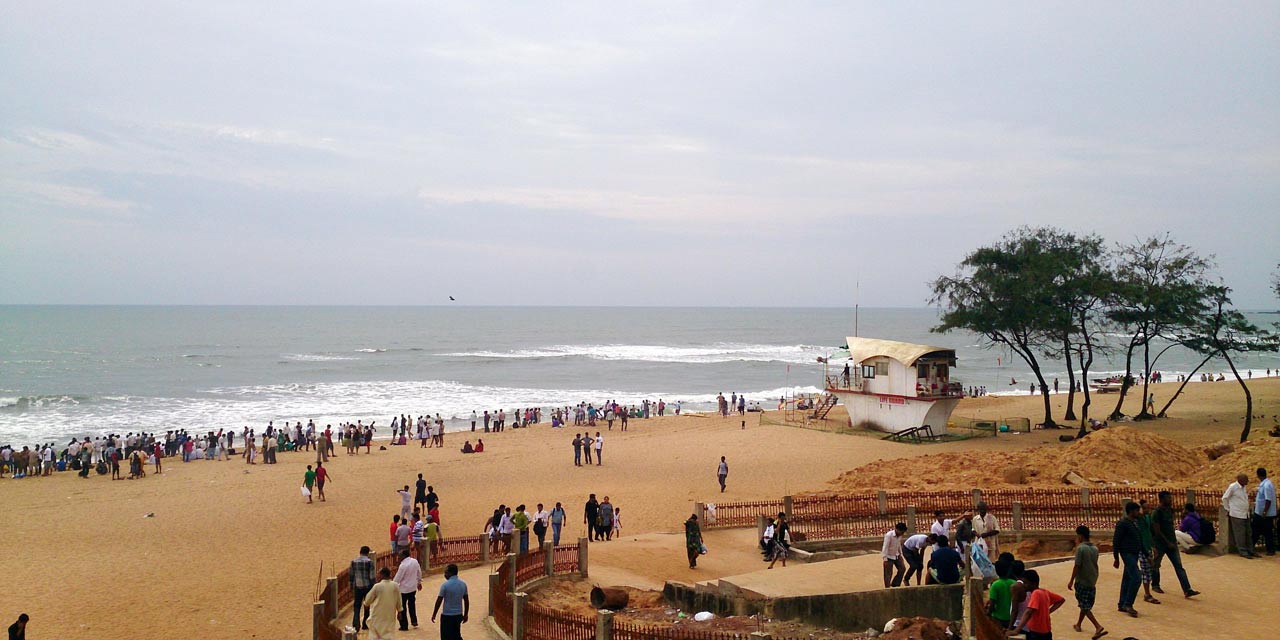 The longest beach in North Goa, Calangute Beach, is an ethereal spot to witness the natural beauty of the Arabian sea. It stretches from Candolim to Baga. It is located 15 kilometers from Panjim and is among the most popular places to visit in Goa. It is a destination for travelers and backpackers from all over the world because of its size and popularity.
Goa's Calangute Beach, known as the "Queen of Beaches," is regarded as one of the top 10 swimming beaches in the world. One of Goa's busiest and most popular beaches, it is teeming with restaurants, shacks, and clubs providing beer, seafood, and other beverages. Water sports on Calangute Beach include paragliding, water surfing, banana rides, and jet skiing.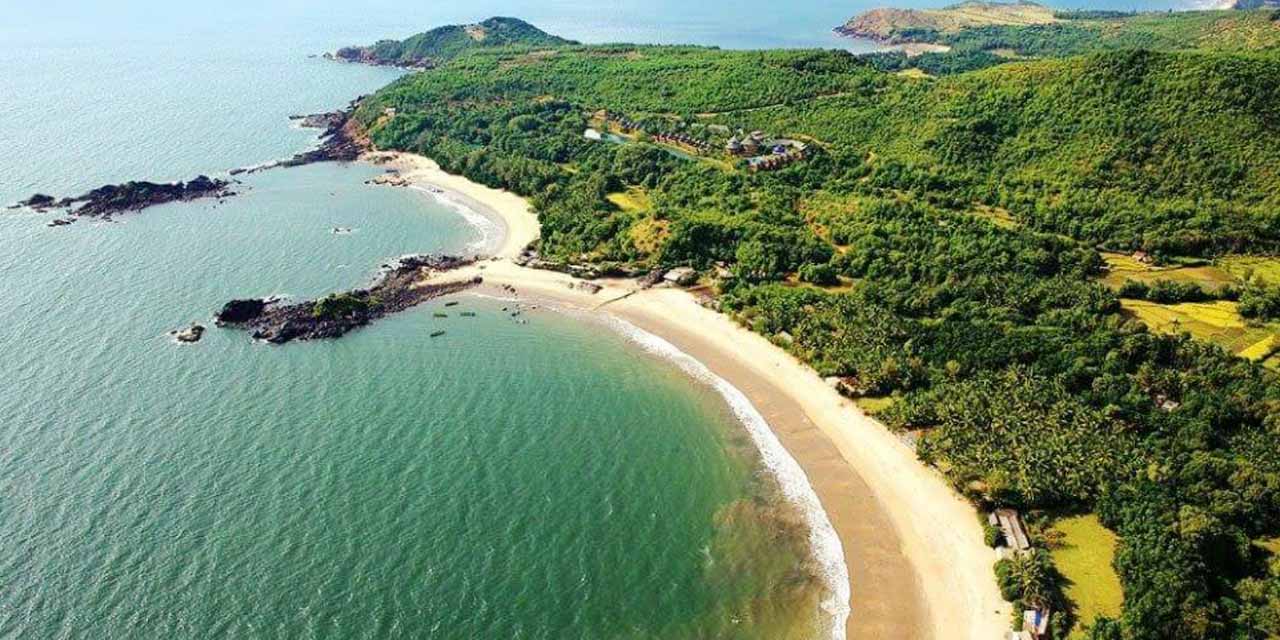 Butterfly Beach is located in the Canacona district of Goa, a bit to the south of Palolem. Among the most romantic places to visit in Goa, it is often called Honeymoon Beach. The beach is in the shape of a little cove that is bordered by tall vegetation. It is one of the lesser-known beaches in the state.
The only way to get to Butterfly Beach is via land, and getting there requires a strenuous journey through a forest. However, this also presents a fantastic chance to go jungle hiking with your loved ones. It is interesting that Butterfly Beach got its name since the trees in the area periodically draw a wide variety of butterflies.
23

. Grand Island

At a reasonable price, you can enjoy the best of Goa on the serene Grand Island. You have to take a small boat ride to reach this place. Earlier known as the Ilha Grande, it is one of the most happening places to visit in Goa. You can take a half-day tour to the middle of the famous Arabian sea. The enormous blue sea with crystal clear water appears wonderful.

On your jetty ride, you can witness the majestic Aguada Fort, the lighthouse, and Central Jail, and spend hours spotting dolphins. It is a less crowded place offering astounding maritime experiences. Some of the popular aqua activities are water trampoline, kayaking, scuba diving, sea walking, snorkeling, and swimming.
24

. Divar Island

A part of North Goa, and lying on the Mandovi River, Divar Island still retains most of its authentic 16th-century charm. It is a small and hidden gem connected to Old Goa with a ferry service. Dotted with well-preserved Portuguese villas and traditional churches, it offers panoramic views of the surrounding countryside from atop the hill.

You can see the impressive Piety Church with fine interiors. Every year the Bonderam festival is held with great vigor. You can soak in the pristine beauty of the narrow winding roads, the tiny tea stalls, and the overall aura of the place.
25

. Chorao Island

Out of the 17 islands present in Goa, Chorao Island is the largest. Untouched by crowded tourism and exploitation, it is among the most pristine places to visit in Goa. The island offers you unmatched solitude and rejuvenation. Witness the ancient Portuguese-influenced whitewashed manors, churches, graveyards, dilapidated buildings, and picturesque villas. The narrow muddy pathways and graceful cottages reflect an old-world charm.

It is famous for the Salim Ali Bird Sanctuary where you can witness eagles and purple herons. You can explore the mangrove marshes by renting a dugout canoe or kayak. There are also a number of Hindu temples. You have to take a ferry ride from the Ribandar village to reach this spot.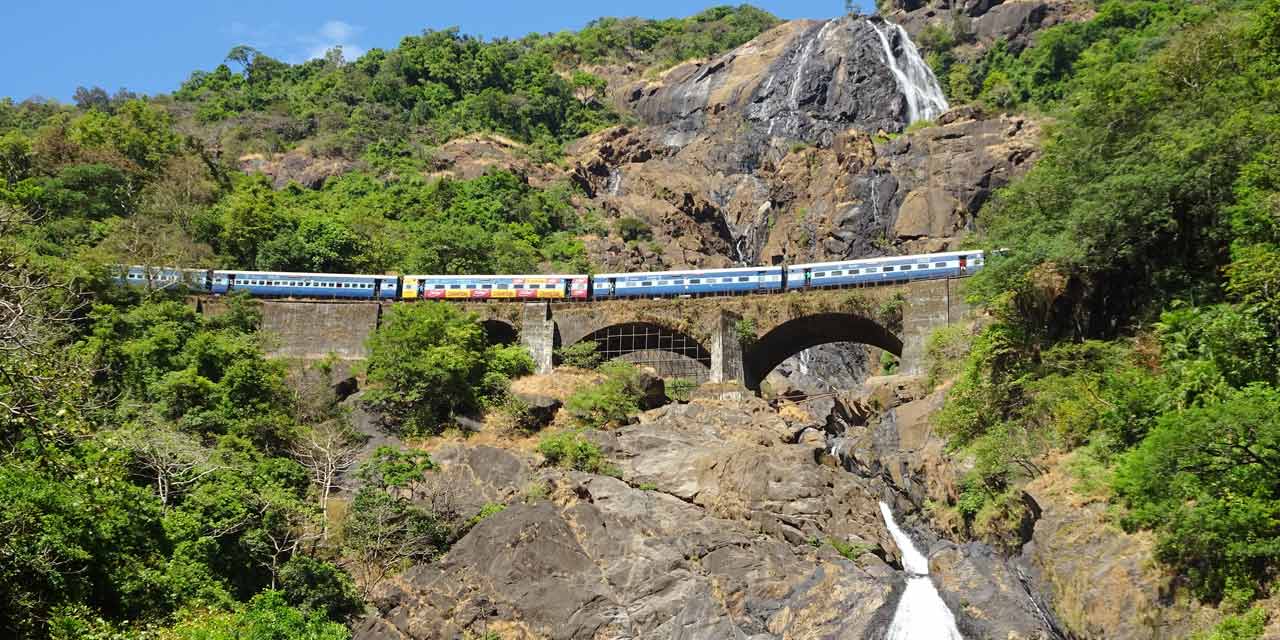 At a height of 310m height, Dudhsagar Waterfalls is one of the tallest in the country. It appears like a heavy rush of milk flowing down the hill. Located inside the Bhagwan Mahavir Wildlife Sanctuary, it is a four-tiered enticing waterfall. You can take a jeep safari ride through the park. There is a green pool at its base.
Monsoon is the best time to visit this waterfall when it is in full glory. Even the surrounding forests appear refreshingly green. To come closer to its breathtaking beauty, you can trek from Castle Rock. You can soak in the serenity of the surroundings.
27

. Archives Museum

For a historical and archaeological tour, you can visit this commendable museum. Archives Museum is a great place with numerous historical and cultural exhibits of Goa. Over the years, prominent figures and museums have gifted and loaned many rare and precious items. You can notice the wonderful sculptures, paintings, and artworks from earlier ages.

The innumerable artifacts include manuscripts, bronze and stone statues, furniture, carvings, wooden objects, rare coins, and anthropological objects. The staff guides you through your exploration. You can delve into the rich history and heritage of Goa. Currently, it is now under renovation and has been shifted to another place.
28

. Shri Mahalaxmi Temple

After the original shrine was destroyed by the Portuguese, Shri Mahalaxmi Temple was built in 1866. It is the epitome of traditional Konkani temple architecture. The spacious temple imbues a sense of fullness, positivity, and satisfaction. The Goddess has a linga on her head and is considered a Satvik form of the Devi.

You can visit it for the beautiful surroundings, and the awe-inspiring temple and its premises. The rituals are performed in a traditional way. You can watch the grand festive celebrations. For the devotees, rooms, canteen, and parking have been arranged. On Tuesdays, the Palkhi procession is worth watching.
29

. Curlies

Curlies is the oldest and the first-ever beach shack established in Goa. Located at Anjuna Beach, it is popular for its soothing beach views, scrumptious food, lively nightlife, and vibrant ambiance. From a tiny shack to a reputed two-story complex, it has undergone great changes.

Several amenities include an indoor club, tea house, shopping, upscale bar, veranda with sea view, internet café, and rooftop dine-in. It is a rustic-chic venue that hosts trance parties and electro-beach parties. You can stay here and indulge in an unforgettable beach holiday. The beach offers adventure water sports, sightseeing, and fun tours.
30

. Mandovi River Cruise

Mandovi River Cruise can take a journey through the rivers of Goa and witness a scenic view. Spend 1-2 hours exploring the pristine blue waters and splendid views. Originating from Miramar Beach in Panjim, the Mandovi River Cruise can be of various types. Hence, you can choose from a casino cruise, simple evening cruise, backwater cruise, full moon cruise, sunset cruise, and elaborate romantic dinner cruise.

You can pre-book a suitable package and confirm your reservation. There is guaranteed fun and excitement on board. You can witness mesmerizing sceneries, groove to live DJ music, watch two amazing dance performances and savor delicious multi-cuisine food.
31

. SinQ Night Club

A happening nightclub on Candolim Beach, SinQ Night Club is quite popular among party folks. It attracts people with its lounge and uber-cool experiences. The minimal furniture with warm earthy tones makes it an ultimate party place to visit in Goa. It has 4 distinct entertainment zones.

You can lounge around the poolside deck, swim or head to the dance floor, bar, or Goan Tavern. Each day has a new theme and you can enjoy live gigs or entertaining performances. The soft continuous music brightens the mood. You can taste wood fired pizza, barbeque fare, and delicious European and Goan cuisine. Couples are mostly allowed but larger groups can be accommodated.
32

. Chapora River

Starting from Ramghat in Maharashtra, Chapora River flows into the Arabian Sea at the Vagator Beach in North Goa. Although it is an offbeat location, it is a treasure trove of pristine natural charm. It is believed to have marked the Indo-Goa Portuguese boundary.

You can witness the well-maintained 18th-century Morjim village dwellings. Admire the age-old fishing techniques practiced at the fisheries. The river is also popular because of the Chapora Fort. From atop the fort you can have stunning vistas of the surroundings. You can see the river flowing from the northern side and merging with the gorgeous sea.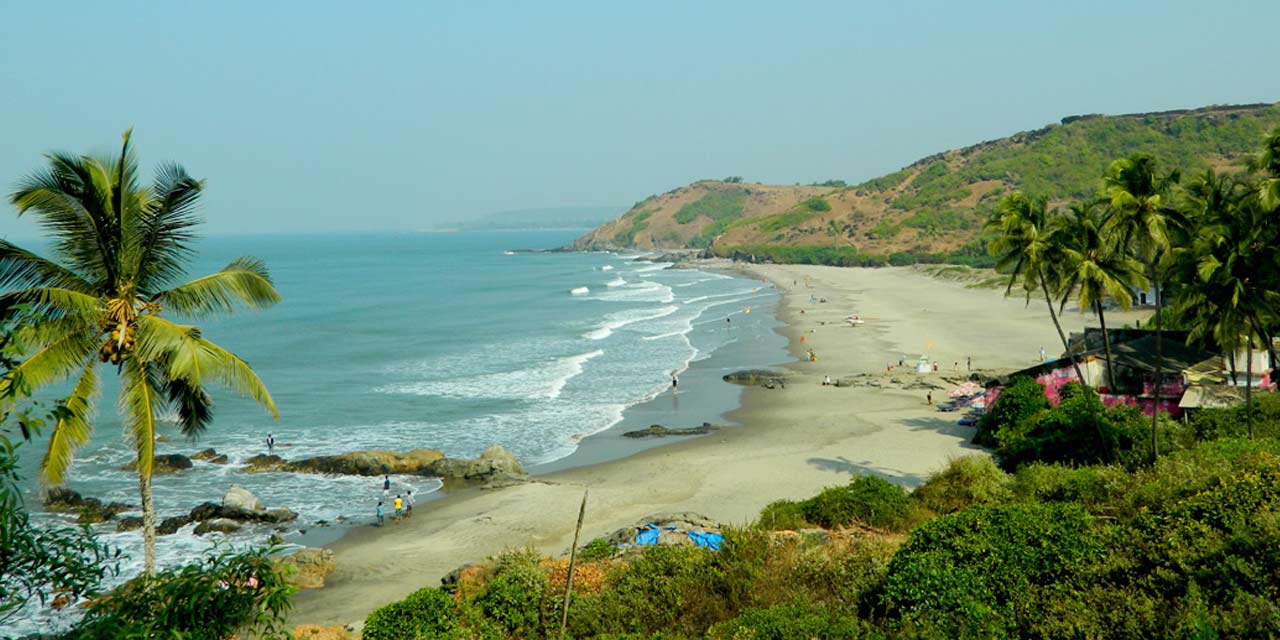 Vagator Beach is known for its striking red cliffs, rave parties, and high-spirited nightlife. Ranked among the top places to visit in Goa, it is a popular tourist spot. Framed with green hills and rocky formations, it is divided into Little Vagator or Ozran Beach and the Big Vagator. It is the most photographed beach in Goa.
You can get sweeping sea views and enjoy thrilling water sports. You can explore the German-held longest and most vibrant flea market of Goa every Saturday. Local handicrafts and interesting Goan souvenirs are also available. The decent bars and restaurants serve good food and drinks. You can also have coconut water from local vendors.
34

. Mambos

You can spend an enthralling night with your friends and partner at one of the most famous nightclubs in Baga in North Goa. You can enjoy the open-air lounge, concert space, and Indian and international DJs playing music every night. Moreover, you can see energetic shows by trained performers. Tap your feet to the retro, house-styled, hip-hop, and techno music on the roofed-in dance floor and outdoor terrace.

Special karaoke parties and a variety of hookahs also attract the party animals, making Mambos the most happening place to visit in Goa. You can relish delicious food and sip the finest of drinks. Electrifying lights and loud rhythmic music make it a super-chic party venue.
35

. Galgibaga Beach

One of the cleanest beaches, Galgibaga Beach is a lesser-known place to visit in Goa. It is known for turtles' nesting. If you visit it during December and February, you can see the turtle's eggs and even witness baby turtles hatching out of them. You can also notice Olive Ridley turtles making their way across the beach.

The pristine beach has a dense vegetation cover and varied topography. It is a quiet place with no shacks, no loud lights and sounds, and less crowd. You can admire the coral rocks with various hues and formations. Appreciate the government efforts taken to ensure that the turtles reach the beach safely upon hatching and witness the untouched beauty of nature.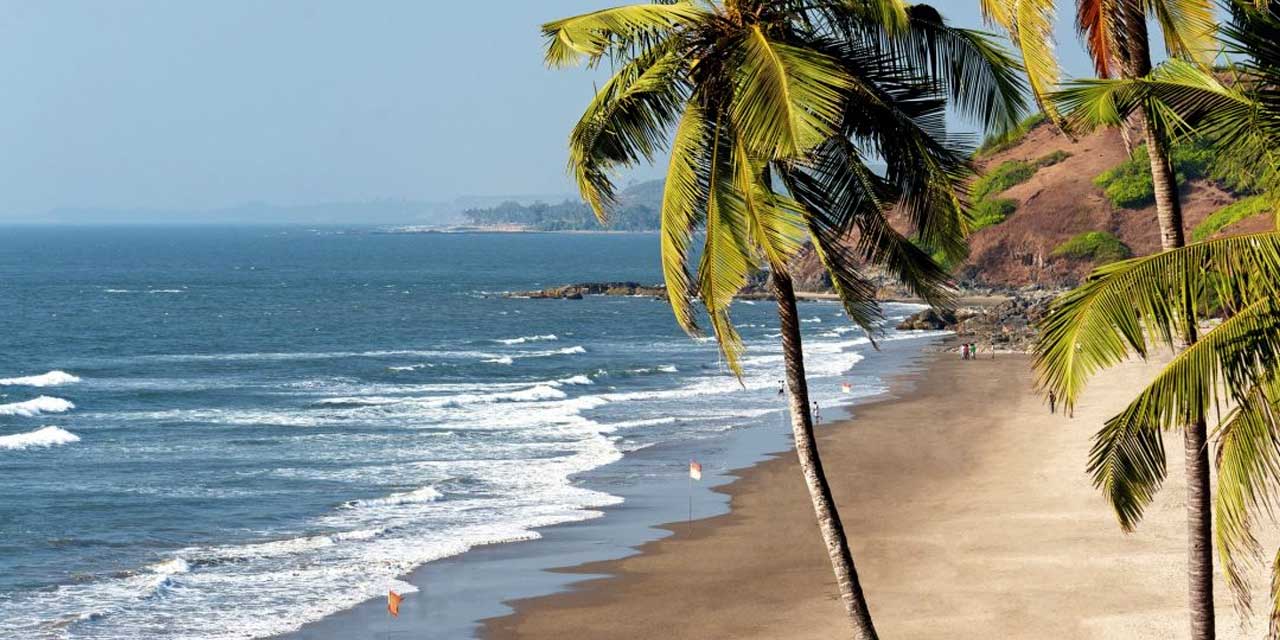 Bambolim Beach is one of the most serene and untouched places to visit in Goa. Located in North Goa, it is free from the clutter of vendors, shacks, glaring music, and blazing lights. The long beach offers complete rejuvenation to all the tourists. However, it is well-connected, unlike the quieter beaches of Goa.
You can organize a picnic, enjoy swimming, take a stroll or laze around under the balmy sun on the golden sands. The swaying palm trees generate a cool and refreshing breeze. You can also avail of boating and enjoy the sunset. Observe the local fishermen at their daily work. You can capture many brilliant photographs at this spot.
37

. Verna Springs

Fringed by thick tropical forests, Verna Springs is a small and charming waterfall. It is located near the Cortalim village just off the Verna plateau. During the monsoons, it appears the best with the lush surroundings. You can access it through a short trail and by climbing some steps.

The minerals present in the water are believed to have rejuvenating and curative properties. It is hence regarded as a wonderful natural spa. You can enjoy water sports like swimming. In the forests of betel palm plantations, you can notice the inhabiting eagles. Because of the serenity all around, it is among the great places to visit in Goa.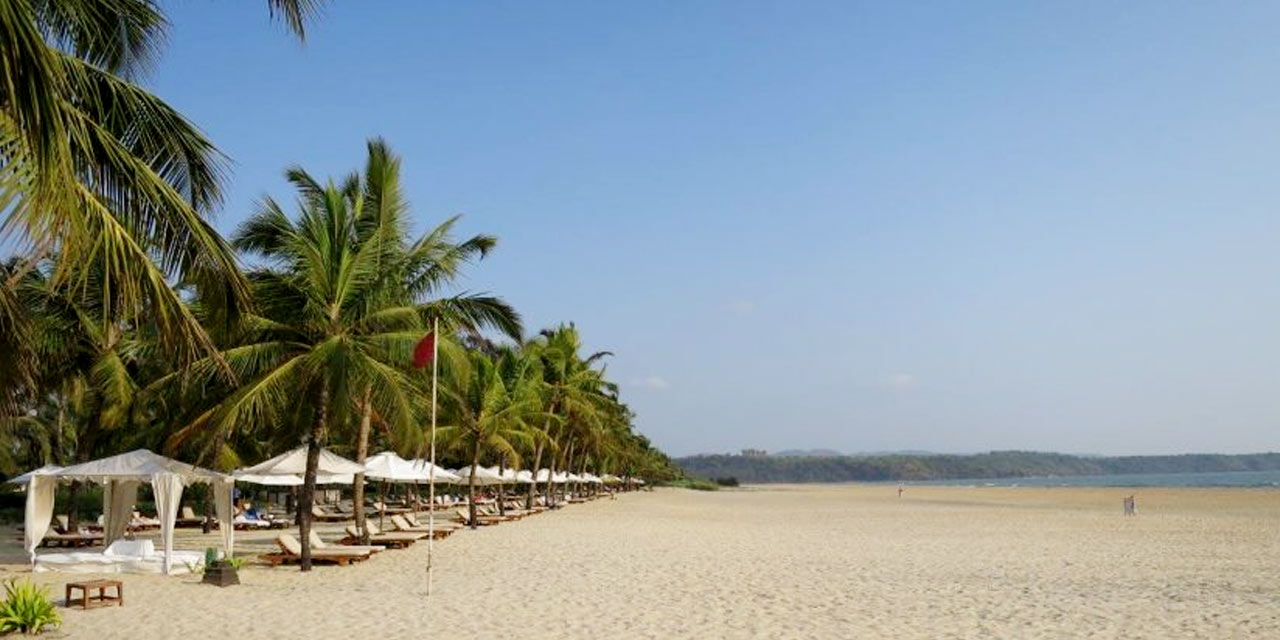 Cansaulim Beach is situated next to the Dabolim Airport, which is about 15 kilometers from Margao in South Goa. This beach is the ideal location to spend a few special minutes if you are seeking a tranquil and private place to visit in Goa.
You may select from a variety of watersports if you are seeking some excitement. The sports you may attempt at this beach include water skiing, water surfing, speedboat excursions, and parasailing. Numerous beachside shacks offer guests a relaxing experience together with tasty treats and intriguing beverages.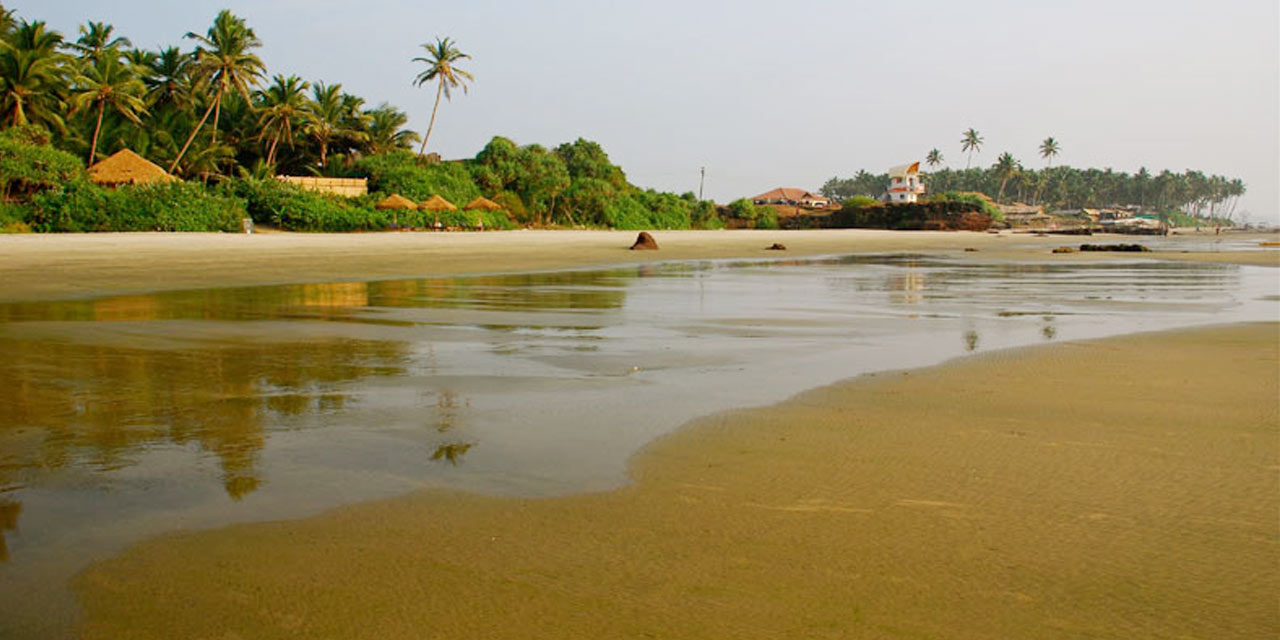 With beautiful surroundings and a variety of good beach hotels and resorts, Ashvem Beach is a hidden gem. There are several excellent alternatives for lodging along the beach. However, the majority of visitors arrive at this beach during the day for swimming and sunbathing. To visit some genuine Goan villages and temples, you can travel a bit further interior through the jungle.
Stay the night in one of the inexpensive huts or examine the opulent beach resorts on the more sedate section of the beach. Because of the trees in this area, it is locally known as Palm Grove. The lodging is usually provided in cozy beach huts, making it a popular place to visit among nature enthusiasts.
40

. Shri Shantadurga Temple

Shri Shanta Durga Temple is a private temple situated 33 km from Panaji at the foothill of Kavalem village in Ponda Taluka in Goa. It consists of an idol of the avatar of Goddess Durga who stopped the war going on between Lord Vishnu and Lord Shiva to bring Shanti to the region.

This temple has undergone many renovations and many temples for other deities have been built on the three sides of the temple. You can admire the architecture of Shri Shanta Durga Temple with the others together and bask in the serene atmosphere here while meditating.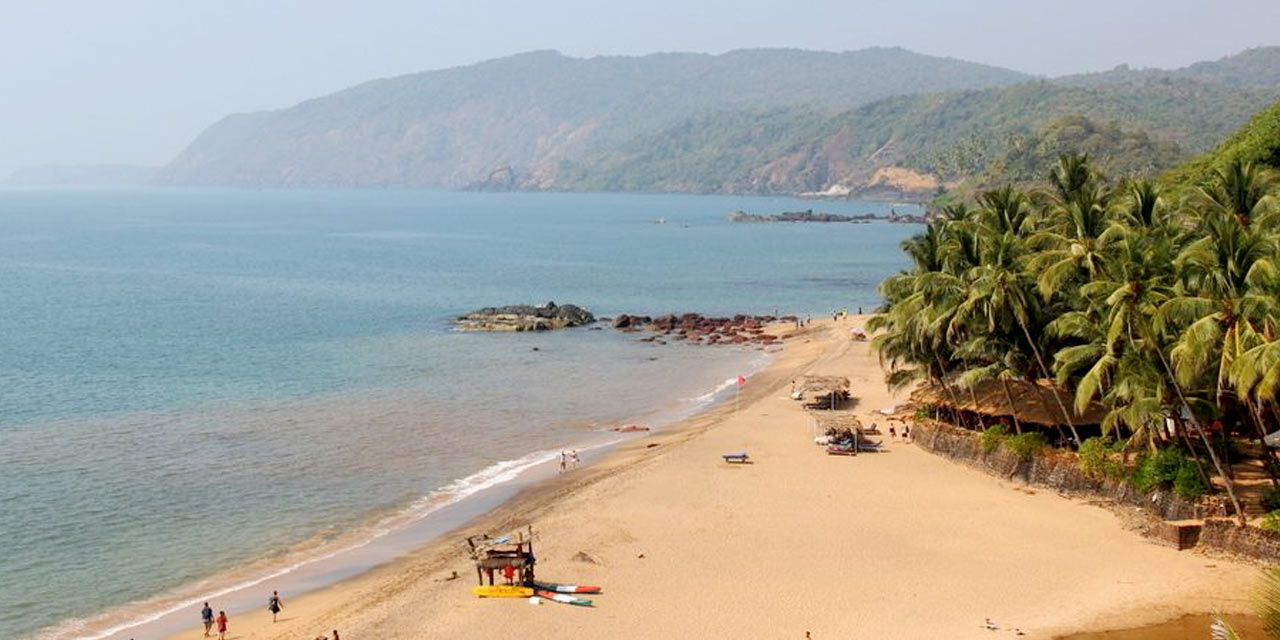 Candolim Beach is one of the most popular and also among the longest beaches in Goa. Famous for hosting the popular Sunburn Festival for three days every year, the beach is among the best places to visit in Goa. The electronic dance festival attracts millions of people from all over the world.
Candolim beach is also famous for its water sports like jet skiing, bump rides, banana rides, catamaran sailing, parasailing, waterskiing, and windsurfing. You can also take a guided boat trip to watch dolphins and crocodiles. It is also famous for the underwater sunken Spanish and Portuguese wrecks that can be experienced with diving. You can also enjoy the splendid underwater scenery of marine life, like sharks, turtles, and barracudas.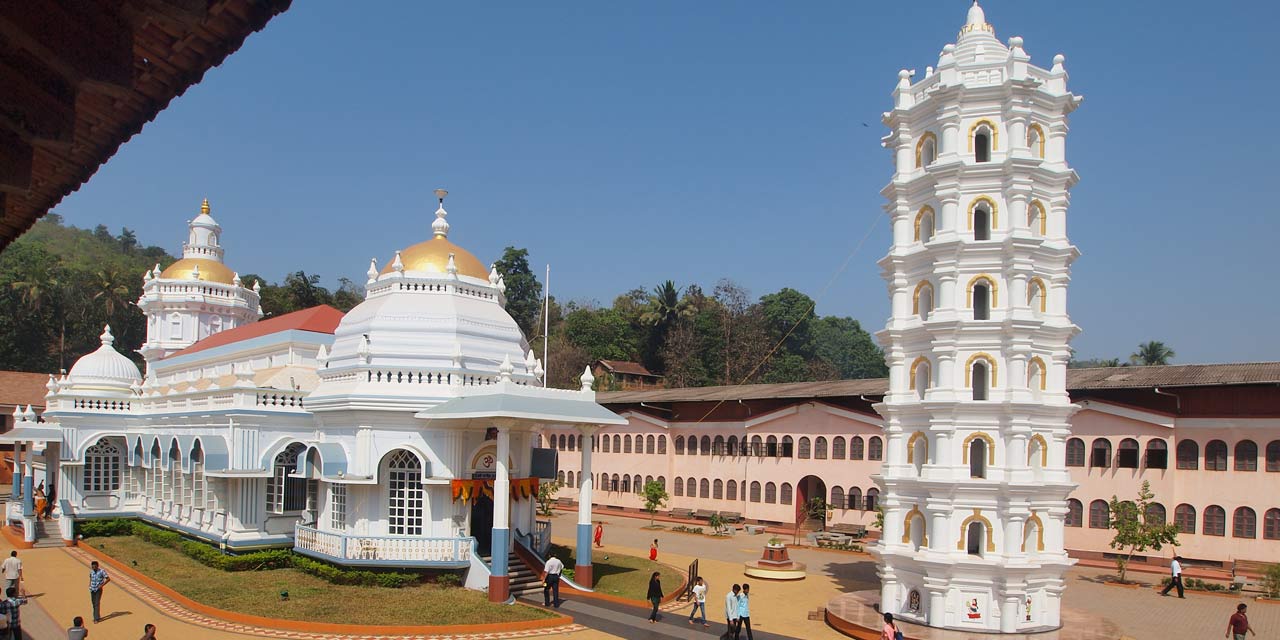 Shri Mangeshi Temple is one of the largest temples dedicated to Lord Shiva and among the popular pilgrimage places to visit in Goa. It is located in Mangeshi Village in Priol in the Ponda taluka of Goa. The architecture of the temple is elegant, consisting of domes, pilasters, and balustrades with a beautiful Nandi Bull at the front.
It consists of a seven-story lamp tower which is lit on important occasions and a large water tank. It has a Sabha Griha which includes chandeliers from the nineteenth century and a Garbha Griha which has the image of Mangesh. The temple hosts annual festivals like Rama Navami, Akshaya Tritiya, Anant Vritotsava, Navaratri, Dussehra, Diwali, Magha Purnima Festival, and Maha Shivratri which are attended by a large number of people.
43

. Tito's Street

Tito's Street is a famous street in Goa which is named after the most popular nightclub called Tito. Ranked among the most happening places to visit in Goa it is a party lover's zone. Besides the clubs, the street is filled with various restaurants, street food, tattoo shops, and local handicraft stores.

It also has a famous open-air restaurant called The Courtyard and Mambo Cafe which are international tourist destinations. Tito's club is popular around the world for its nightlife with a great selection of DJs, food, and drinks.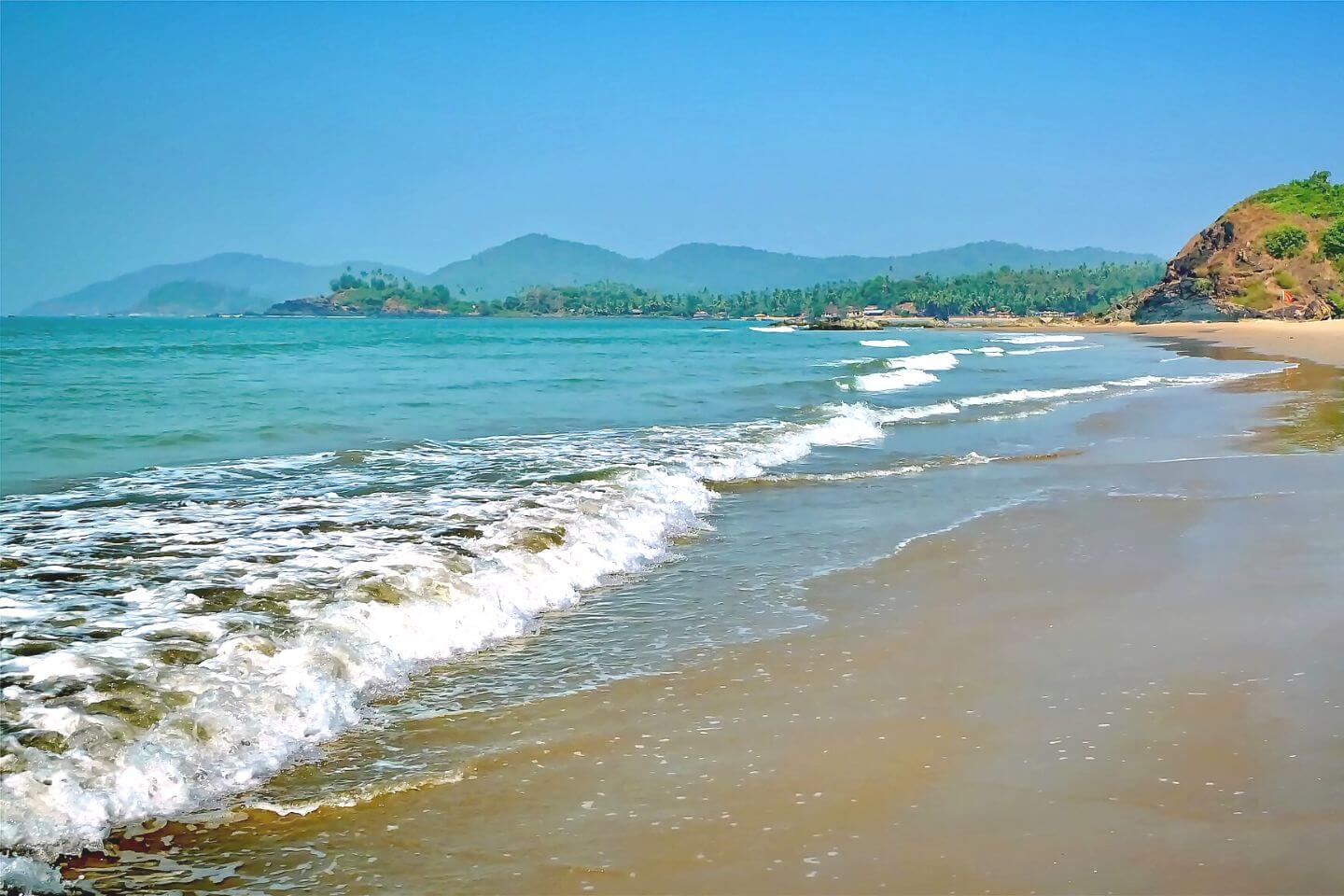 Palolem Beach is a crescent-shaped white sanded beach in Goa known for its silent discos where headphones are used instead of speakers. Its crescent shape allows admiring both ends from the center of the beach. It has calm water and palm trees with colorful wooden shacks making it best for relaxing and sunbathing.
You can also walk along the beach to Monkey Point and take a boat to Butterfly beach. You can also take part in activities like kayaking and paddling with Dolphins during the winter. The beach is one of the amazing places to visit in Goa.
45

. Deltin Royale Casino

There are many Casino Cruises in Goa found on the boats moored in the Mandovi River, and even along the coast in some hotels. Each casino has its own specialty to serve the client with games like Black Jack, Rummy, Stud Poker, Baccarat, and Flash Roulette. Some of the best Casino Cruises are Deltin Royale Casino, Deltin Jaqk, Casino Carnival, Majestic Pride Casino, Casino Pearl, Casino Palms, Casino Paradise, Chances Casino, and Crown Casino.

Deltin Royale Casino is one of the most popular and best luxury cruise casinos in the waters of Goa. It has a huge collection of games, drinks, and food to enjoy overall a perfect place to visit in Goa for a luxurious vacation.
46

. Lamgau Caves

Lamgau Caves are rock-cut caves of Buddhist origin located in Bicholim. They are a pair of caves carved out of laterite and covered by palm trees all around, making it a surreal place to visit in Goa. The first cave has a stone lingam with a small image of Nandi and Tulsi Vrindavan.

You can worship the Shiva Linga and meditate in silence here. The other cave is larger and typically used for refuge. The caves have carved ceilings and beams. You can admire the beautiful carving and the small streams that flow, making an ethereal atmosphere to admire.
47

. Club Cubana

Club Cubana is a nightclub located on Arpora Hill and is a perfect place to visit in Goa for party lovers. As the club is located on a hilltop it is also referred to as a "Nightclub in the Sky". The club also has different levels of swimming pools with large outdoor terraces giving a panoramic view of the pristine natural surroundings. The club also has indoor seating to enjoy the live DJ concert with national and international artists.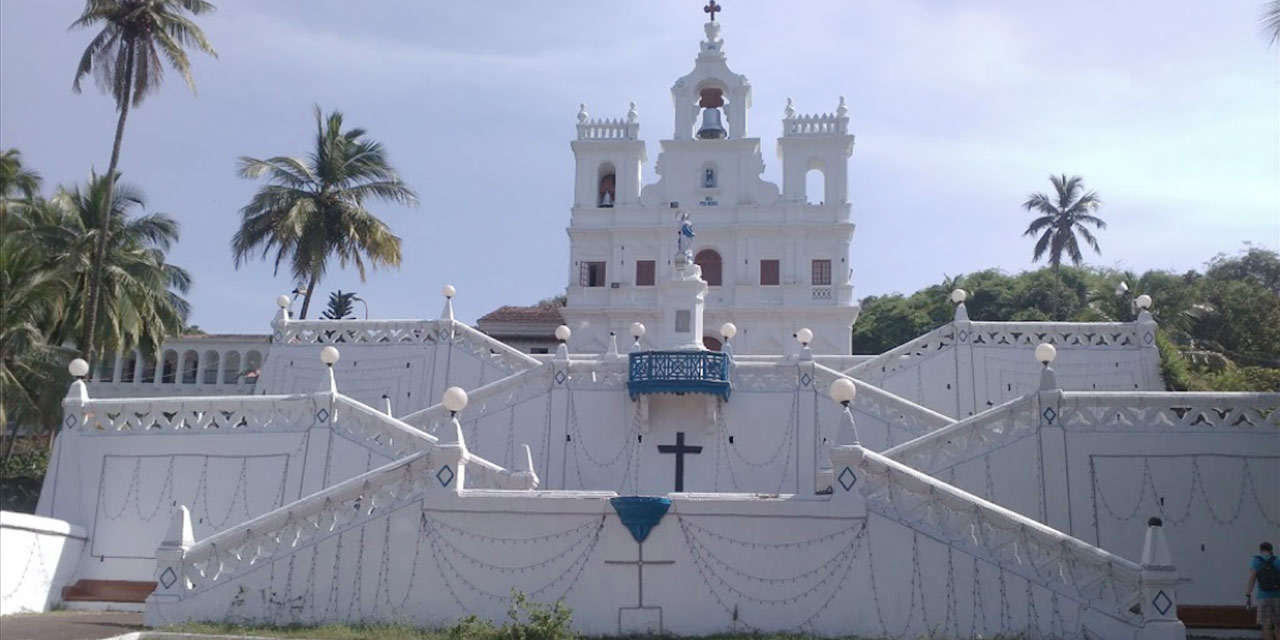 The Church of Our Lady of Immaculate Conception is one of the oldest churches located in Panaji, Goa, dedicated to the Virgin Mary. It has a beautiful combination of Indian and Portuguese architecture with carved wooden altars and pillars decorated with Bible scenes on the ceilings. The church hosts several religious festivals during the month of December every year, with the Feast of Our Lady of the Immaculate Conception being the most prominent.
Renowned for its beauty, it is among the best places to visit in Goa. You can walk around the church premise to admire the richly decorated facade with saints and angels beautifully dressed in robes, especially during sunset.
49

. Arvalem Waterfall

Arvalem Waterfall is the second most famous waterfall in Sanquelim and the most astonishing place to visit in Goa. Falling from a height of 50 meters, it forms a huge pool of water at its base as large as a lake during the monsoon, which attracts people to take a dip. It is also surrounded by the holy Rudreshwar Temple and rock-cut hollow caves from the fifth century.

These are believed to be the temporary home of Pandavas and lure history lovers. It also has a recreational center with a park that provides a beautiful scenic view of the waterfall. The park also has protective railings which makes it a great selfie point with a beautiful waterfall background view.
50

. Tito's Club

Tito's club has become synonymous with Goa's nightlife, to the extent that at this point they are inseparable. Founded in 1971 by Tito Henry de Souza, located in Calangute, it is the most famous and happening nightclub that Goa offers. The entire lane in Baga, where the pub is located, is popularly called Tito lane and is among the most vibrant places to visit in Goa.

A clubber's paradise, Tito's, has an amazing selection of both Indian and international DJs setting the stage on fire. The club also offers a delightful spread of food and luscious drinks. If you are looking to get a taste of Goa's Nightlife, Tito's club is the place where you start.
51

. Bondla Wildlife Sanctuary

The Bondla Wildlife Sanctuary is located in the northeastern part of Goa. It is filled with diverse and exciting flora and fauna that makes it one of the most enthralling places to visit in Goa. The park sprawls over a wide area of 8 square kilometers. The lush land and diverse ecosystem attract hordes of tourists from different parts of the country.

The soothing surroundings of the place are encompassed by enchanting hues of green and the sunlight playing through the leaves will not only restore your mood but also rejuvenate your tired mind. If you are not time-bound, then you can also book a night stay at one of the forest cottages. It is a thrilling experience for wildlife enthusiasts.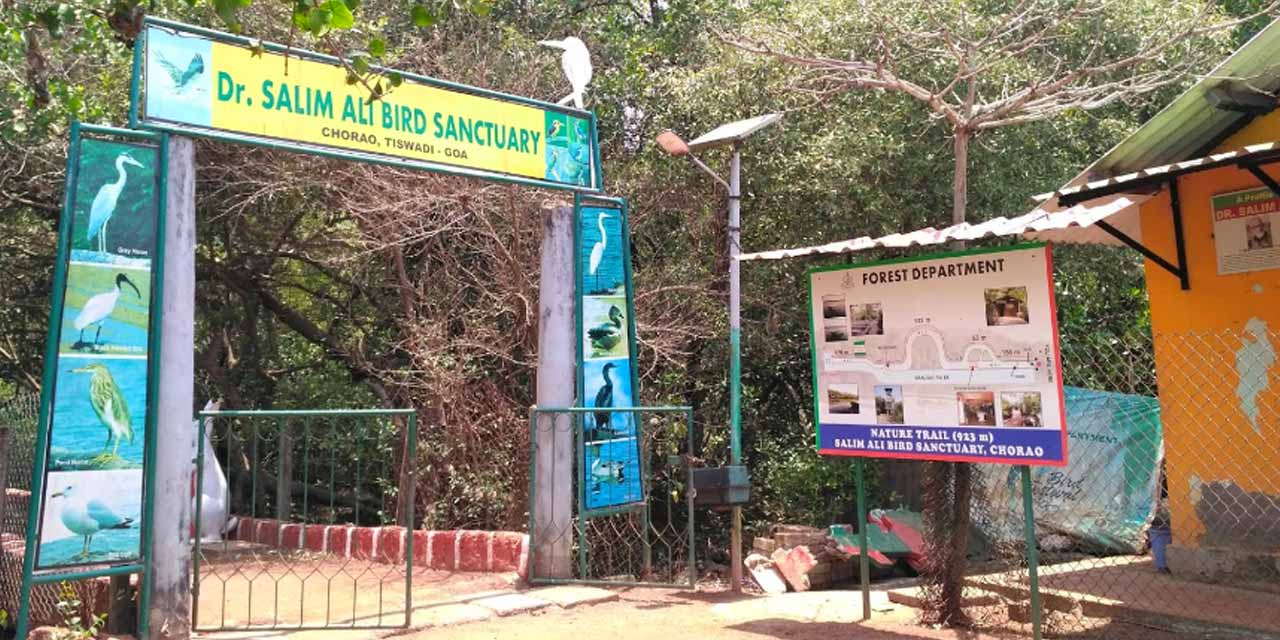 Salim Ali Bird Sanctuary is a birdwatcher's paradise in Goa. The ornithological heaven is located on the bank of River Mandovi. The sanctuary is home to more than 473 species of birds and rare animals amid thick mangrove vegetation.
Located on Chorao Island on the southern tip of Goa, the sanctuary abounds in natural beauty. It is an estuarine mangrove ecosystem providing a suitable environment for the breeding of some rare species of animals and birds. Apart from wildlife expeditions, Salim Ali Bird Sanctuary is also a great retreat for outdoor activities such as boat riding, nature hiking, sightseeing, outdoor picnics, and bicycle tours.
53

. Mandovi-Zuari Wildlife Sanctuary

The sanctuary is primarily a large estuarine complex on the west coast of peninsular India, comprising the Zuari and Mandovi rivers, their tributaries, and the interconnecting Cumbarjua canal. They contain 90% of the mangroves of the region, forming one of the best places to visit in Goa for nature enthusiasts. These stretches of rich mangrove swamps are considered to be amongst the most important in the country.

Spread over a vast area, Mandovi-Zuari wildlife sanctuary is home to about 20 different species of mangroves that include the rare Kandelia Candel species. The swamps support a large variety of fish, birds, jackals, snakes, and crocodiles, to name a few.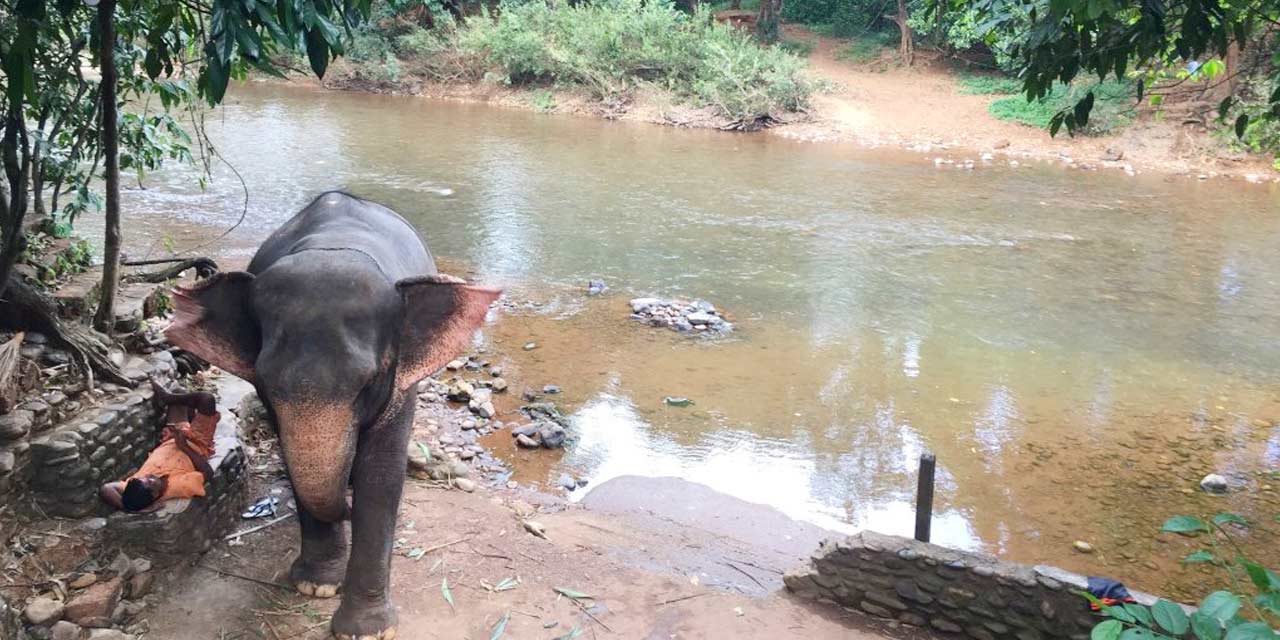 About 70 kilometers from the capital, Bhagwan Mahavir Wildlife Sanctuary is located in the Sanguem district of Goa. This green haven, which is part of the Western Ghats, is made up of moist deciduous and tropical evergreen forests. Besides providing a nourishing habitat for a number of endangered plant and animal species, it also offers one of the most diverse places to visit in Goa for nature buffs.
Beyond endangered plant and animal species, you can also witness exotic butterflies, reptiles, and plants. In the sanctuary, in addition to safaris that let you explore the length and breadth of the sanctuary, there are also built-in hiking and trekking trails that you can explore with knowledgeable guides.
55

. Cotigao Wildlife Sanctuary

The Cotigao Wildlife Sanctuary is one of the state's most beautiful yet unexplored reserves. It is located just off the busy Polem Beach in South Goa. These woodlands are a haven for numerous endangered species of plants and animals. You can enjoy going on safaris, walking along designated hiking trails, and trying your luck at spotting some of these exotic animals.

Being a hub of activities, the sanctuary is among the best places to visit in Goa. There is also a small yet informative nature interpretation center that you can visit to learn in detail about the typical flora and fauna of this forest. You can just have fun picnicking on the banks of the sweetly rippling streams of River Talpona and Galgibaga in the shade of the lush green forests.
56

. Mapusa Market

Mapusa market is an exciting traditional and weekly market of Goa. You can visit it every Friday. One of the perfect places to visit in Goa for shoppers, the market offers a lot of local items. You will experience the exciting Goan charm distinctly while visiting the Mapusa municipal market.

Jewelry, pottery, spice, and carpet stores are the major attractions of the market. Not only that, but you will also savor a range of delights and delicacies to enjoy and take home as well. You can even buy fresh fish, vegetables, and meat along with cheap local wine that is popular among hippies.
57

. Anjuna Flea Market

Anjuna Flea Market in Goa is a hippie's haven where you will find a great deal of hippie clothing, trinkets, souvenirs, and handicrafts at dirt-cheap rates. It was started in the 1960s, where this weekly market served as a forum for hippy travelers to barter their one-of-a-kind wares with locals. Today, it is among the best places to visit in Goa for shoppers.

Every Wednesday, Anjuna Beach hosts this beachfront spectacle. The weekly extravaganza sees tourists from around the world and, even late at night, you will find the place abuzz with music, dance, and festivities. It also offers some fantastic acrobatic activities and food vendors to up the fun factor and gives you a surreal Goan experience.