If you're looking for a holiday destination in India where you can enjoy the best of both the leisure and recreational world, then there is no place better than Goa. A preferable vacation spot among national as well as international tourists, Goa is widely renowned for its world-class heritage architecture, countless beaches, thrilling water sports, vibrant nightlife, lip-smacking food, and a happening atmosphere that quenches everyone's thirst with a lifetime experience to remember forever.
Lying on the west coast of India, Goa is one of the few places that serves as an ideal location for solo travelers, a perfect getaway for couples looking to spend some quality time after a wedding, and an amazing hangout site for families with children. While on one side, there is North Goa which is popular for its lively beaches, the other side of the state boasts South Goa which has tranquil beaches with luxury resorts and waterfalls that are breathtaking to watch.
In addition to all this, Goa offers many other things to do and see all around the day to keep yourself occupied throughout the time. It's obviously not possible to explore every tourist attraction in one go, so for your ease, we have hereby listed out the top 4 places that you must cover on your Goa tour whether you're here just for the weekend or a complete week. These are as follows: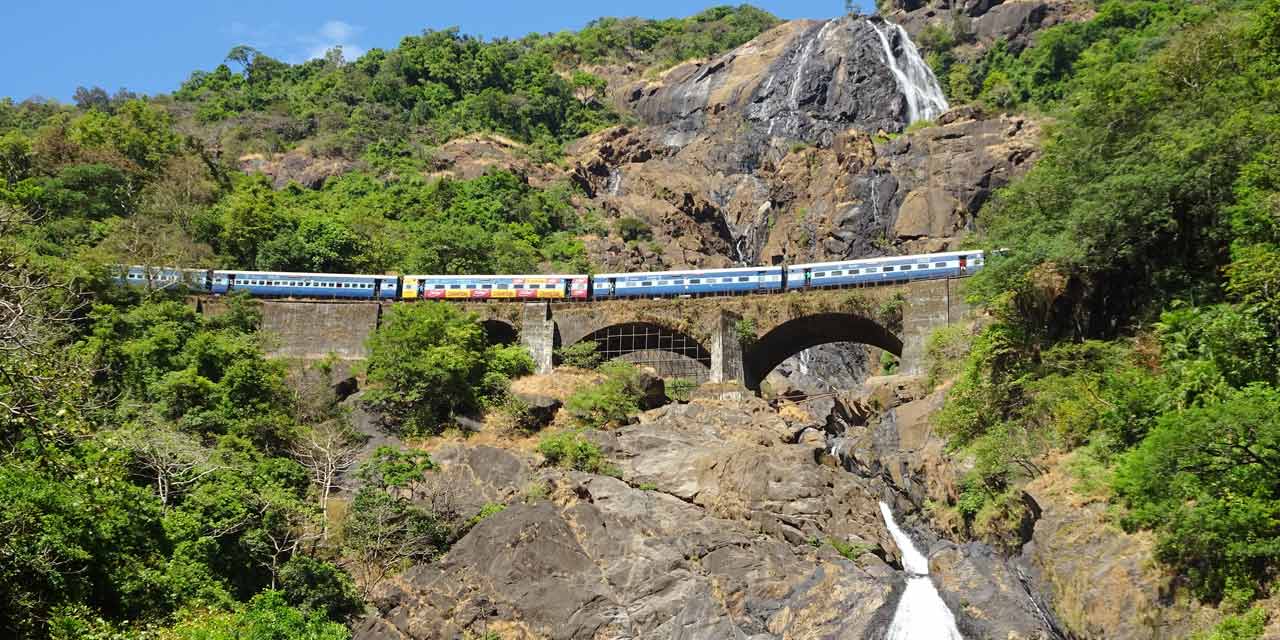 Treat your eyes to the majestic waterfall that stands as high as 310 meters. The Dudhsagar Waterfall, also considered as one of the tallest waterfalls in India, is a must-visit tourist attraction in Goa that receives a huge crowd of people every year – all thanks to the flowing cascade of milk that effortlessly goes down the hill.
It's a 4-tiered waterfall that invites all those people who wish to be in the lap of nature and carry out an adventure to fill their day with loads of fun, excitement, and thrill. You can pay heed to it during the monsoon season to enjoy your time to the fullest as the waterfall flows at its peak when it rains. Please avoid diving into the water; it can lead to a situation you never want to be in.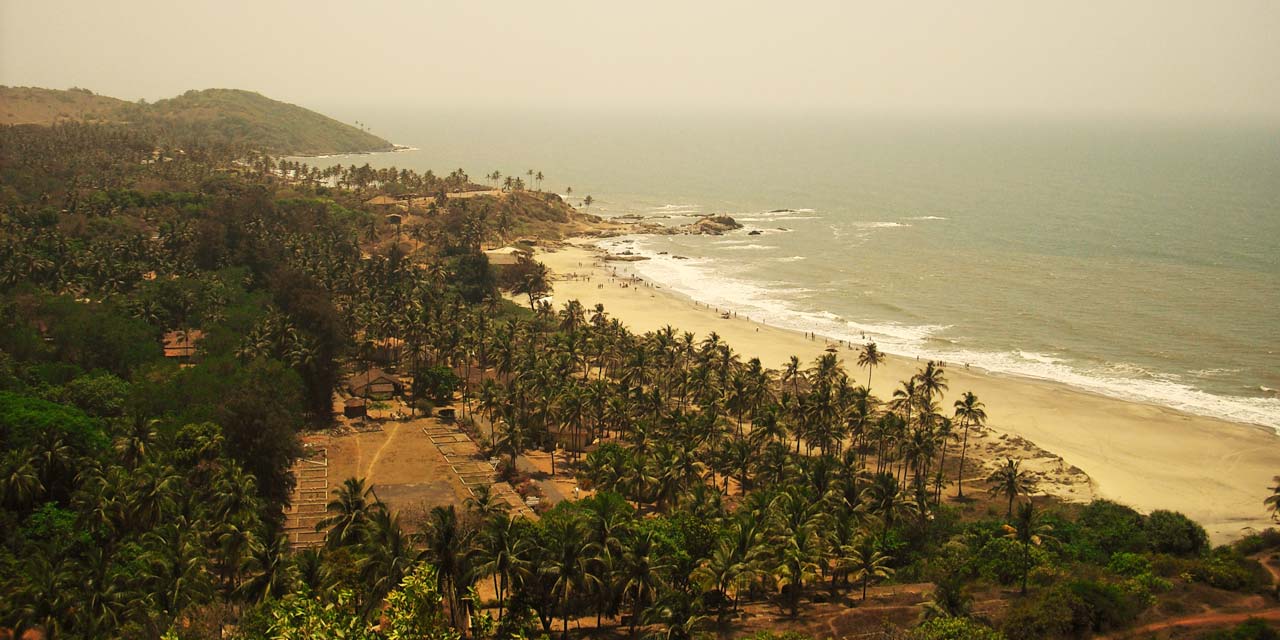 Experience a mix of sun, sea, and sand at Anjuna Beach. Lying at a distance of only 21 km away from Panjim, Anjuna Beach is amongst the popular beaches in North Goa that is widely known for its golden coastlines, action-packed activities, full-moon parties, nightclubs, and flea markets.
Here you can try your hand at various water sports like jet skiing, parasailing, paragliding, scuba diving, snorkeling, etc to make the most of your time. For your enjoyment, speed boat rides, water bikes, and tubes are also available to keep your interest glued throughout the time. One can also give a shot at the delicious cuisine along with enjoying a large assortment of beverages at the bar of their choice. The options are endless – you just need to decide on the things you want to surround yourself with!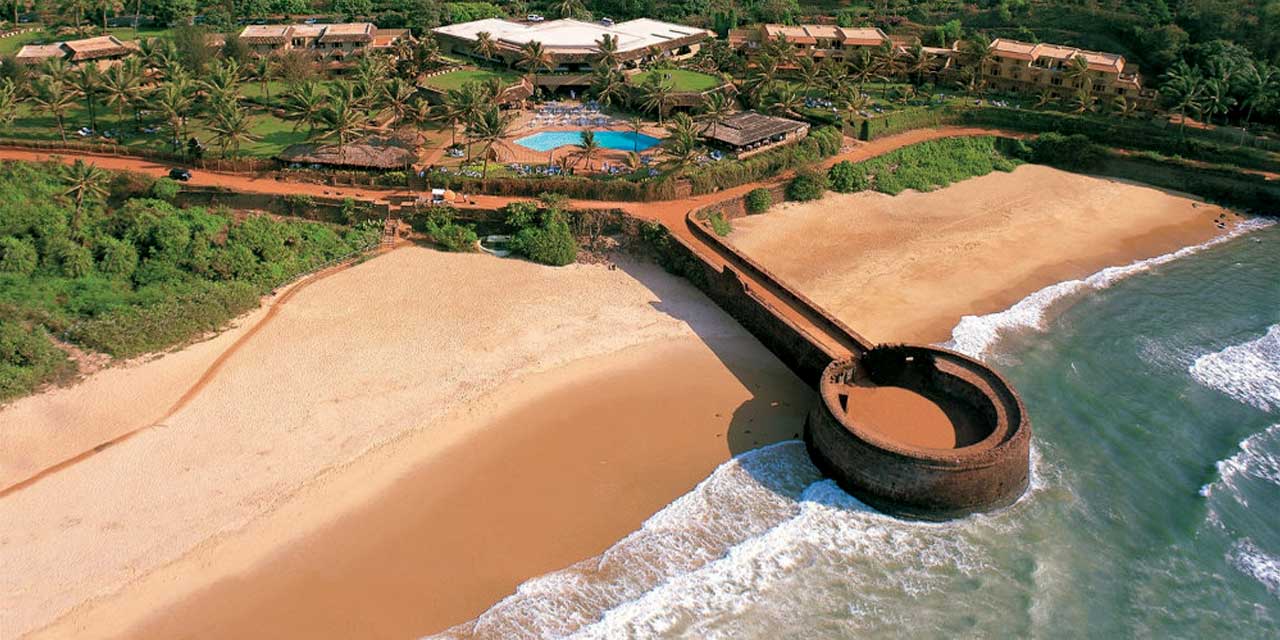 A fortress of tranquility, Fort Aguada is a stunning fort that offers breathtaking views of the Arabian Sea and surrounding areas at its best. It's the 17th-century Portuguese fort that features a four-story lighthouse along with brilliant architecture that is a sight to behold.
Built-in the year 1612 to safeguard the Portuguese stronghold from Maratha and Dutch invaders, Fort Aguada is an ideal spot to visit for amazing sunsets in the party capital of India and is indeed a great place to be included in your itinerary of Goa's local sightseeing tour packages. It is worth noting that many popular Bollywood hit movies have also been shot here at this fort and these are named as Kabhi Haan Kabhi Naa, Golmaal, etc.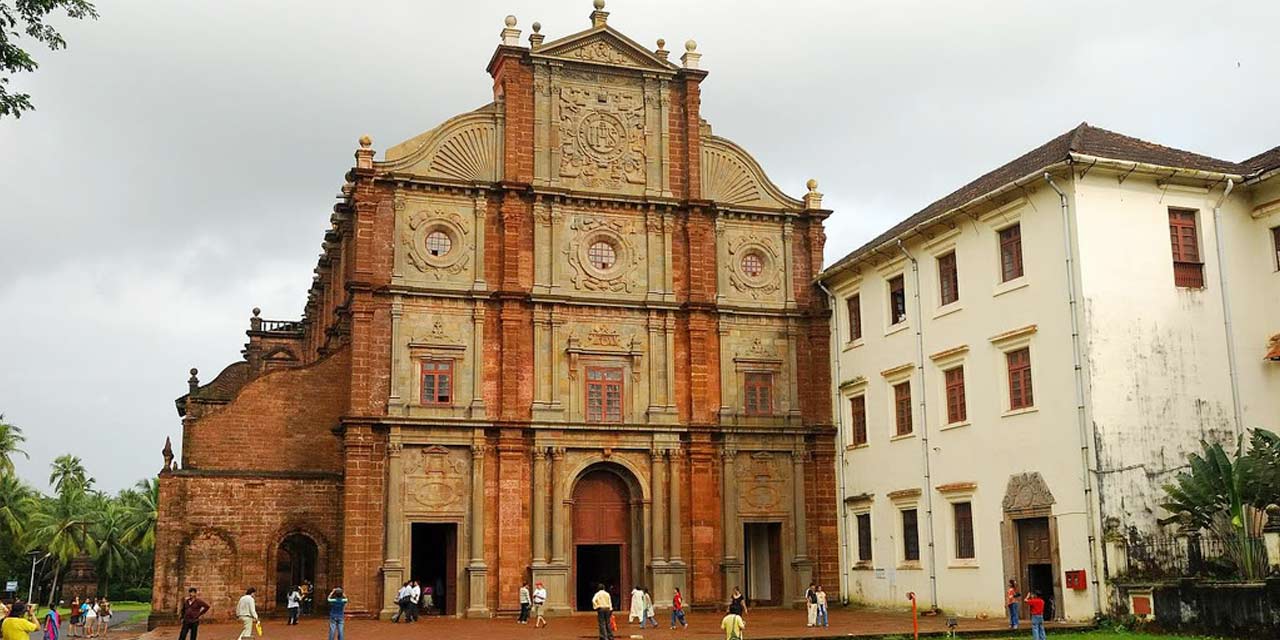 The oldest church in Goa, the Basilica of Bom Jesus Church is a UNESCO World Heritage Site that traces its history back 400 years ago. Featuring a mix of Portuguese and Baroque architecture, the Basilica of Bom Jesus Church stands strongly for its religious significance and has the relics of St. Francis Xavier.
It's a kind of church that has triangular roofing from the top and houses a modern art gallery that boasts oil paintings designed by artists from 1973 to 1976. The two paintings that catch everyone's attention here are Genesis (4 feet*28 feet) and The Last Judgement (6 feet*9 feet).
Due to its rich cultural heritage, the Basilica of Bom Jesus Church is frequently visited by locals as well as tourists from different walks of life in large numbers every day and hence, comes under the list of popular sightseeing places in Goa.
---
Other places of interest to explore on your Goa tour are Calangute Beach, Chapora Fort, Terekhol Fort, Arambol Beach, Baga Beach, Salim Ali Bird Sanctuary, Church of Saint Francis of Assisi, Church of Our Lady of the Mount, Archives Museum, Chorao Island, etc. If interested and have time, you can also cover tourist attractions like Shanta Durga Temple, Brahma Temple, Tiracol Fort, Corjuem Fort, and Mae De Deus Church to create some unforgettable memories with your loved ones.
Go through our all-inclusive Goa tour packages page to see how we can help you enjoy your trip at pocket-friendly prices. We at Goa Tourism, a division of Holidays DNA, have designed a range of travel packages for the ease of our diverse clientele. Our Goa tour packages can also be altered as per your choice. We have also curated a list of top car rental companies in Goa from where you can hire a private cab to go wherever you want to go within Goa.
How to Reach Goa?
By Air: Approximately 30 km away is the Goa International Airport which receives frequent domestic flights from Hyderabad, Mumbai, New Delhi, Bangalore, Ahmedabad, Jaipur, Chennai, Pune, etc. For the overseas traveler, this airport also has flights from Russia, Britain, Europe, and the Middle East. So, no matter where you're traveling from, you can easily get a flight to Goa to cover the maximum distance in the least possible time.
By Train: Madgaon Railway Station and Vasco Da Gama Railway Station are the two railheads that connect Goa to the metro cities of India. Not only is it convenient for all age groups but it is also the cheapest option for all those who have budget constraints in mind.
By Road: For your convenience, there are many long-distance buses that run from the neighboring cities of South India to Goa on an everyday basis at pocket-friendly prices. Volvo and super-deluxe AC luxury coaches are also available for all those who prefer their comfort over everything else. Make sure to get the reservation of the seats done in advance in case you're traveling in peak season.