Goa is a popular tourist destination filled with natural and architectural wonders. On a one-day trip, you can explore its unique blend of Indian and Portuguese cultures. You can also experience the hippie and laid-back vibes at the different places to visit in Goa in 1 day. There is no dearth of adventure and fun for every kind of tourist in Goa.
Goa has a lot to offer to tourists, including beaches, nightclubs, pubs, flea markets, and delicious seafood. Be it the quieter Mandrem or the happening Baga beach, you can choose to relax or indulge in thrilling recreational activities.
Get ready to rekindle the adventurer in you by exploring scuba diving, bungee jumping, banana boat riding, or a hot air balloon. You can drop by the discotheques, pubs, elegant cafes, and beach shacks. A visit to the temples and churches is a worthy spiritual detour. You can shop a range of items from the bustling flea markets.
There is a wide range of places to visit in Goa in 1 day, with a plethora of activities to enjoy. You can pick your sightseeing destination and activity according to your liking and budget. Each spot is equally amazing and will leave you thoroughly rejuvenated. Goa is the ideal travel destination for solo travelers, families, and couples alike.
Goa Places to visit in 1 Day - Option 1: Calangute Beach, Anjuna Beach, Chapora Fort, Basilica of Bom Jesus, Divar Island
Goa Places to visit in 1 Day - Option 2: Baga Beach, Aguada Fort, Dona Paula, Church of Our Lady of the Immaculate Conception, Ashvem Beach
Places to Visit in Goa in 1 Day are: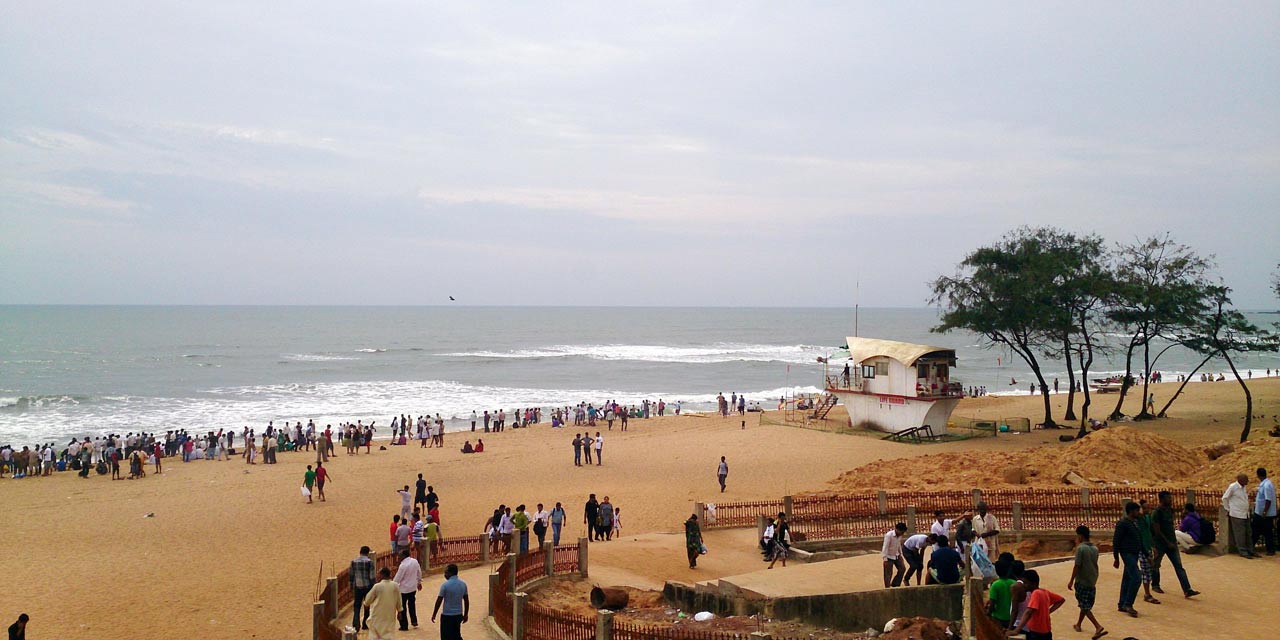 Regarded as the Queen of Beaches, Calangute Beach stretches from Candolim to Baga. It is the longest and busiest beach in North Goa. Replete with eating joints, shacks, and clubs, it is a hub for tourists and backpackers. It is among the best places to visit in Goa in 1 day for a truly Goan experience.
With the Arabian Sea in the background and palm and coconut trees bordering the shoreline, this beach presents an ideal location to click memorable photographs. People throng this beach to catch a glimpse of the sunrise and sunset. You can visit the nearby Indo-Portuguese buildings and monuments and admire the architecture.
Adventure lovers can explore thrilling adventure activities like parasailing, water surfing, banana boat riding, and jet skiing. Shopaholics can purchase junk jewelry, pottery, and clothes from the small shops lining the beach.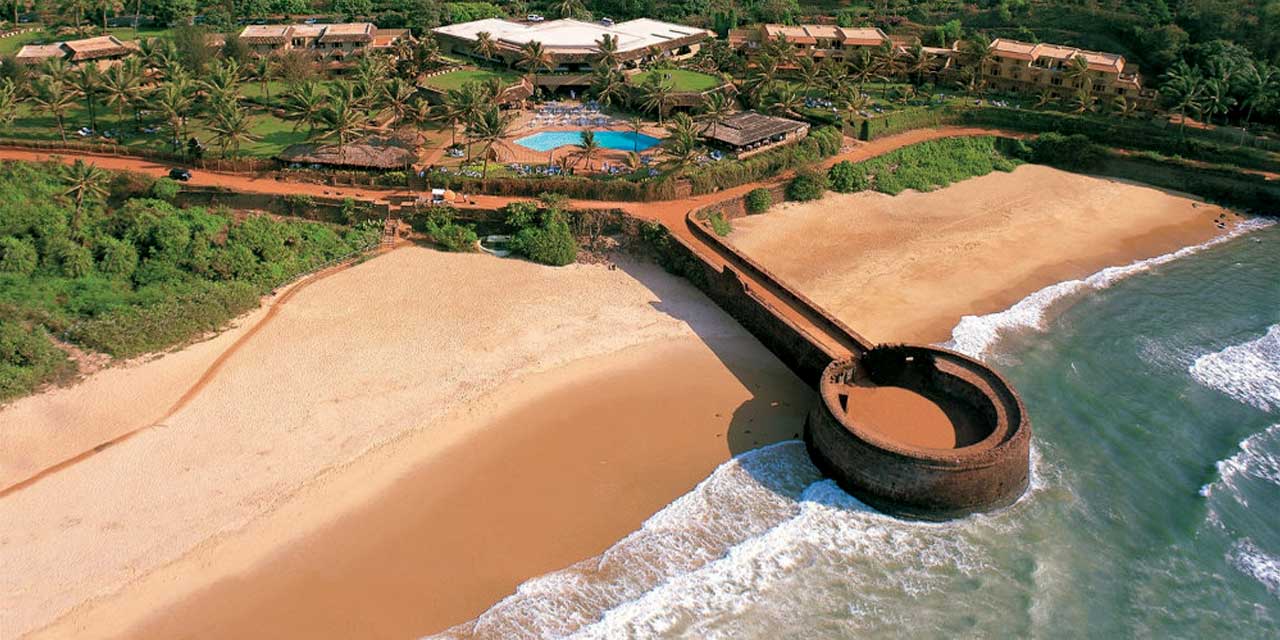 Aguada Fort is a 17th-century Portuguese fort on the Sinquerim beach and one of the most interesting places to visit in Goa in 1 day for history buffs. It is a laterite stone structure, bounded by bastions on three sides, while the 4th side has a gate facing the Mandovi River. This fort, which has freshwater springs, was used as a water reservoir. Formerly, this fort was used as a jail.
Although in ruins, its isolated four-tiered lighthouse offers stunning sunset views. It is hailed as the oldest lighthouse in Asia. You can also view a gunpowder room and a secret passage for soldiers to escape during a war. You must visit this fort to soak in the sunset view and admire the Portuguese military architecture.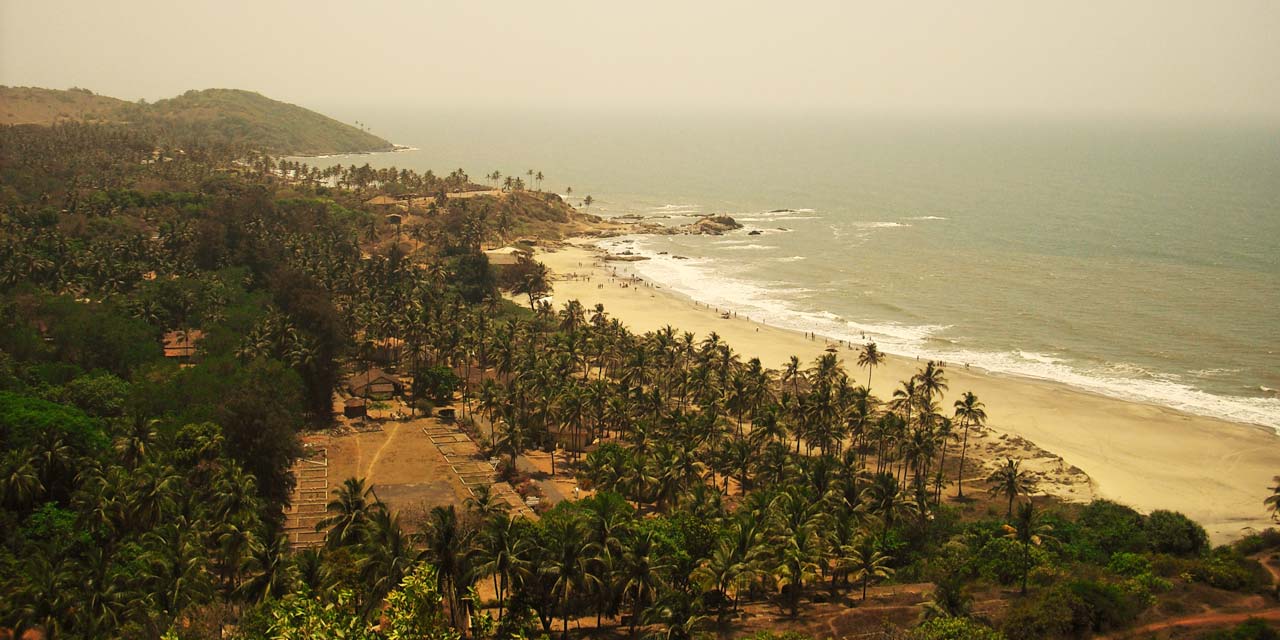 Popular for hippie culture, Anjuna beach is more sought after for adventures and fun than lounging. The 2 km golden coastline of this beach is lined with swaying palm trees, making it one of the most serene places to visit in Goa in 1 day. You can see the unusual rock formation overlying a cove of white sand.
If you love adventure, you can indulge in various thrilling water sports like jet skiing, parasailing, paragliding, water scooter, banana rides, and bump rides. Anjuna beach is also famous for its Wednesday Flea Market. It starts in October and continues through May.
You can purchase colorful bedsheets, intricate sculptures, bags, flashy T-shirts, boho jewelry, and authentic spices. Party lovers can let their hair down and party hard into the night in the clubs lining the beach.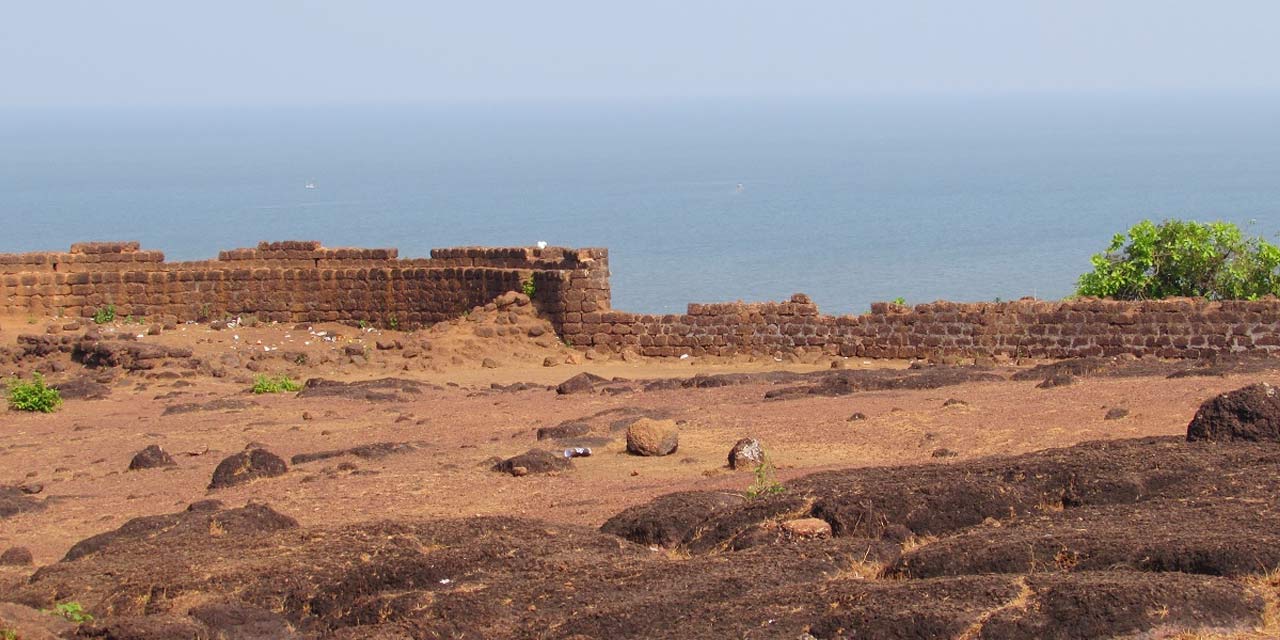 Located in Bardez, Chapora Fort rises high above the Chapora River. It gained popularity after it was shown in the movie 'Dil Chahta Hai.' The imperial structure is one of the most ancient historical places to visit in Goa in 1 day. Tourists flock to this place for its majestic charm and impressive history.
Chapora Fort was used as a military fort. It reflects Islamic-Portuguese architecture in its construction. You can gauge its magnificence from the remains of secret tunnels, cylindrical towers, barracks, and officer's quarters.
A major part of the fort's walls and outside ramparts still exist. You have to take a steep 10-minute climb to reach the top. You must visit this fort for the scintillating views of the Arabian Sea, the Chapora River, and the mesmerizing sunset.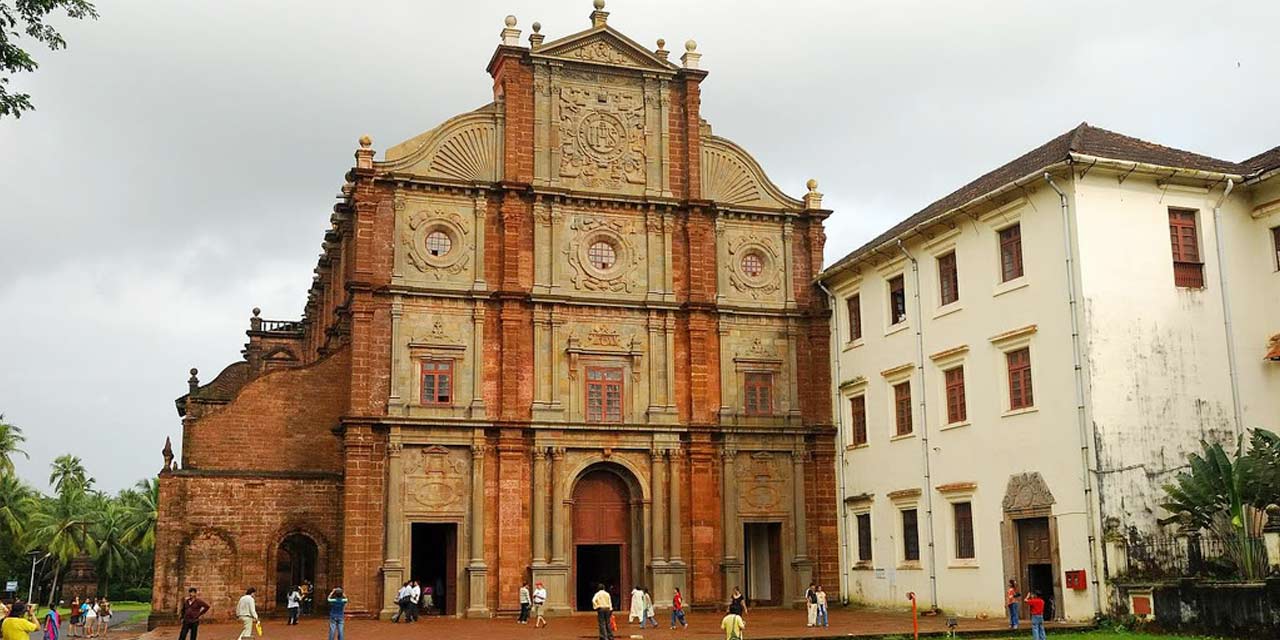 Situated in Panjim, the Basilica of Bom Jesus is the oldest church in Goa. It has been recognized by UNESCO as a World Heritage Site. It is among the famous places to visit in Goa in 1 day. The Basilica is renowned for housing the tomb and mortal remains of St. Francis Xavier, a Spanish Jesuit.
You can visit this iconic monument to admire the Portuguese and Baroque architectural styles. You can even catch a glimpse of the intricately carved basalt pillars and marbled floors studded with precious stones.
Inspired by the Mosaico-Corinthian architecture, the interiors are also a visual treat. You can view the wooden statue of St. Francis Xavier and the altar of St. Anthony. Art lovers can explore the modern art gallery that displays a rich collection of paintings of various Biblical scenes.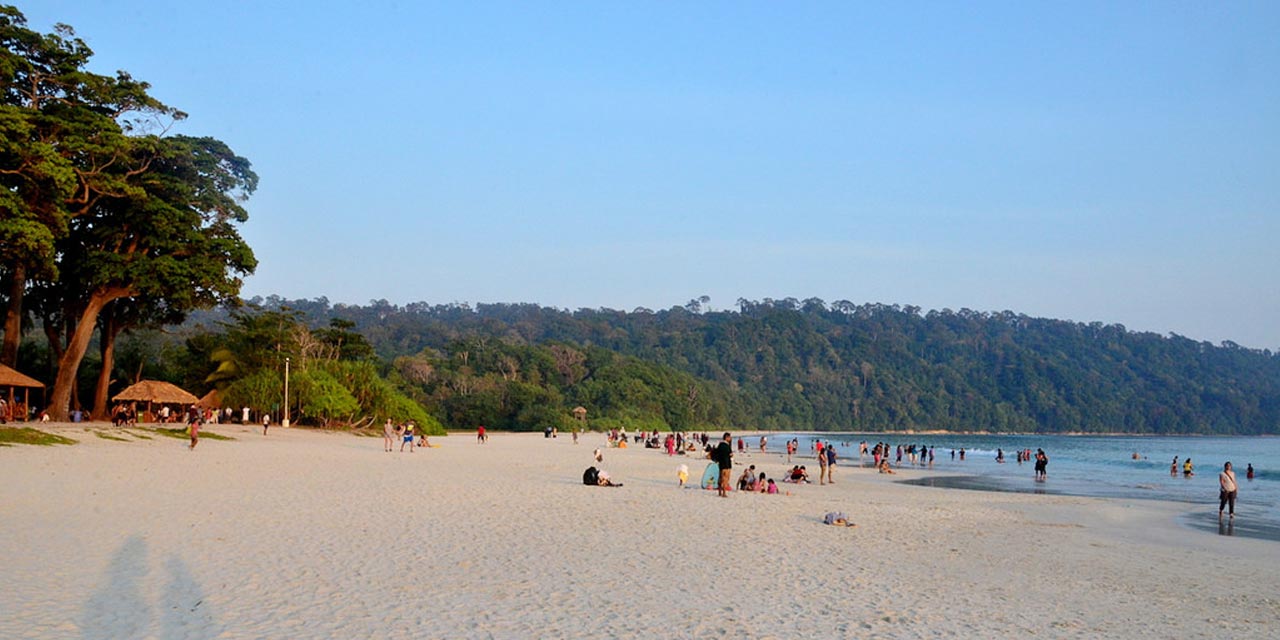 Famous for its vibrant nightlife, Baga Beach is a crowded beach in North Goa. It is a happening beach and among the most popular places to visit in Goa in 1 day. Named after Baga Creek, the beach is well-organized, tidy, and bubbling with life. You can catch the best deals at the street markets and also shop at high-end designer stores.
Check out the tattoo parlors, discos, tarot shops, spas, sundecks, palmistry stalls, and shacks lining the beach to satisfy your hippie side. You can start your morning with a sumptuous breakfast and yoga by the sea.
Baga Beach offers exciting water activities like surfing, wakeboarding, parasailing, jet skiing, paddle boarding, kayaking, knee boarding, and fishing. There is an indoor snow park with an ice bar, a sledding area, and a play area.
Divar Island is a small village island, relatively separated and connected to Goa through ferries. It is one of the offbeat tourist places to visit in Goa in 1 day. The unexplored island is nestled in the dense forests in the middle of the Mandovi River. Dotted with Portuguese-styled vintage houses and traditional churches, it is a visual delight.
Surrounded by evergreen paddy fields, Divar Island emanates peace and tranquility. You can appreciate the innate charm of the narrow winding roads and the scenic beauty. Take a stroll around the island to spot Hindu temples, abandoned land pieces, big dangling rocks, and colorful cottages. You can be a part of the Bonderam festival on the 4th Saturday of August. It is also known as the festival of flags or the feast of harvest.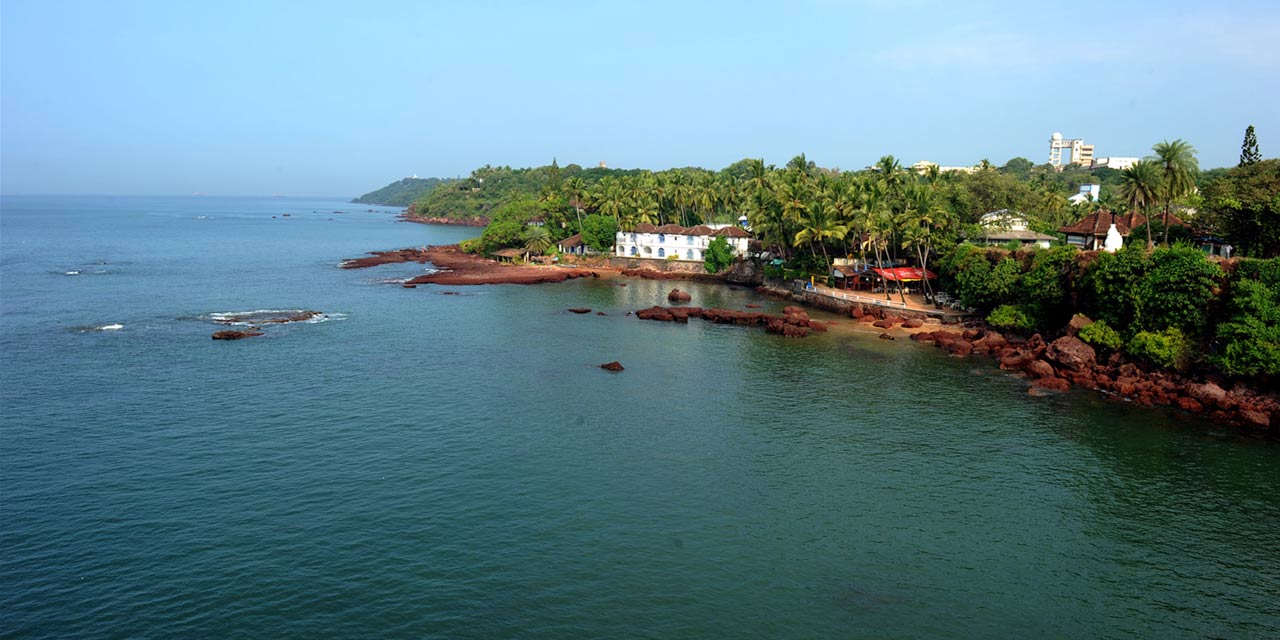 Generally popular among honeymooners, Dona Paula is a small beach with an adjacent jetty. It is among the most well-known places to visit in Goa in 1 day. The beach is popular for a lovers' legend the locals associate with it. This is also the point where the Zuari and Mandovi Rivers meet.
Dona Paula is also a popular film-shooting site and is fondly referred to as the Lover's Paradise. You can get spectacular views of the palm trees, the Arabian Sea, and Mormugao Harbor. You must check out adventure activities like ski-bob, jet ski, sports fishing, yachting, toboggan ski-biscuit, parasailing, swimming, windsurfing, and snorkeling.
Kindle your wild side by hiring water scooters, banana boats, cycles, and motorboats. For souvenirs and gifts, you can buy straw hats, lace handkerchiefs, and spices from the beach stalls. You can even purchase Goan signature liquors, Feni and Port Wine.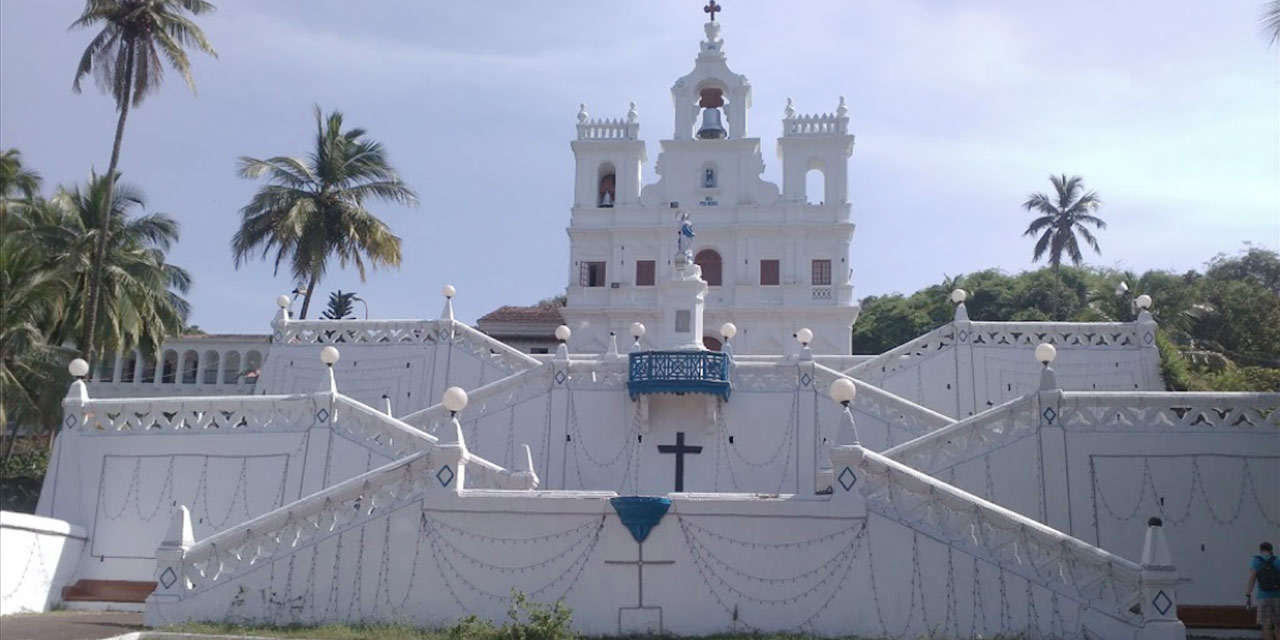 Located in Panjim, North Goa, the Church of Our Lady of the Immaculate Conception is one of the oldest churches in Goa. It is known to house the second-largest church bell and is one of the most revered places to visit in Goa in 1 day. Situated on a hillock, the church entices visitors with its sparkling white facade.
You can admire the blend of Portuguese and white Baroque architecture. It is called the Crown of Panaji, as the church's top resembles a crown. A climb up the zig-zag staircase takes you to the prayer hall. You must visit the church to enjoy the mesmerizing views of Panaji and the sunset. A grand one-day feast of Our Lady of the Immaculate Conception is conducted every year on 8th December.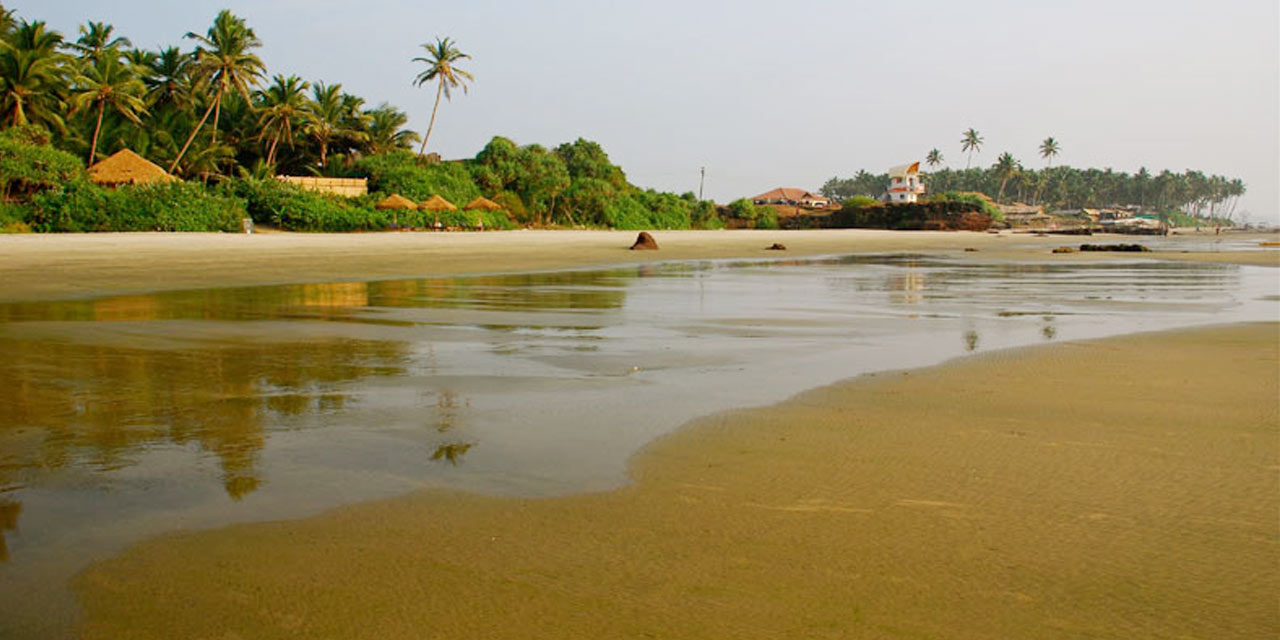 Ashvem or Ashwem Beach is a beautiful beach in North Goa. Unlike other beaches, it is among the less-explored and quieter places to visit in Goa in 1 day. You will enjoy its tranquil ambiance and delicious local food. You can chill amidst the extensive stretches of the silver sands and the exotic palm trees. The mesmerizing view of the sunset attracts all types of tourists.
You can visit the cashew plantations and witness the thriving fishing and seafood culture. Food connoisseurs must check out the fresh and local seafood at the restaurants. Swimming and surfing are the major activities that can be explored on this beach. You can even get a spa or an Ayurvedic massage at a nearby resort.
More to Explore in Goa
Apart from the beaches, there are many other lesser-known experiences to explore in Goa. A rich cultural and traditional past is evident everywhere you go in Goa, with old churches and temples dotting the landscape. You can enjoy activities like bird watching. From rare species like the Indian Blackbird to resident birds like Grey Herons, Egrets, and Kingfishers, Goa offers a great opportunity for birders.
You must check out the fine dining and live entertainment on a cruise when you are in Goa. It is a luxurious way to soak in the natural beauty of the tropical town. Another popular spot for nature lovers is Dudhsagar Falls. It is one of India's tallest and most beautiful waterfalls.
You can try hands-on scuba diving on the Grand Island. Some of the lesser-known beaches that you can visit are the Palolem, Miramar, Kakolem, Betul, Cola, and Candolim beaches. Nature lovers must visit Dr. Salim Ali Bird Sanctuary, Arvalem, Lamgau and Rivona Caves, and Butterfly Conservatory in Goa.
Shopping in Goa is an interesting experience too. Whether you are looking for traditional handicrafts, jewelry, or textiles, there's something for everyone in the local markets and stores. You can satisfy all your needs at the bustling marketplaces offering trinkets at competitive prices. Pamper yourself by buying faux jewelry, hammocks, footwear, clothes, accessories, and local handicrafts.
Wall hangings, bags, semi-precious stones, home décor, funky artifacts, and seashell trinkets are fun gifts to buy for your loved ones at the street-side stalls. You can buy food items like spices, cashews, dry fish, homemade Chourico sausages, and seedless tamarind.
Whether it is a fine-dine restaurant or a beachside eatery, you are sure to enjoy the local delicacies. You must taste the Goan staple food, Rice and Fish Curry. There are several options to try out authentic seafood preparations. Check out the lip-smacking street food, including Samosas, Chorizo Pav, Croquettes, and Misal Pav. You can have a delicious bite of the famous Gadbad ice cream, Baath Cake, Perad, Dos, and Bebinca.
With so much to explore and several fun places to visit in Goa in 1 day, the beach town offers an exciting and enjoyable trip. It is suitable for anyone who loves to experience the beautiful scenery and culture of tropical India. You will love the incredible culture, friendly locals, pristine nature reserves, great entertainment options, and delicious food of Goa.