The excellent combination of golden-sandy beaches, sky-touching palm trees, amazing sunsets, vibrant nightlife, lip-smacking food, and a full-of-life atmosphere make Goa stand out from the other bustling urban holiday destinations in India. Even a short trip to this heavenly paradise can relax your mind, giving you new energy to look forward to your everyday life chores.
It's the beauty and serenity of Goa that draws national and international tourists in large numbers every year. Add to it the thrilling water sports with a list of happening events and activities to have a lifetime experience to remember forever.
While the North side of Goa has lively beaches to keep yourself engaged all the time, the South side of Goa boasts tranquil beaches with stunning waterfalls and luxury resorts for all those who wish to spend some quality time with their loved ones in a laid-back atmosphere. In addition to all this, Goa has a lot more to offer to all its visitors of all ages.
You obviously cannot explore everything in one go. Hence, for your ease, we have listed out the top sightseeing places in Goa that can be covered as a part of your Goa Darshan Package. These are as follows:
Goa Darshan – Top Sightseeing Places in Goa to Visit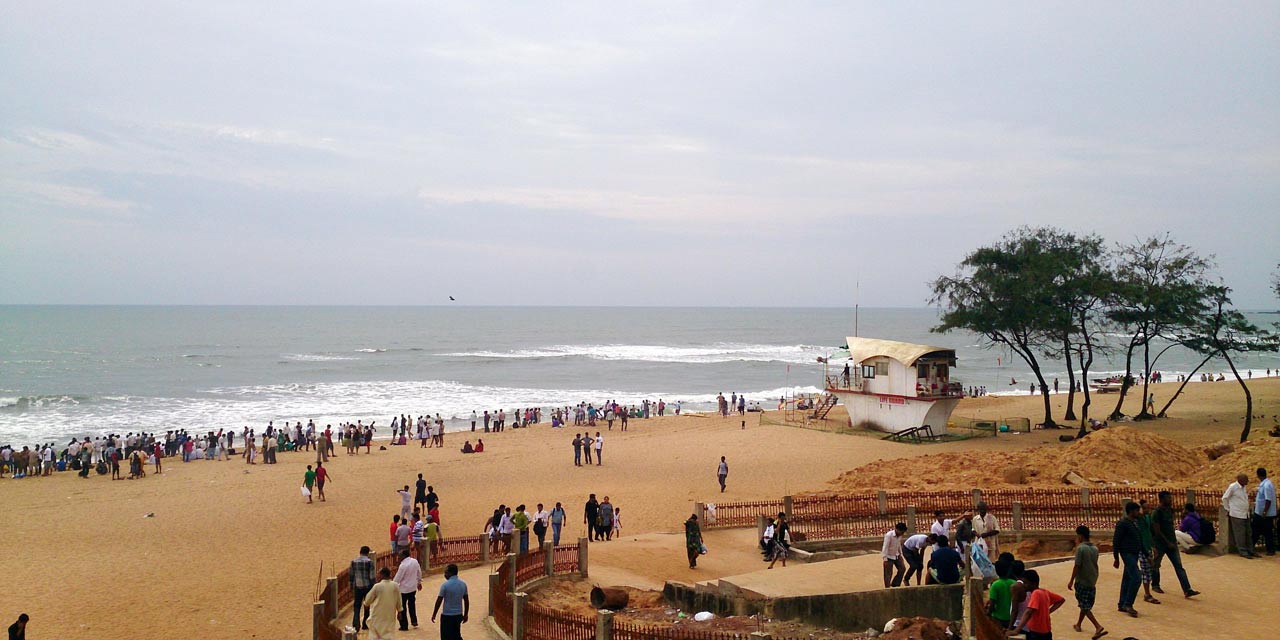 Amongst the best beaches in Goa, Calangute Beach is one such beach that receives a huge crowd of tourists from different corners of life every year – all thanks to its sheer size and popularity.
Popularly known as the "Queen of Beaches", Calangute Beach, encompassed by palm and coconut trees, has everything one can expect from a perfect beach getaway. Right from adrenaline-fuelled water sports to restaurants, bars, clubs, shacks, and many shops, you can find many things to keep yourself engaged throughout time. Do not miss the nightlife of the beach as it is filled with crazy parties and live music that will surely take you to another world.
Please note that there is no entry fee to visit Calangute Beach, but if you're interested in activities like Jet Skiing, you'll need to pay INR 300 for it. For Banana Ride, it charges INR 450 per person, and for Parasailing, the cost is approximately 1000 per person. The changing rooms are also available for both males and females at INR 25 per person.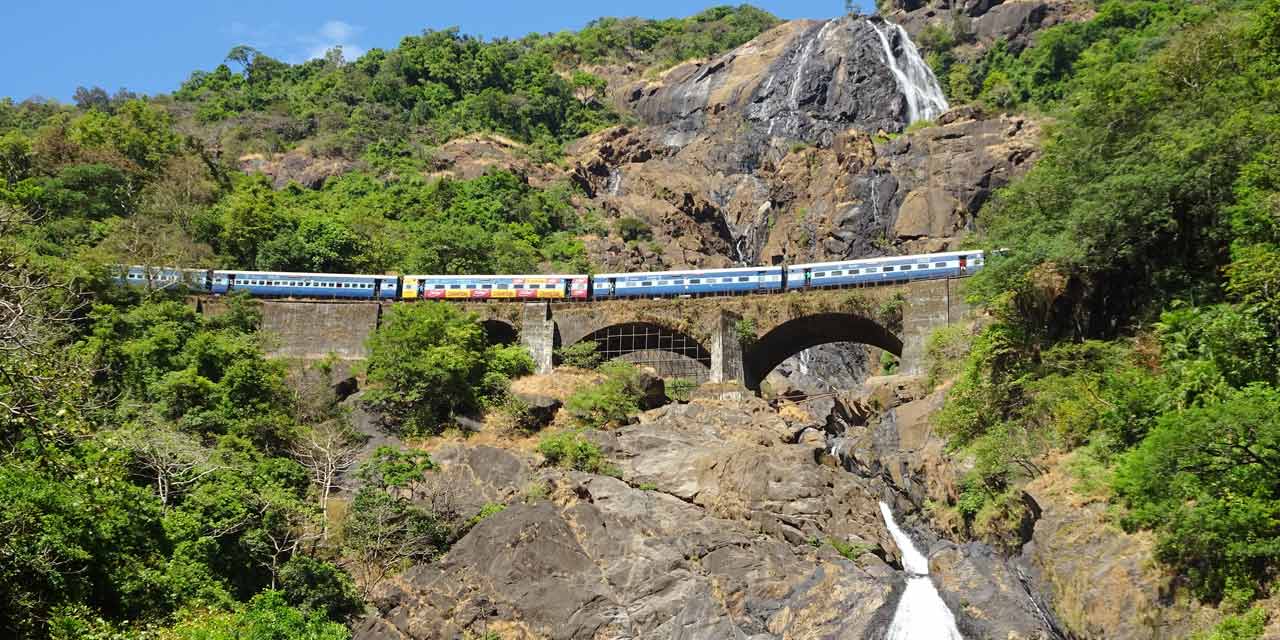 Perched inside the Mollem National Park, the Dudhsagar Waterfalls is a majestic waterfall that welcomes tourists to enjoy a cascading flow of water from a height of 310 meters. It's the tallest waterfall in India that provides calmness to your mind in the tranquil atmosphere it boasts and has a vast stretch of forest cover all around the area.
For adventure seekers, there are different trekking trails available from different locations. Depending on your overall strength and stamina, you can choose from moderate to difficult levels accordingly. One can also camp near the waterfall to have a close interaction with nature itself.
The best time to visit the Dudhsagar Waterfall is during the monsoon season as the level of the water is at its peak between July to October. Speaking of its timings, there is no particular time period to pay heed to this waterfall, but everyone should plan a getaway to this location from 9:00 AM to 6:00 PM on all days.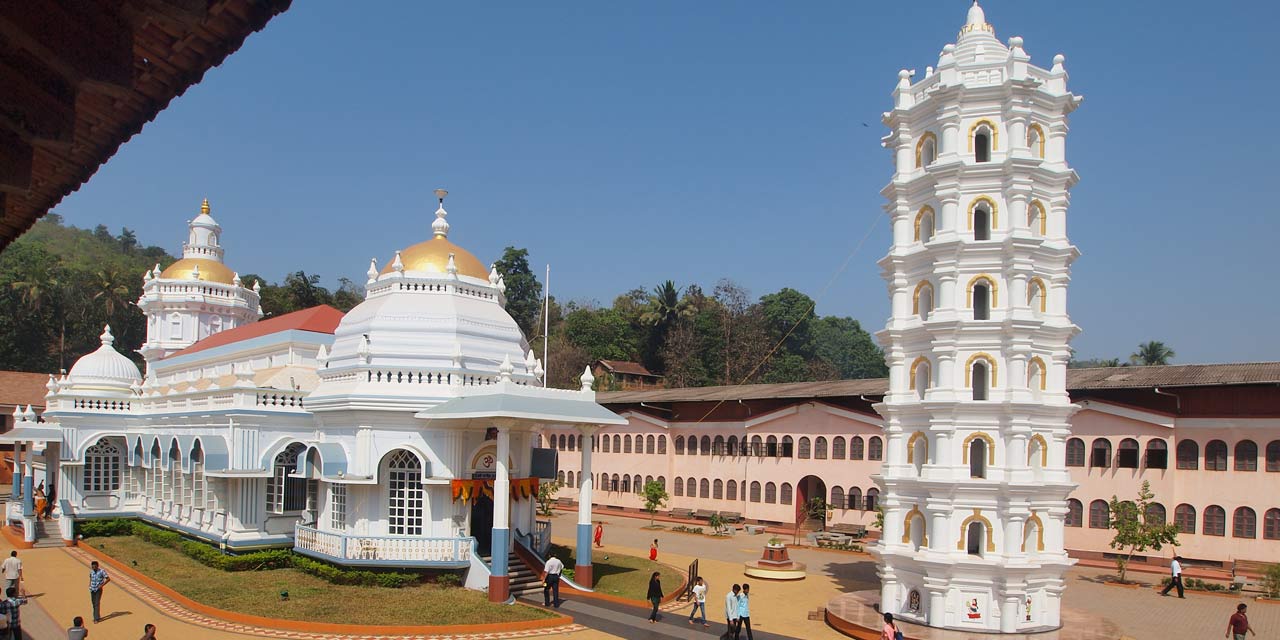 The next destination that deserves your attention in Goa is the Mangeshi Temple. It is the largest temple that boasts holy and divine vibes to make devotees feel positive from the inside out.
Dedicated to Lord Shiva, the Mangeshi Temple is a 450-years old shrine that stands out for its exquisite grandeur and has Goan-style architecture to impress people from far and wide. The prime highlight of the complex is the 7-story tower Deepastambha which is beautifully made in an Octagon shape. When illuminated at night, it certainly looks extraordinary when viewed even from a distance. Another thing that fascinates everyone is the statue of the Nandi Bull. Other than that, there are many festivals like Ratha Yatra that also encourage locals and tourists to pay heed to this place at least once.
Coming to its entry fee, the Mangeshi Temple doesn't charge anything from anyone and it opens its door to people from 9 in the morning to 5 in the evening every day. The recommended exploration time would be nearly 30-minutes.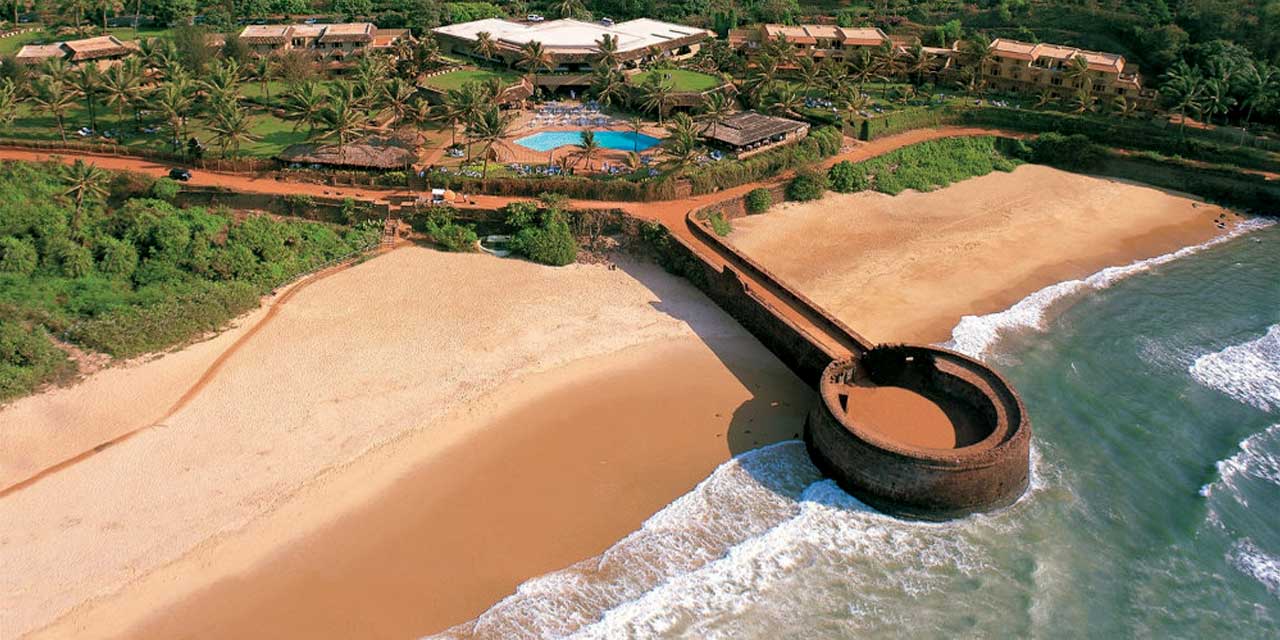 Tracing its history back to 400 years ago, Fort Aguada is a 17th-century historical monument that invites people to look over the mesmerizing view of the Arabian Sea and the surrounding area at its best. It's a fortress of tranquility that features stunning Portuguese architecture along with a four-story lighthouse from where you can enjoy the amazing sunset in the evening and create some unforgettable memories for a lifetime.
Constructed in the year 1612 under the guidance of Ruy Tavara, the Aguada Fort was built to safeguard the Portuguese stronghold from Marathas and Dutch invaders. Owing to its excellent location, this tourist attraction is frequently visited by everyone on their Goa tour and is indeed a great spot to be included in your itinerary list of Goa Darshan Packages.
Entry to visit the Aguada Fort is free for all age groups. It welcomes people from 9:30 AM to 6:00 PM on all days and the recommended exploration time is 1-2 hours.
---
Other than these sightseeing places, there are many other tourist attractions that can also be explored in Goa if you're looking to enjoy your trip to the fullest. A few of them include Baga Beach, Basilica of Bom Jesus Church, Vagator Beach, Colva Beach, Se Cathedral Beach, Reis Magos Fort, Mandovi River, Anjuna Beach, Chapora Fort, etc.
If interested, you can also plan to extend your Goa tour to a few more days to cover popular points of interest like the Church of Saint Francis of Assisi, Archives Museum, Salim Ali Bird Sanctuary, Tiracol Fort, and Chorao Island through your Goa Darshan tour package.
In case you need any kind of help, get in touch with our team of professionals. We at Goa Tourism, a division of Holidays DNA, present a variety of Goa tour packages that can be customized to suit your varied holiday needs. You can also opt for an all-inclusive package to make the most of your trip at pocket-friendly prices. To know more about our offerings in detail, we request you to fill out the Contact Us form.
How to Reach Goa?
By Air: Goa International Airport or Dabolim Airport is the closest airport in Goa that receives regular domestic and international flights from almost all parts of the world. So, whether you're a local traveler or an overseas tourist, you can fly to this airport to cover the maximum distance in the least possible time.
By Train: Another convenient way is via train. Madgaon Railway Station and Vasco Da Gama Railway Station are the two prime railheads that connect Goa to the rest of India through several trains. You can catch a train from any metro city to experience a smooth and comfortable train journey to Goa at reasonable prices.
By Road: Lastly, there are many long-distance buses that run from Hyderabad, Mumbai, Pune, Chennai, Bangalore, Mangalore, Belgaum, etc., to Goa on an everyday basis for the ease of people of all ages. Get the reservation of the seats done in advance in case you're traveling during the peak season. One can also choose to self-drive from the neighboring areas for a memorable road journey.