Goa is a popular vacation spot with serene beaches, old buildings inspired by Portuguese architecture, and buzzing nightlife. Millions of tourists from around the world come here each year. You can pick from the many places to visit in Goa in 2 days. From sightseeing to indulging in numerous activities such as water sports, exploring the lush green forests, and trying local cuisine, there is much to experience in Goa.
Some popular tourist spots in Goa include Dudhsagar Waterfall, Butterfly Beach, Arambol Beach, Fontainhas, and Sao Tome. You must visit Old Goa which is now a UNESCO World Heritage Site. Shopaholics can enjoy the Saturday Night Bazaar, Anjuna Market, and Mapusa Market in this vibrant state.
For the religious, you have the Se Cathedral and Bom Jesus Basilica. You can admire the architecture in these churches as you pray. Goa is also known for its vibrant culture and festivals, such as the Goa Carnival and Sunburn Festival.
From the sound of the waves crashing on the shore to the lush greenery, Goa is the perfect place to escape the stress of daily life. Whether you wish to unwind by exploring Goa's rich and cultural heritage or want to live life on the edge while trekking, water-skiing, and paragliding, you can do it all in just two days.
Goa Places to Visit in 2 days
Day 1 Goa Places to Visit
Arambol Beach
Fontainhas and Sao Tome
Church of Our Lady of the Immaculate Conception
Calangute Beach
Se Cathedral
Candolim Beach
Bom Jesus Basilica
Day 2 Goa Places to Visit
Butterfly Beach
Palolem Beach
Colva Beach
Dudhsagar Waterfall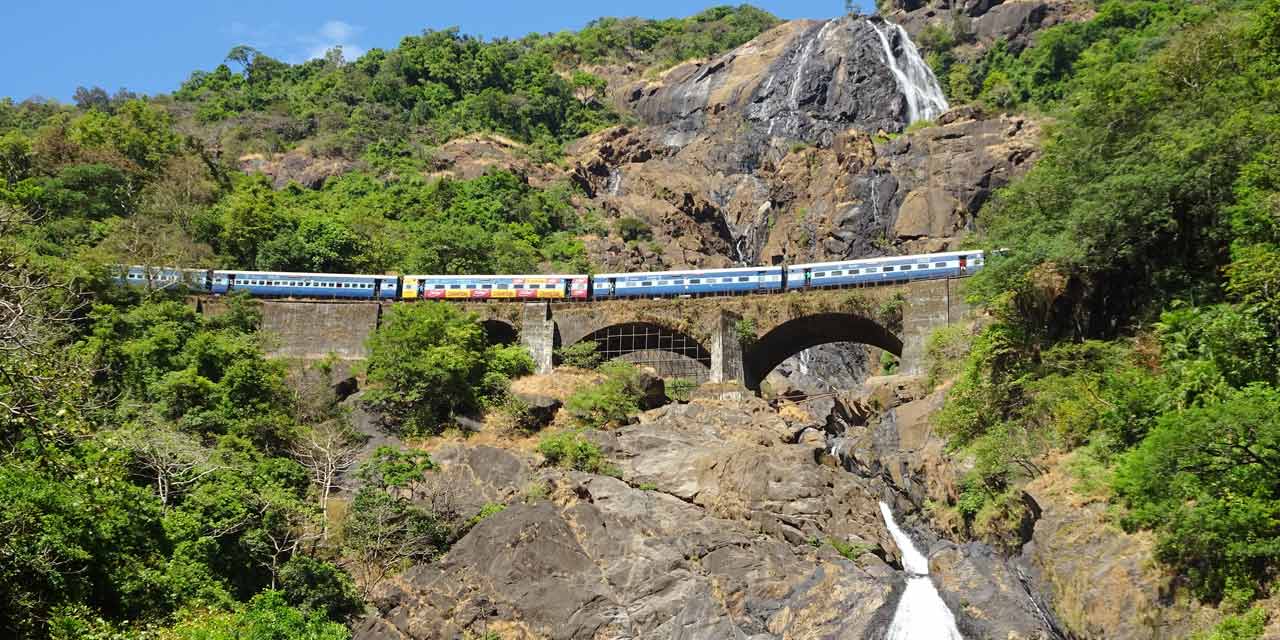 Dudhsagar Falls is a picturesque waterfall located in the Bhagwan Mahavir Wildlife Sanctuary in Goa. It is one of India's tallest and most stunning waterfalls. Due to the white color of the cascading water, the waterfall is known by the Hindi name "Dudhsagar," which translates to "Sea of Milk."
You can also take a train ride through the surrounding forests to enjoy the view of the waterfall and the surrounding landscape through a unique lens. If you love adventure, you will be thrilled by the 14 km trek to the waterfall from Castle Rock. Families with kids must check out Mollen National Park jeep safari and Spice Plantation near the waterfall. It is among the most scenic places to visit in Goa in 2 days.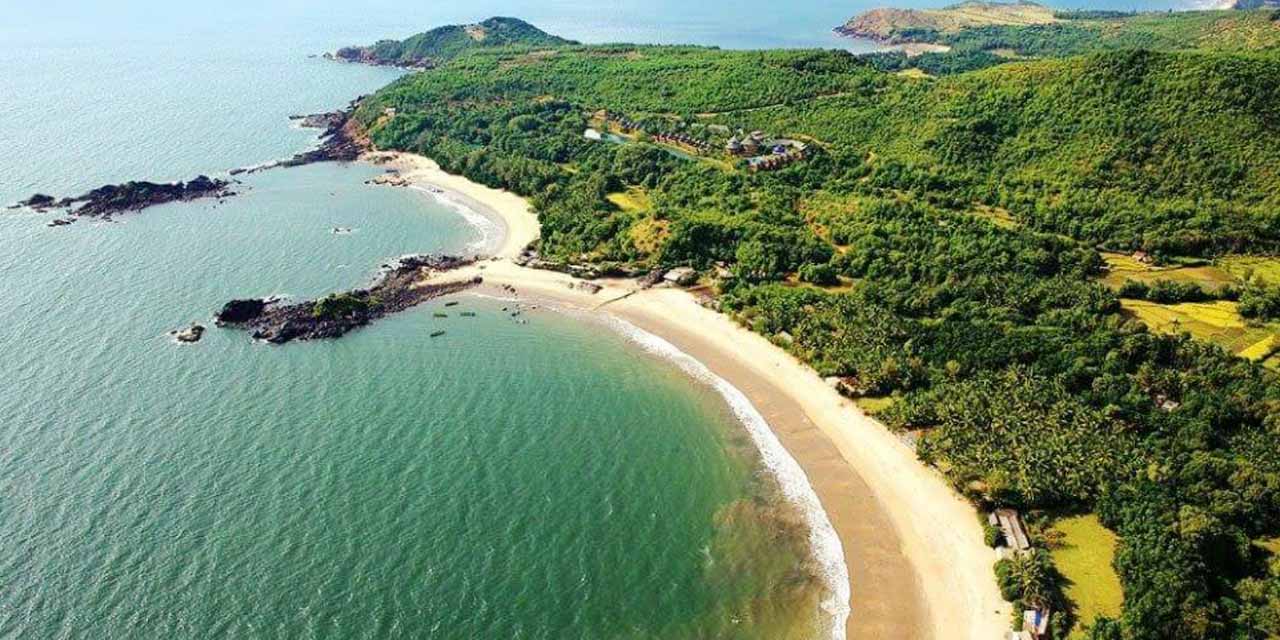 Butterfly Beach is a small, secluded beach in the southern part of Goa. For those seeking to avoid crowds and enjoy a serene atmosphere, it is among the best places to visit in Goa in 2 days. You can enjoy a trek through the thick forests surrounding the beach. As it is a secluded vacation spot for honeymoon couples, it is also known as Honeymoon Beach.
Swimming, trekking, snorkeling, and kayaking are just a few of the activities that visitors to Butterfly Beach can explore. During the low tide, you can witness colorful butterflies and exotic sealife, such as Sea Cucumbers, Red Fish, and Sea Urchins, on the beach. If you are lucky enough, you can also catch a glimpse of the dolphins playing in the waters.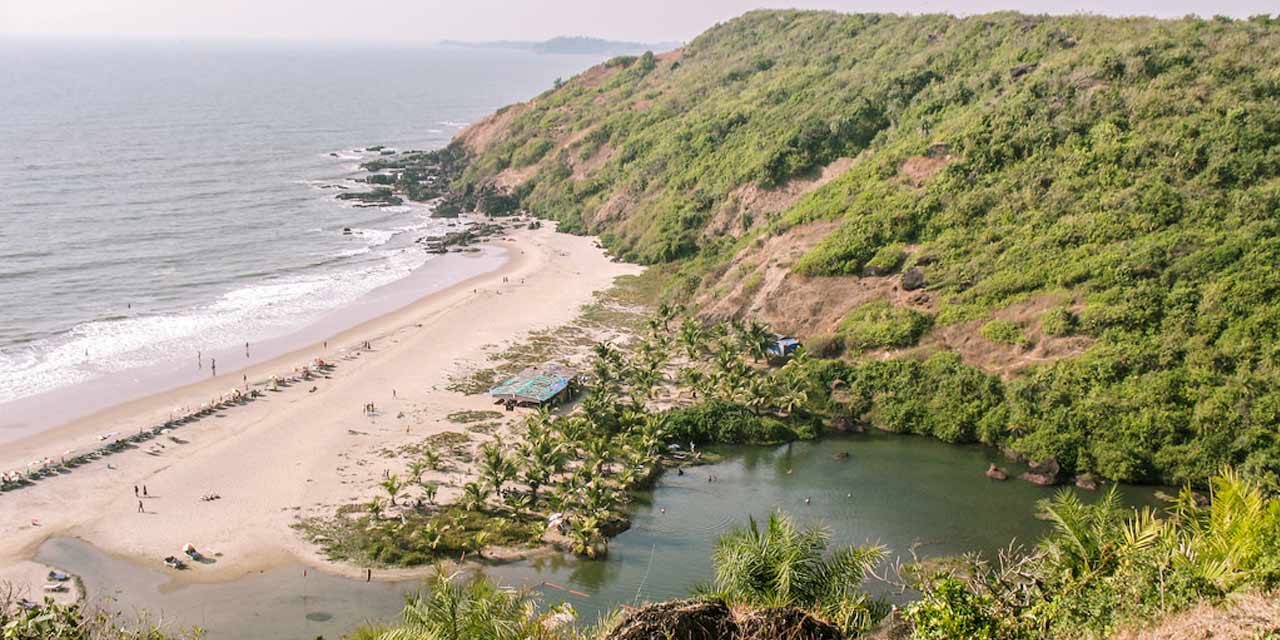 A beautiful and popular tourist destination, Arambol Beach, is located in the northern part of Goa. The beach is renowned for its expansive stretches of golden sand, clear waters, and laid-back vibe. Paliem is Arambol Beach's natural freshwater lake, which is fed by a hot spring. The clay surrounding this lake is said to have therapeutic properties making it one of the most interesting places to visit in Goa in 2 days.
Water sports like surfing, jet skiing, and parasailing are some enthralling activities to try at Arambol Beach. The picturesque beach is known for its vibrant nightlife, which includes live music, outdoor shows, and delicious food stalls that are open well into the night. The Indian Juggling Convention and the Tribal Dance Festival are two of the most popular cultural events conducted on this beach.
4. Fontainhas and Sao Tome
Fontainhas and Sao Tome are historic neighborhoods that are known for their charming colonial architecture, narrow streets, and vibrant cultural heritage. With its colorful colonial-style homes and churches in the European style, Fontainhas is regarded as Panaji's Latin Quarter. You can stroll through the winding streets to admire the architecture.
Sao Tome is known for its well-preserved colonial-style buildings, including the Church of Sao Tome, which dates back to the 16th century. Walk around the neighborhood and stop by at the cafes and shops to discover the distinctive character of the area. It is among the best places to visit in Goa in 2 days for those interested in history, architecture, and cultural heritage.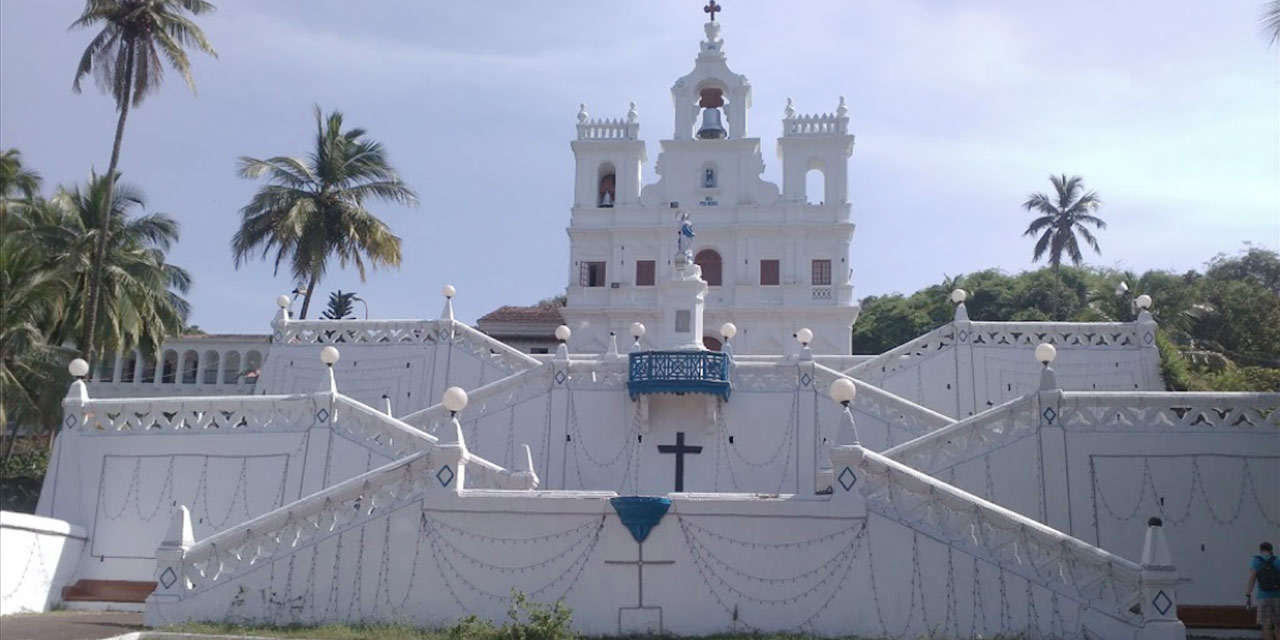 The Church of Our Lady of the Immaculate Conception is a historic church located in the heart of Panaji, the capital city of Goa. The church was initially constructed in 1541 and is one of the best places to visit in Goa in 2 days. Over the centuries, it has undergone numerous renovations and additions. With exquisite carvings, intricate stained glass windows, and a grand altar, the church is a stunning and well-preserved example of Portuguese colonial architecture.
A unique architectural feature of the church is the zig-zag staircase. For those who are interested in history, architecture, and religious heritage, the Church of Our Lady of the Immaculate Conception is a must-visit location. The second largest bell in Goa can be found in this church. You must not miss the beautiful sunset view from the church.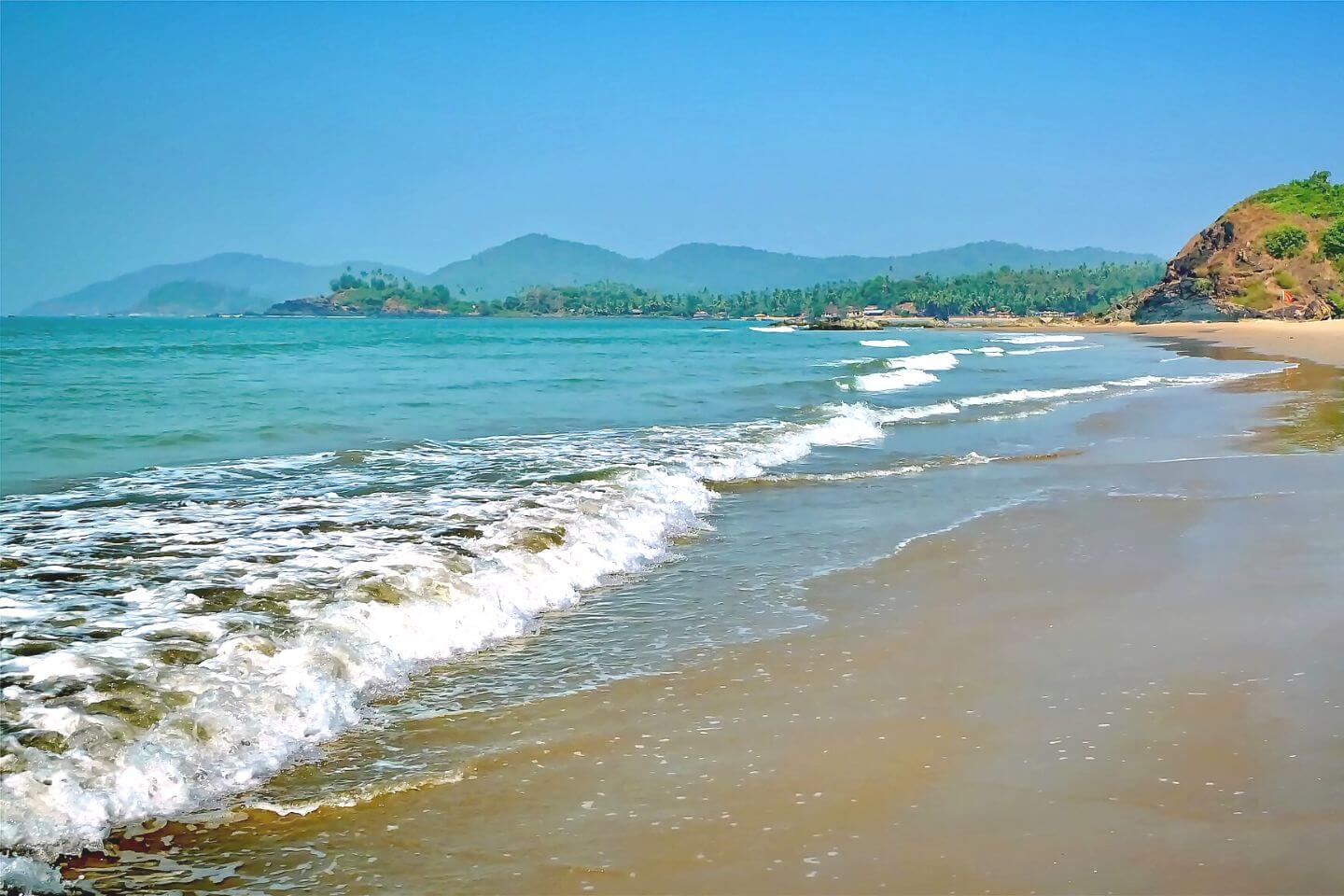 Palolem Beach is known as one of the most serene places to visit in Goa in 2 days. It is renowned for its pristine beauty, crystal-clear waters, and relaxed atmosphere. The beach has a uniquely vibrant nightlife and is popular for "Silent Noise" parties, where you can enjoy parties listening to music on your headphones.
Palolem Beach is distinguished by its crescent-shaped shoreline, which forms a protected bay ideal for swimming and other water sports. Sunbathing, swimming, and adventure sports like kayaking, paddling, and paragliding are just a few of the activities to explore at Palolem Beach.
A variety of shacks and beach huts along the beach provide you with a wide range of lodging choices. Whether you are seeking relaxation, adventure, or silent nightlife, Palolem Beach is a great destination for you.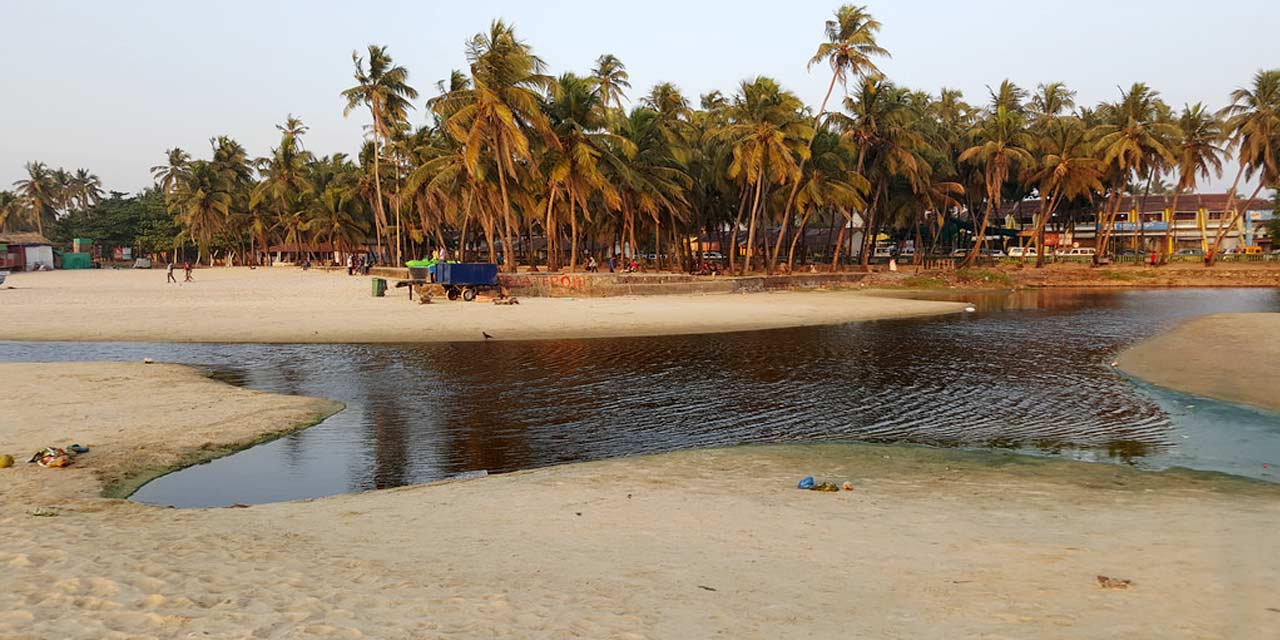 Located in South Goa, Colva Beach is an exciting vacation spot with its unique powdery white sand and towering coconut trees. Sunbathing, swimming, and water sports like snorkeling, banana boat rides, speedboat rides, jet-skiing, and parasailing are some of the adventurous activities you can explore here. The vibrant nightlife on this beach features live music bands, food vendors, and street performers.
Our Lady of Mercy Church, a colonial-era building close to the beach, is one of Colva Beach's distinctive features. You can admire the stunning architecture and discover the church's past. Whether you want to relax on the beach, try new water sports, or experience the local culture, there is something for everyone at Colva Beach, making it one of the most popular places to visit in Goa in 2 days.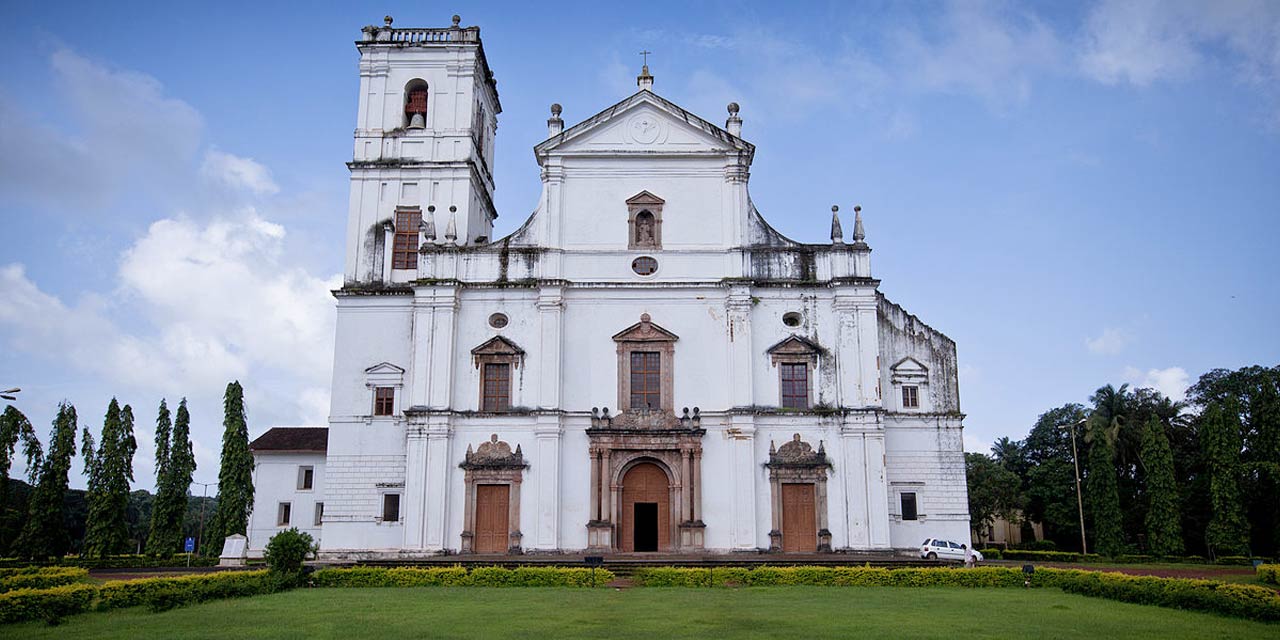 The Se Cathedral, also known as the Cathedral of the Holy Spirit, is a UNESCO world heritage site located in Old Goa. It is regarded as one of the most significant places to visit in Goa in 2 days and is the biggest church in Asia. Built in the Portuguese-Manueline architecture style, the Se Cathedral is a magnificent structure with imposing towers and intricate carvings.
It was constructed by the Portuguese in the 16th century. You will be awestruck by the cathedral's interior, with its ornate altars and breathtaking stained-glass windows. The "Golden Bell'', one of the world's largest bells, is housed in this church. You can enjoy the architectural details of the Se Cathedral while learning about its contributions to the city's religious and cultural life.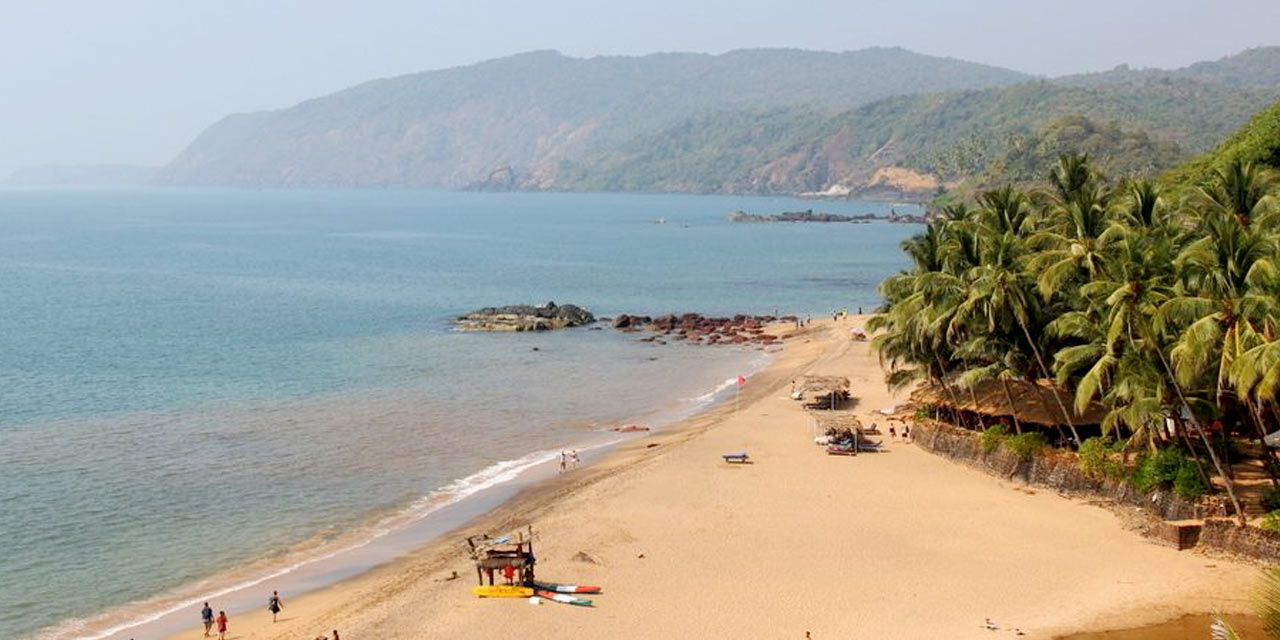 Candolim Beach is known for its long stretch of golden sand, tranquil waters, and relaxed atmosphere. If you love some fun and adventure it is among the most vibrant places to visit in Goa in 2 days. You can indulge in activities like jet skiing, snorkeling, parasailing, and banana boat rides at Candolim Beach.
You can also go fishing by hiring a local fisherman to take you out to sea from the beach. A variety of stores, eateries, and bars can be found in the area around Candolim Beach, where you can experience the local cuisine and vibrant nightlife. The beach is a great place to get away from the crowds and enjoy some peace and quiet because it is less crowded than some of the other well-known beaches in Goa.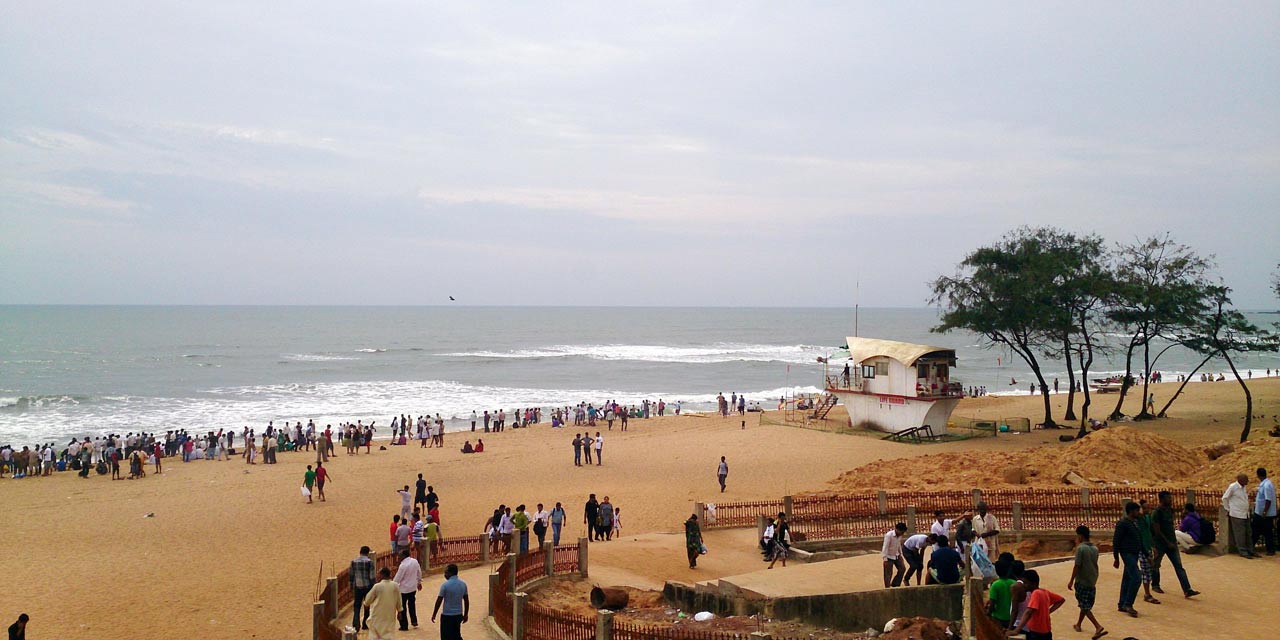 Popularly called the "Queen of Beaches," Calangute Beach is the largest beach in North Goa. It is known for the longest stretch of golden sand in Goa, featuring clear waters and a lively atmosphere. The area was originally a small fishing village but over time, has become one of the most popular places to visit in Goa in 2 days.
You can enjoy a variety of water sports and other activities, including sunbathing, swimming, jet skiing, kayaking, banana riding, and parasailing at this beach. Sports enthusiasts can enjoy playing beach volleyball on the sands. In addition, you can also explore a range of shops, restaurants, and bars along the beach. You can easily visit Goa's other popular tourist destinations, such as Fort Aguada, Sinquerim Beach, and the Anjuna Flea Market, from this beach.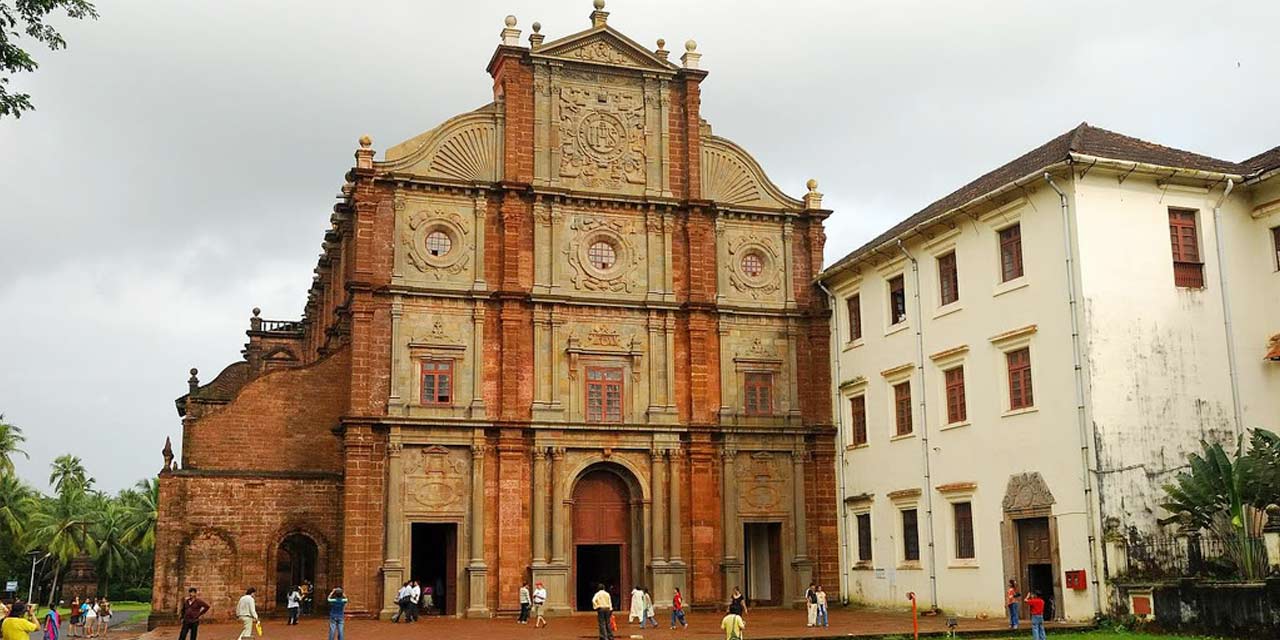 Bom Jesus Basilica is the oldest among the churches in Goa. It is ranked among the best places to visit in Goa in 2 days for its intricate architecture and rich history. The church is dedicated to Infant Jesus and is a UNESCO World Heritage Site. Constructed in the 16th century, Bom Jesus Basilica is considered one of India's finest examples of Baroque architecture.
It features elaborate stone carvings, gilded altarpieces, and intricate frescoes. The church is also home to the mortal remains of St. Francis Xavier, one of the co-founders of the Jesuit order. The remains are displayed in a glass coffin. While visiting the church, you can explore the main nave, the sacristy, and the chapel, as well as admire the marble mosaic floors studded with precious stones.
More to Explore in Goa
Goa is a paradise for travelers who love to explore. From beautiful beaches, lush green hills, and hidden waterfalls to ancient temples and exotic wildlife, the tropical destination has something for everyone.
Other than the popular places listed above, there are some underrated spots that you can explore for a unique experience in Goa. Galgibaga Beach, Cabo de Rama Fort, Sahakari Spice Farm, Bhagwan Mahavir Wildlife Sanctuary, Chorao Island, and Goa State Museum are some of the places that cater to the interests of every type of tourist in Goa.
The beach state is known for its vibrant and bustling markets. The Anjuna Flea Market and Panaji Market are known for their textiles, jewelry, household goods, and handicrafts. If you love to cook, you must visit the Mapusa Market for spices, fruits, and vegetables. At Calangute Market Square, you can buy beautiful souvenirs for your loved ones. Arpora Night Market is loved for its street food stalls.
Goa offers a diverse range of dining options for visitors, from street food stalls and local cafes to high-end restaurants. Fisherman's Wharf, located in Panaji, is a popular seafood restaurant. Gunpowder is a traditional Indian restaurant that uses fresh, locally-sourced ingredients. The city has other popular world-class and family-style restaurants offering a range of Indian, Chinese, and Continental dishes. You can also find an array of street food stalls and local cafes offering traditional Goan dishes such as Fish Curry, Rice, Vindaloo, and Sorpotel.
While it may be hard to visit all of the amazing places in Goa in just two days, taking one step at a time can help create lasting memories that will last for years into the future. With its unique blend of cultures, breathtaking landscapes, and captivating sights, Goa is the perfect destination for any type of traveler looking for an unforgettable experience.